---
What Is Coq au Vin?
Coq au vin—literally "cock (rooster) with wine" in French—was originally developed as a way to make the tough meat of an older rooster edible. Although the first recipes for coq au vin appeared in the early 20th century, the technique of slowly stewing roosters is probably a lot older. The most famous version of coq au vin is made with wine from Burgundy, lardons, mushrooms, and pearl onions, but regional preparations use different types of wine—including white wine!—and sometimes even add cream.
The wine is essential not only for its flavor but because its acidity works to tenderize the meat without any heat at all. If you happen to find an older, tougher bird at the grocery store, traditional coq au vin is a great idea. But for the tender young birds we eat today, try a modified version using only dark meat and a shorter cooking time.
The 5 Key Components to Traditional Coq au Vin
Rooster: traditionally a whole rooster, cut into pieces. Nowadays young broiler chickens are more common.
Red wine: traditionally a Burgundy wine, such as pinot noir. Other popular choices include côtes du rhône or beaujolais.
Lardons: small pieces of pork belly. You can substitute bacon.
Beurre manié: mixture of equal parts butter and flour used to thicken the stew.
Vegetables: mushrooms, pearl onions, and garlic. Use mild mushrooms, which won't overpower the flavors of the stew. Sweet pearl onions and a little garlic round out the flavor.
6 Tips for Making Perfect Coq au Vin
Traditional coq au vin uses rooster meat, which is tough and stands up to prolonged cooking. Since most of us don't have access to whole roosters, there are two options to avoid dry, overcooked white meat: either use dark meat (chicken thighs and drumsticks), or add the white meat chicken pieces (breasts and wings) during the last 30 minutes of cooking.
Adding bacon during the cooking will infuse the stock with flavor, but the bacon pieces won't be crispy. Try adding half the bacon to the stock for flavor, and garnishing your stew with leftover crispy bacon for texture.
Use any red wine that you already like the flavor of—it's a big part of how the finished dish will taste.
For milder flavor, you can substitute chicken broth or stock for half of the wine.
Marinating the chicken in wine starts the tenderizing process before cooking and adds wine flavor without prolonged stewing, which can dry out a grocery store chicken.
Coq au vin is especially delicious the next day: refrigerate any leftovers and gently reheat.
How to Serve Coq au Vin
Coq au vin is delicious with anything starchy that can soak up the wine sauce, such as potatoes—mashed or roasted—or crusty French bread. Try coq au vin with rice, farro, couscous, egg noodles, or any other grains or starches you have on hand. A vinegary salad will cut through the richness of coq au vin, as will bitter greens such as mustard or kale.
How to Make Slow Cooker Coq au Vin
Think Like a Pro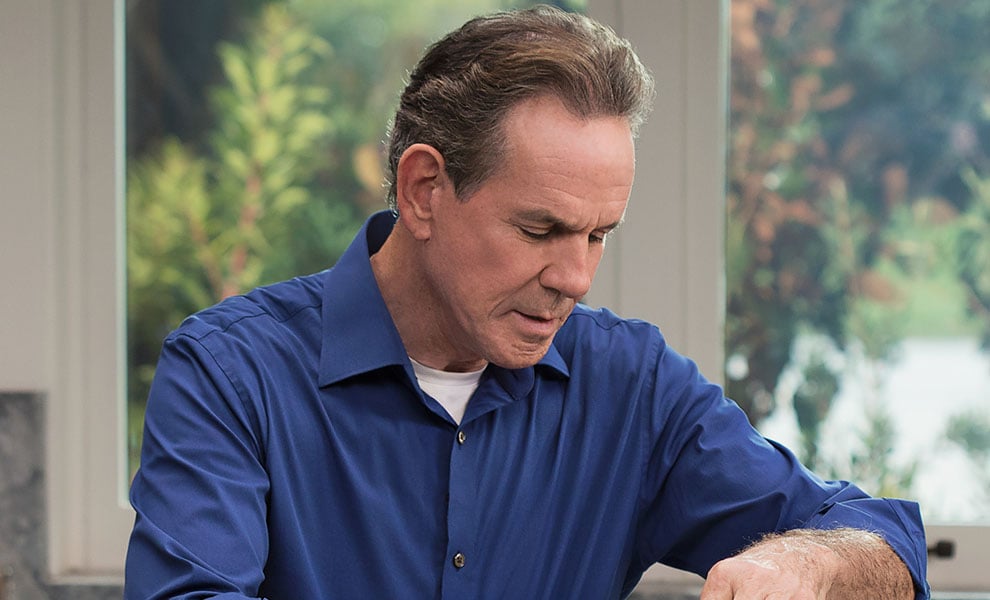 Learn techniques for cooking vegetables and eggs and making pastas from scratch from the award-winning chef and proprietor of The French Laundry.
View Class
You can prepare coq au vin in a slow cooker by making a few tweaks to the basic coq au vin recipe. Cook the bacon as usual, reserving half for garnish. Transfer the other half, plus the rendered fat, to the slow cooker with 2 cups of wine and the rest of the coq au vin ingredients, except the flour, butter, and parsley. Cook in the slow cooker until the chicken is tender, about 5-6 hours, depending on your slow cooker. Remove the chicken from the slow cooker and transfer to a plate. Transfer the stew to a large Dutch oven or pot and simmer over medium heat, uncovered. Meanwhile, make the beurre manié by whisking together the butter and flour, then whisk into the stew and simmer until thickened, about 2-5 minutes. Add chicken and simmer until warmed through, about 5 minutes. Remove from heat and garnish with the parsley and remaining bacon.
Easy Coq au Vin Recipe
Ingredients
3 lb skin-on, bone-in chicken legs
Kosher salt, to taste
Freshly ground black pepper, to taste
3 cups red wine
1 bay leaf
2-4 fresh thyme sprigs
4 ounces bacon, diced
1 onion, diced
1 carrot, peeled and diced
8 oz button mushrooms, trimmed and quartered
2 minced garlic cloves
1½ teaspoons tomato paste
2 tablespoon all-purpose flour
2 tablespoons unsalted butter, at room temperature
8 oz pearl onions, peeled
¼ cup flat leaf parsley, chopped
Season the chicken with salt and pepper. In a large bowl, combine the chicken with the wine, bay leaf, and thyme. Cover and marinate at least 30 minutes and up to one day.
In a Dutch oven or large pot set over medium heat, cook the bacon until browned and crispy, about 10 minutes. Remove from heat and use a slotted spoon to transfer bacon to a plate lined with paper towels, reserving the fat in the Dutch oven.
Remove the chicken from the wine marinade and pat dry with paper towels. Reserve the marinade. Return the Dutch oven to the stovetop and heat the bacon fat over medium heat until it shimmers. Add the chicken, skin side down, in a single layer and cook until golden brown, about 5 minutes. Flip and cook until brown on the other side, about 4 more minutes. (Don't overcrowd the chicken—work in batches if necessary, adding a little olive oil if you run out of rendered bacon fat.) Transfer the seared chicken to a plate.
Add the diced onion, carrot, and mushrooms to the Dutch oven and season with salt. Cook until the vegetables are lightly browned, about 8 minutes.
Add the garlic and tomato paste and cook for about 1 minute, until it's fragrant. Add the reserved marinade. Bring to a boil over medium-high heat and reduce liquid to about half. Skim off foam as it appears.
Add the chicken, pearl onions, and half of the bacon. There should be enough liquid to just cover the chicken—if not, add a little water or chicken stock. Cover and simmer over low heat until the chicken is tender, about 1 hour. Uncover, transfer chicken to a plate, and continue to simmer, about 10 minutes.
Meanwhile, whisk the flour and butter together into a smooth paste. Whisk the beurre manié into the stew to thicken. Continue to simmer until the sauce is thick enough to lightly coat the back of a spoon, about 2 more minutes.
Taste and season with salt and pepper if needed. Return the chicken to Dutch oven and simmer until warmed through, no more than 5 minutes. Remove from heat and garnish with remaining bacon and parsley.