To submit requests for assistance, or provide feedback regarding accessibility, please contact support@masterclass.com.
Masterclass is $15/month (billed annually). 100% satisfaction guaranteed.
Get Started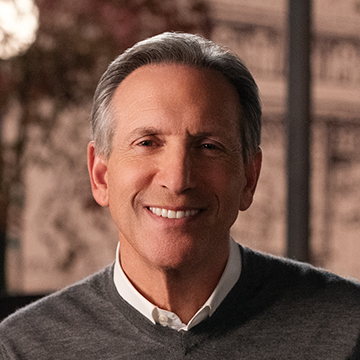 Howard Schultz
Howard Schultz Business Leadership
Former Starbucks CEO Howard Schultz rose from a childhood in public housing to leading a company that revolutionized the way the world drinks coffee. With no formal business education, he relied on his values while growing a 13-store chain into a global brand with more than 250,000 employees. In his 90-minute video series, Howard shares what he's learned about business leadership and being an entrepreneur.
Lesson Companion
A downloadable workbook accompanies the class with lesson recaps, supplemental materials, and more...
For all your devices and every occasion
TV
Apple TV
Amazon Fire TV
Roku TV
Android TV
Computer
Mac OS
Window PC
Chrome OS
Mobile & Tablet
Apple iPhone & iPad
Android Mobile & Tablets
Amazon Fire Tablets
Get a MasterClass subscription
Endless education
Stream hundreds of lessons from instructors the world loves most.
Anytime, anywhere
Your classes available on smart TV's, phones, laptops, and tablets.
Unlimited downloads
Download your favorites to watch where you want, when you want.
Get Started
Masterclass is $15/month (billed annually)