To submit requests for assistance, or provide feedback regarding accessibility, please contact support@masterclass.com.
Business, Politics & Society
Introduction

Dr. Jane Goodall
Lesson time 2:18 min
Meet Dr. Jane. She's one of the most accomplished scientists and conservationists of our time. And now, she's your instructor.
Dr. Jane Goodall shares her insights into animal intelligence, conservation, and activism.
Get Started
Preview
In case you're wondering what I'm going to be talking about in this MasterClass, I want to tell you a little bit about how it all began, about my life's journey, and how it led me to the forests of Gombe to study the chimpanzees there, how I did it. I'd like to share with you a little bit about some of the amazing things that I've been able to find out about these closest relatives of ours. And I'd like to tell you why it was I felt I had to leave the forest that I love-- because chimpanzees are decreasing in numbers right across Africa-- how I got to understand about extinction, about the destruction of the environment, about all the harm that we humans have inflicted on Mother Earth. And most importantly, I'd like to share with you what we can all do together to right the wrongs, to heal some of the harm, and especially, what you can do to make this a better world. I'm Jane Goodall, and this is my MasterClass.
---
Take action
There is still a window of time. Nature can win if we give her a chance. In her first ever online class, Dr. Jane Goodall teaches how you can conserve the environment. She also shares her research on the behavioral patterns of chimpanzees and what they taught her about conservation. You'll learn how to act locally and protect the planet.
---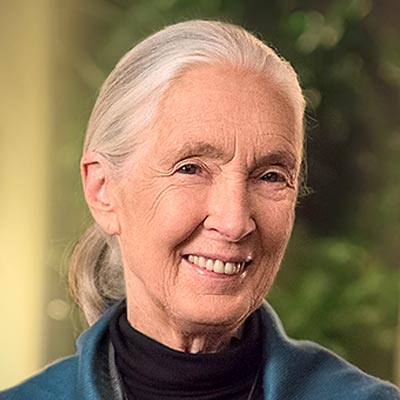 Featured Masterclass Instructor
Dr. Jane Goodall
Dr. Jane Goodall shares her insights into animal intelligence, conservation, and activism.
Explore the Class
---
Reviews
4.7
Students give MasterClass an average rating of 4.7 out of 5 stars.
I learned more than I thought I would. It took me over 3 months to complete this class, as I did it leisurely. But I am happy to say that when I started this class, I was on a plant-based diet, but officially I am a vegetarian, and proud of it!
I have learned the need to have hope, because without it we will never improve all the aspects of life on this planet that need our attention. And if Jane can have hope, having seen so much more than I have of the ills of the world, then I must be able to have hope too.
Great first hand experience and story telling. Very inspirational.
the ability to co create a new reality and make a difference to our environment and our world starts with me
---