---
What Is Rhythmic Gymnastics?
Rhythmic gymnastics is an event in international women's gymnastics that combines strength, power, extreme flexibility, agility, dexterity, and endurance.
Women's rhythmic gymnastics takes place in a floor area measuring 13 meters x 13 meters. Its specific components are rope, hoop, ball, clubs, and ribbon routines. Rhythmic gymnastics combines individual skills with a group event. It also contains gymnastics apparatus that are unique to rhythmic gymnastics; these apparatuses are not found in artistic gymnastics, and they demand unique physical skills and precise adjustments between each event.
The History and Origins of Rhythmic Gymnastics
Rhythmic gymnastics received recognition as an international sport in 1962. The governing body of international gymnastics competition, the International Gymnastics Federation (FIG), organized the first World Championships for rhythmic gymnastics in 1963. The event was held in Budapest and featured 28 athletes from 10 European countries. A decade later, the United States Gymnastics Federation (now known as USA Gymnastics) entered the scene, sending its first team delegation to the 1973 Rhythmic World Championships.
In 1984, the Summer Olympic Games in Los Angeles added rhythmic individual all-around competition to its slate of sports. At the 1996 Games in Atlanta, the rhythmic group event was added as a medal sport—a status that it enjoys to this day.
5 Events and Apparatuses Used in Rhythmic Gymnastics
Women's rhythmic gymnastics is divided into routines involving rope, hoop, ball, clubs and ribbon. These events take their names from their respective apparatus. As such, the required equipment is as follows:
Rope: The apparatus is made of hemp or synthetic material, knotted at each end, and is proportional to the gymnast's body. Competitors are judged on swings, circles, rotations, wraps, unwraps, figure-eight-type circling movements, throws, and catches of the rope. They must also leap and jump through open and folded rope.
Hoop: Made of wood or plastic, the hoop must have an interior diameter of 80–90 cm. Judges evaluate competitors on spins, tosses, catches, rolls, swings, passes through and over the hoop, plus rotations of the hoop on the floor, around the hand, and on the body itself.
Ball: A 400 gram, 18–20 cm rubber ball is used in this event. Gymnasts perform maneuvers including circles, throws and catches, waves, and general movement with the ball balanced on the hand.
Clubs: Clubs weigh 150 grams each and are 40–50 cm long. Judges look for mills, throws, catches, swings, circles, and rhythmical tapping.
Ribbon: Ribbon routines involve constant motion of a six meter ribbon attached to a 50–60 cm stick. Ribbon maneuvers include circles, throws and catches, snakes, spirals, swings, and figure-eights.
What Is Group Rhythmic Gymnastics?
Rhythmic gymnastics can involve both individual competition and group competition. In the group event, five gymnasts comprise a team. Judges reward teams that demonstrate mastery of body and apparatus skills as a cohesive unit. Points are awarded for synchronized, harmonious motion as well as large and small exchanges of equipment. The more interaction between the gymnasts, the higher the score may be.
Due to the inherently rhythmic and musical nature of group competition, winning teams often exhibit the synchronicity of a band, where each member anticipates the actions of others and reacts to them in a fluid, symbiotic manner.
How to Score Rhythmic Gymnastics
Think Like a Pro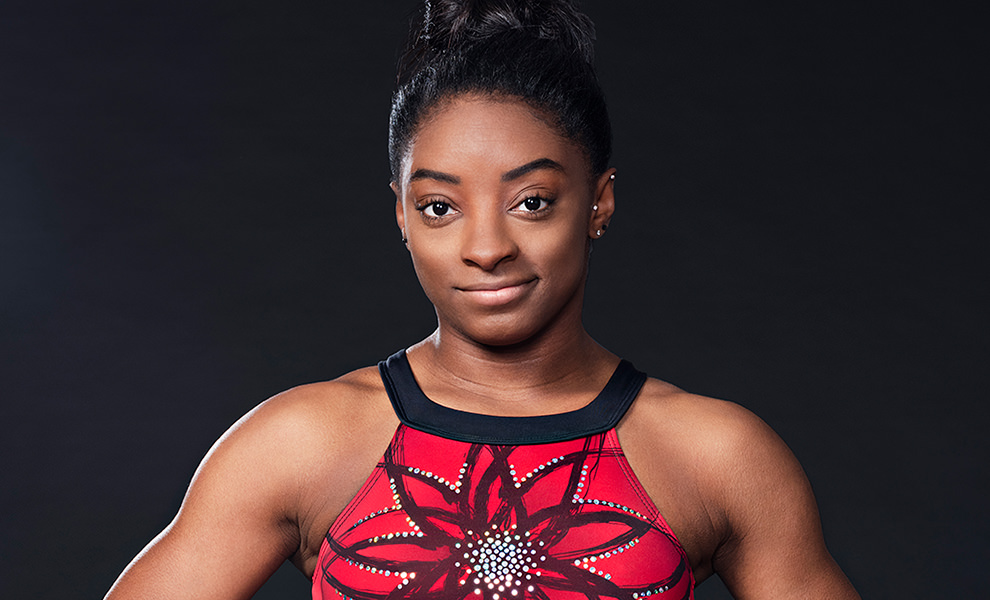 Gold-winning Olympic gymnast Simone Biles teaches her training techniques—from beginner to advanced—so you can practice like a champion.
View Class
In international rhythmic gymnastics competition, gymnasts are judged by the Code of Points, a rule book issued by the International Gymnastics Federation (FIG) that outlines the point values of various skills in international competition.
A gymnast's final score is calculated from a start value, where the gymnast begins with the highest possible score and then has points deducted for elements that may have been lacking in their routine. A technical committee of judges determines these deductions.
In the past, FIG's scores used to have a maximum value of 10—you've probably heard the expression "a perfect 10." But in 2006, FIG altered its system to factor the difficulty of skills and routines into its scores. These days, the total score for a gymnast's routine is actually the sum of two scores: the Difficulty Score (D) and the Execution Score (E).
The Difficulty Score reflects the total difficulty value (DV) of skills plus the connection value (CV) and compositional requirements (CR). Two judges make up the D Panel. Each judge independently determines his or her Difficulty Score, and then the two judges must come to a consensus.
The Execution Score rates the performance in terms of execution and artistry. The Execution Score is determined by six judges on the E Panel. The score begins at 10, and deductions for errors in execution, technique, or artistry are subtracted from this baseline. Judges separately determine their scores for a routine, the highest and lowest scores are dropped, and the average of the remaining four scores becomes the final Execution Score.
When you're creating and executing a routine, familiarize yourself with the Code of Points that relates to your level of competition and the organization within which you're competing. That way, you can make sure your routine is designed to achieve maximum points for your skill range and that you hit all the requirements.
What Are the Unique Requirements for Rhythmic Gymnastics?
Each rhythmic gymnastics routine must contain events that are ranked as being sufficiently difficult by the FIG. Apparatus manipulation is a key component in receiving a top score, with points deducted for technical faults. In the hoop, ball, and ribbon rhythmic events, one of these difficulties must be performed with the non-dominant hand.
Rhythmic gymnastics choreography must cover the entire floor. The choreography must feature a balanced choice of the groups of elements. This includes jumps, leaps, pivots, balances, and flexibility movements. Body movement should be fluid and musical, even displaying elements of ballet.
Each routine is scored by two panels of judges. The first panel judges the composition of the routine, where the overall array of rhythmic gymnastics events is scrutinized. The second panel judges the execution of these events.
Each individual exercise operates on a base score 9.60 points. Exceptional performances may receive bonus points, which vary between Junior Olympic and and standard Olympic (aka senior) gymnastics circuits. In the senior circuit, bonuses can reach 0.40 points, while in the junior circuit, bonuses can reach up to 0.20 points. Accordingly, senior competitors can max out at 10.00 points while juniors can max out at 9.80 points.
Group exercises have a base score of 19.20. Including potential bonus points, the maximum score for group exercise is 20.00.
Want to Become a Better Athlete?
Whether you're just starting out on the floor or dreaming big about going professional, gymnastics is as challenging as it is rewarding. At 22, Simone Biles is already a gymnastics legend. With 14 medals, including 10 gold, Simone is the most decorated World Championship American gymnast of all time. In Simone Biles's MasterClass on gymnastics fundamentals, she breaks down her techniques for the vault, uneven bars, balance beam, and floor. Learn how to perform under pressure, practice like a champion, and claim your competitive edge.
Want to become a better athlete? From training regimens to mental preparedness, learn everything you need to enhance your athletic abilities with the MasterClass Annual Membership. Gain exclusive access to video lessons taught by world champions, including Olympic gold-medal-winning gymnast Simone Biles, World No. 1-ranking tennis player Serena Williams, and six-time NBA All-Star Stephen Curry.