---
A Brief History of German Winemaking
Grapes have grown wild along the upper Rhine river since prehistoric times, but winemaking likely arrived with the Romans and was first written about in the fourth century. Until the eighth century, vineyards were located exclusively west of the Rhine, from Alsace in the south up through Pfalz and Rheinhessen, stopping around the Mosel River in the north. Winemaking spread east of the Rhine with Christian missionaries, spurred by the support of Charlemagne.
In western Germany and Alsace (then considered part of Germany), viticulture reached its peak around 1500, at which time the total vineyard area was about four times the size of today's plantings. During the mid-seventeenth century, the Thirty Years' War contributed to a rapid decline in German winemaking. A slow rebuild eventually led to new quality control measures, which individual German states began to impose as early as the 1830s. In the late nineteenth and early twentieth centuries, Germany's Rieslings became some of the most prized (and expensive) wines in the world, famous for their aging potential and expression of terroir.
In 1971, national German Wine Law was updated to reflect the quality standards some regions had already adopted, and all wines were classified according to must weight, or the ripeness of the grapes at the time of harvest. This discouraged the earlier practice of harvesting grapes before fully ripe (to avoid rot) but was not enough for some high-quality producers, who developed their own labeling processes still in place today.
A Guide to the 13 German Wine Regions
There are 13 official German wine regions. From largest to smallest they are:
Rheinhessen, located on the west bank of the Rhine, is the largest wine region in Germany and home to one-third of the country's Riesling wine production.
Pfalz is located in southern Germany on the west bank of the Rhine, just north of the French border and Alsace wine region. Vineyard sites follow the eastern slope of the Haardt mountain range, a continuation of the Vosges in Alsace. Pfalz grows more international varieties (such as Chardonnay and Sauvignon Blanc) than any other German wine region and is home to mostly dry and sparkling wines.
Baden, located across the Rhine River from Alsace, is Germany's southernmost wine region. Baden is the only German wine region in the European Union wine-growing region Zone B, the same zone as Alsace, Champagne, and the Loire Valley. It's also Germany's longest wine region, stretching from the Swiss border and following the Rhine all the way northward to the Franken wine region. One-third of Baden's plantings are red wine grapes.
Mosel is situated along the Mosel River and its tributaries, Ruwer and Saar. Mosel is known for its high-quality dessert wines made from the Riesling grape. The best vineyard sites in Mosel have soil containing slate, which helps retain warmth underground.
Württemberg is a large region to the east of the Rhine, north of Baden, that includes some portions of the Neckar River and its tributaries. Red wines dominate here, with Trollinger accounting for 21 percent of plantings. Most Württemberg wine is consumed locally.
Franken in central Germany is situated northeast of Württemberg on the Main and Tauber tributaries. The region is typically associated with the Silvaner grape, although it only accounts for a quarter of plantings. Most Franken wine is sold in flat bottles called Bocksbeutel and consumed locally.
Nahe is located just west of Rheinhessen on both sides of the Nahe River and its tributaries. This region consists of several disparate sites, some of which are famous for their Rieslings, clumped together by the German Wine Law of 1971.

Rheingau is a small region north of the Nahe and Rheinhessen wine regions, with 90 percent of vineyard sites situated on the right bank of the Rhine. Its two main grapes are Riesling (79 percent of plantings) and Pinot Noir (12 percent of plantings). The dry Rieslings produced here in the nineteenth century were Germany's most famous and expensive wines of all time.
Mittelrhein is a very small region just north of Rheingau, known for its dramatic cliffs with terraced vineyard sites overlooking the Rhine. Sixty-seven percent of plantings here are Riesling.
Saale-Unstrut, located in eastern Germany, is separate from the majority of the country's Rhine-centered wine regions. Saale-Unstrut is situated at the intersection of the two rivers for which it is named: Saale and Unstrut, near the city of Naumburg. The mostly white dry wines produced here have body thanks to calcareous soil but are vulnerable to frequent frosts.
Ahr is a tiny wine region located on the Ahr river, and the northernmost of Germany's Rhine-based wine regions. Spätburgunder (Pinot Noir) dominates the region, accounting for about 60 percent of plantings.
Hessische Bergstrasse is a very small region located to the east of the Rhine and north of the Neckar, on the western slope of the Odenwald mountain range. Riesling accounts for about half of all plantings.
Sachsen is Germany's smallest wine region and one of just two wine regions in the eastern part of the country (Saale-Unstrut is the other). It is situated on the Elbe river and anchored by the city of Dresden. Viticulture was documented in the area as early as 1161, but low yields and high demand mean that Sachsen's dry white wines are typically consumed locally.
How Are German Wines Classified?
The German Wine Law of 1971 identifies each vineyard (Einzellage) and collective site (Grosslagen) and specifies levels of quality determined by must weight, a measure of grape ripeness at harvest. There are three broad categories of German wine:
Deutscher Wein: Formerly known as Deutscher Tafelwein ("German table wine"), Deutscher Wein comprises less than five percent of production and is the lowest wine status. It is typically a blended wine of unspecified origins.
Qualitätswein bestimmter Anbaugebiete: "Quality wine from specific regions" (QbA for short) must be from 13 designated wine regions. Qualitätswein is required to meet certain must weight requirements based on the region. Since most German wines fall under this category, it isn't a very good marker of quality. Specific quality wines include the semi-sweet Liebfraumilch.
Prädikatswein: Prädikatswein, or Qualitätswein mit Prädikat ("wine with distinction"), is a step above quality wine and comprises six categories based on grape ripeness. From lowest to highest must weight, they are as follows: Kabinett ("cabinet") is the lightest wine, typically dry and fruity; Spätlese ("late harvest") is made from late-picked grapes and can range from a dry wine to a sweet wine; Auslese ("choice") is typically a rich, sweet wine made from selected late-picked grape varieties; Beerenauslese ("select berries") is usually a sweet wine made from noble rot-affected grapes; Trockenbeerenauslese ("select dry berries") is a strong, sweet wine made from grapes that have dried on the vine; Eiswein ("ice wine") is a very sweet wine made from grapes that have frozen on the vine.
Since the ripeness of the wine grapes doesn't always translate to the sweetness of the wine, many German wines (especially dry wines) supplement their Prädikat label with words like trocken ("dry"), halbtrocken ("medium-dry"), lieblich ("medium-sweet"), and süss ("sweet")
The Verband Deutscher Prädikatsweingüter (VDP), a growers' association of 202 vineyards representing just three-and-a-half percent of Germany's grape-growing area, imposes much stricter regulations than the German Wine Law. VDP's German wine labels have influenced even non-members to adopt similar, self-imposed regulations above and beyond the requirements of German Wine Law. VDP wines bear the symbol of an eagle with a cluster of grapes.
12 German White Grape Varieties
Think Like a Pro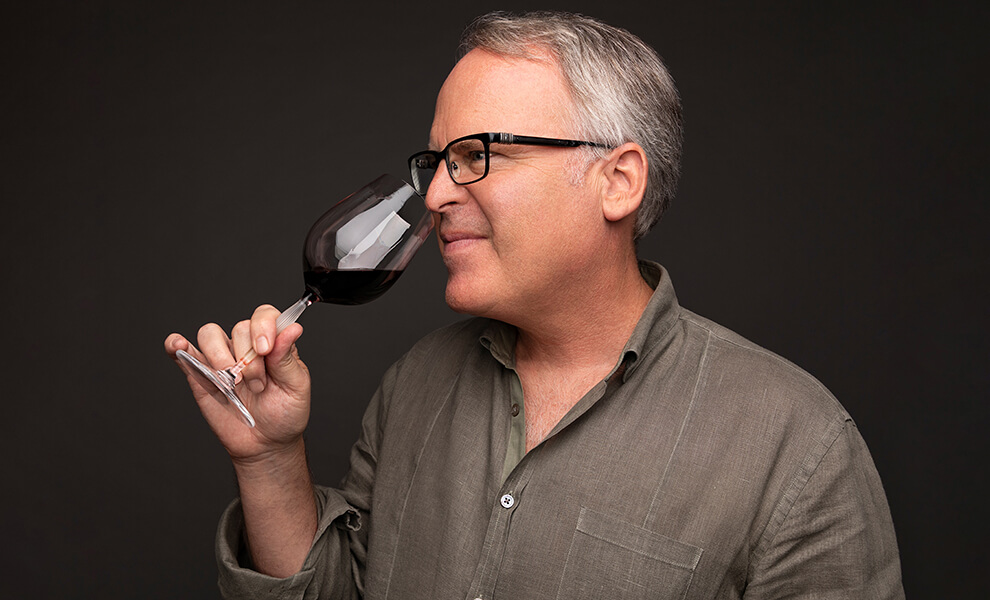 Flavor, aroma, and structure—Learn from wine master James Suckling as he teaches you to appreciate the stories in every bottle.
View Class
White wine varieties make up two-thirds of plantings in Germany.
Riesling: Riesling has been grown in Germany since at least 1435. It's the country's most popular grape, accounting for a quarter of plantings. Although other areas grow Riesling grapes, Germany accounts for 40 percent of production. German Rieslings can vary substantially in flavor due to the grape's sensitivity to terroir, as well as how the winemaker produces the wine. Rieslings can be dry, sweet, sekt ("sparkling"), or eiswein ("ice wine"). They are categorized both by the must weight of the Riesling grapes and the residual sugar levels of the wine.
Müller-Thurgau: Müller-Thurgau is Germany's second-most popular grape, planted in 12 percent of vineyards. It was developed in 1882 from Riesling and Madeleine Royale, a table grape. An early-ripening variety, it produces higher yields and light, flowery wines typically consumed young.
Grüner Silvaner: Silvaner is a white grape variety that arrived in Germany in 1659 and quickly rose to popularity, often planted alongside (and blended with) other varieties such as Riesling. It now accounts for just five percent of plantings.
Kerner: Kerner was bred in 1969 as a cross between Trollinger and Riesling. It's earlier-ripening than Riesling, with a higher yield, and accounts for around two-and-a-half percent of vineyard plantings.
Gutedel: Gutedel is the German name for Chasselas, an early-ripening variety that's low in acidity and also enjoyed as a table grape.
Grauburgunder: Grauburgunder is the German name for Pinot Grigio. This grape is a Pinot Noir mutation with pink-blue skin and white juice, found growing wild in Germany in 1711. It accounts for six-and-a-half percent of vineyard area.
Weißburgunder: Weißburgunder is the German name for Pinot Blanc, a grape that occupies around five-and-a-half percent of plantings. It ripens a little earlier than Riesling and grows in microclimates too hot for Riesling.
Chardonnay: Chardonnay, which first came to Germany in 1991, represents around two percent of plantings.
Gewürztraminer: Gewürztraminer is a pink-skinned grape popular since the Middle Ages and grown in nearly all German wine regions.
Sauvignon Blanc: Sauvignon Blanc occupies just around 3,700 acres of plantings in Germany, so it's mostly consumed domestically. Learn more about sauvignon blanc in our guide here.
Bacchus: Bacchus is a variety developed in the 1930s from a crossing of Silvaner and Riesling crossed with Müller-Thurgau. It occupies around one-and-a-half percent of plantings.
Scheurebe: Scheurebe was bred in 1916 as a cross between Riesling and Bukettrebe (a cross between Silvaner and Schiava Grossa). Although hailed as a quality grape with good aging potential, it currently accounts for less than one-and-a-half percent of plantings.
4 German Red Grape Varieties
Red wines have become more popular in Germany in recent years, due to both consumption trends and climate change, with warmer summers allowing red grapes to ripen more consistently. Red grapes now represent one-third of total plantings.
Spätburgunder: Spätburgunder is the German name for Pinot Noir. This grape was spread throughout Germany in the twelfth century by Cistercian monks from France. It is now the third-most planted variety in the country, representing 11 percent of total plantings. German Spätburgunder tends to be lighter than Pinot Noirs produced in warmer climates.
Dornfelder: Dornfelder was developed in Württemberg in 1955 to give a darker color to light red wines. It's now Germany's second-most planted red grape.
Trollinger: This red grape has dominated in Württemberg since the Middle Ages. A late-ripening variety, it produces fruity, acidic, and light red wines that are typically consumed young.
Portugieser: Portugieser is an early-ripening variety used to make weißherbst (rosé) and light red wines.
Learn More
Want to learn more about the culinary arts? The MasterClass All-Access Pass provides exclusive video lessons from master chefs and wine critics, including James Suckling, Chef Thomas Keller, Gordon Ramsay, Massimo Bottura, and more.