---
What Is Pan Roasting?
Pan-roasting is a stovetop cooking technique that involves lower temperatures and longer cooking times. It is a gentler, slower cooking process than sautéing—beginning with a hot pan and finishing in the oven. It's ideal for everything from various cuts of meat to a hardier fish like swordfish or delicate summer squash.
How to Pan-Roast
To make Chef Thomas Keller's pan-roasted zucchini with vierge sauce, halve zucchini lengthwise and score the flesh in a crosshatch pattern. "Rain" or "snow" kosher salt onto the scored side of the zucchini from a height that allows it to evenly distribute. Leave the zucchini for 10–15 minutes so that salt has time to draw out moisture, which will help maintain the density of the vegetable as it cooks. Pat the zucchini dry. Heat canola oil (use just enough to coat the bottom of the pan) in a 12-inch fry pan until it's shimmering and just beginning to smoke. Add the zucchini flesh side down in the oil, adjust the heat to allow the zucchini to sear and caramelize without burning. Cook for about 5 minutes, then add herbs or garlic and immediately place the pan in a 450°F oven to roast for 25–30 minutes or until the zucchini are completely soft.
While the zucchini is roasting, gently combine 125 grams tomato concasse, 15 grams champagne vinegar, 5 grams of minced shallots, and 35 grams extra virgin olive oil in a mixing bowl, and allow the flavors to blend together. Season with kosher salt to taste and add a pinch of minced parsley.
Transfer zucchini to a paper towel-lined plate to blot excess oil. Spoon the vierge sauce over the top, following by a sprinkling of finishing salt.
What Is Pan Frying?
Pan-frying is a shallow frying method that allows you to develop a crispy, golden-brown crust without fully submerging anything in oil, as you do when deep-frying. It's perfect for frying delicate fish fillets or vegetables—or when, say, you don't have a restaurant-quality fryer hanging out in your kitchen.
How to Pan-Fry
Pan-frying is the key to Chef Thomas Keller's classic wiener schnitzel with veal, coated with a delicate breading. Place a 5 oz. piece of veal in a large food-grade plastic bag and pound with the spiked side of a meat mallet until it reaches a uniform thickness of about 1⁄4-inch. Set up a breading station with three bowls. Put about 1⁄2-inch of flour in a shallow bowl wide enough to hold the cutlet. Lightly beat 1 egg in a second bowl. Add water to dilute the egg wash—the egg wash should have the viscosity of cream. Season it generously with salt. Spread half an inch of breadcrumbs in the third. If you use panko, first pulse in a food processor until finely ground.
Heat canola or vegetable oil in 12-inch saute pan over high heat until it begins to shimmer. You can adjust heat as needed once you begin cooking. Dredge the cutlet: First, spray the cutlet with water. Dip both sides of the cutlet in the flour, patting off any excess. Then dip both sides into the egg, letting any excess drip back into the bowl. Finally, coat both sides with breadcrumbs.
Add the dredged cutlet to the hot oil and cook for about 1 minute on each side, flipping carefully with a spatula, until crisp and golden. Transfer to a paper towel-lined plate to rest. To plate, garnish simply with a squeeze of lemon juice and parsley.
What Is Pan-Searing?
Pan-searing is a technique that relies on high temperatures to add delicious texture on the outside of meat, fish, or vegetables. Contrary to popular belief, searing meat does not seal in flavor—but it does get you things like perfectly caramelized scallops and crackling fish skin.
Tip: For the best pan-searing results, tri-ply pots and pans have a layer of stainless steel between layers of aluminum. Aluminum's heat conductivity allows for even cooking; cookware made of stainless steel alone does not lend itself to searing and can lead to hot spots and burns. Cast iron skillets also work well.
How to Pan-Sear
Think Like a Pro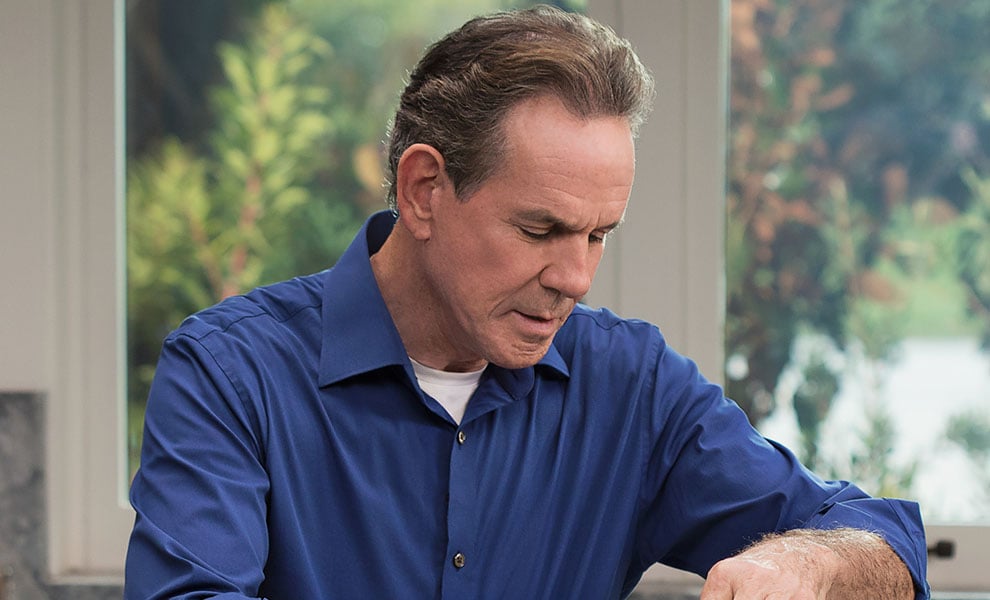 Learn techniques for cooking vegetables and eggs and making pastas from scratch from the award-winning chef and proprietor of The French Laundry.
View Class
To pan-sear a cauliflower steak, first preheat oven to 325°F. Peel the leaves off the cauliflower and cut the stem leaving 1 inch or enough for the florets to stay intact. This will leave the base flat and stable on the cutting board and make it easier to cut into the cauliflower evenly. Wet your chef's knife liberally before cutting the steaks to make the knife slick and nonstick when making contact with the vegetable.
Cut 1 inch off the left and right edges of the cauliflower, leaving about 2 inches of the center intact. Then slice the remaining portion in half, resulting in two 1-inch steaks from each head of cauliflower. The more even the steaks, the more evenly they will cook.
Drizzle a sheet tray or glass baking pan with 2 ounces (or 4 tablespoons) of olive oil. Sprinkle 1 tablespoon harissa powder and a pinch of Maldon salt over the oil. Rub both sides of the steaks in the olive oil/harissa mix. Finish with another pinch of Maldon salt.
Heat a large cast-iron skillet on medium-high heat with 1 tablespoon of olive oil. Once the pan is smoking, place the cauliflower steak in the hot pan and let brown on one side for 90 seconds or until the edges begin to char. Turn it over gently, add 2 tablespoons of unsalted butter to the pan, melt, and brown to give the steak a nutty flavor. Baste the steak with the browned butter. When the butter is frothy, gently add ¼ cup vegetable stock into the pan and let it come to a boil. Remove from the stovetop and place on the middle rack of the oven. Roast for 8 to 10 minutes. Use a paring knife to test the doneness of the cauliflower. If you feel resistance, continue cooking; if it pushes into the flesh easily, it is finished cooking. Transfer to a platter to rest.
Want to Learn More About Cooking?
Become a better chef with the MasterClass Annual Membership. Gain access to exclusive video lessons taught by culinary masters, including Chef Thomas Keller, Massimo Bottura, Dominique Ansel, Gordon Ramsay, Alice Waters, and more.