---
5 Steps in the Decision-Making Process
To consistently make good decisions, you need problem-solving skills and a decision-making process. In business, making a bad decision or the wrong decision could have implications that affect the chances of a company's success, so it's important to determine which risks are worth taking. Here are the five steps in the decision-making process:
Identify the problem that needs a resolution. Recognize when the status quo isn't working.
Collect as much relevant information as possible.
Evaluate possible solutions and potential outcomes—including the worst case scenario.
Determine the best solution.
Take action.
5 Skills You Need to Make Decisions
Everyone has their own style and approach to solving a problem or designing a solution, but there are a number of decision-making tools that maximize your chances of making the best decision:
Critical thinking: In business, it's essential to learn how to take a step back from your business and analyze the challenges you face from an objective standpoint.
Information gathering: Knowing how and where to find reliable information is an essential skill. This may involve conducting market research.
Interpersonal skills: Knowing how to relate to others is essential for making informed decisions; when making a risky decision, you'll often have to turn to someone more knowledgeable for information. Know how to make them feel comfortable and appreciated.
Active listening: When an expert or advisor is weighing in on your prospects, don't redirect the conversation so you can speak. Be present and engaged, and ask pertinent questions.
Project management: Actually implementing your decisions necessitates a high degree of organization. Know how to delegate and motivate your team to achieve your company's goals.
Why Are Decision-Making Skills Important?
Making decisions allows you to choose a course of action on a particular issue and achieve your goals. Good decision-making is a learned craft that leads to professional and personal development. The ability to demonstrate critical thinking is a vital attribute in almost any job, especially in a leadership position where decisions can impact an entire company. Sometimes, after weighing all the information, a gut feeling guides decision-making—but it's important to have developed good decision-making skills in order to hone your instincts.
Why Is Risk-Taking Important?
A leader is often the main decision-maker for their brand. The truth is, in order to stay competitive, they often have to leave their comfort zone, overcome risk-averse tendencies and a fear of failure, and take risks. Taking small risks or big risks can lead to new opportunities, growth, and success for a company. It also builds self-confidence and garners recognition, which can lead to professional and personal development. In business, it is better to make tough decisions, stand out, and lead the conversation. Some of Anna Wintour's biggest risks brought the biggest rewards for Vogue. Putting Kim Kardashian and Kanye West on the April 2014 cover ruffled feathers, but it paid off. Anna and Vogue weathered the noise, and it has since become one of the most memorable issues in the magazine's recent history.
Anna Wintour's 5 Tips for Decision-Making and Risk-Taking
Think Like a Pro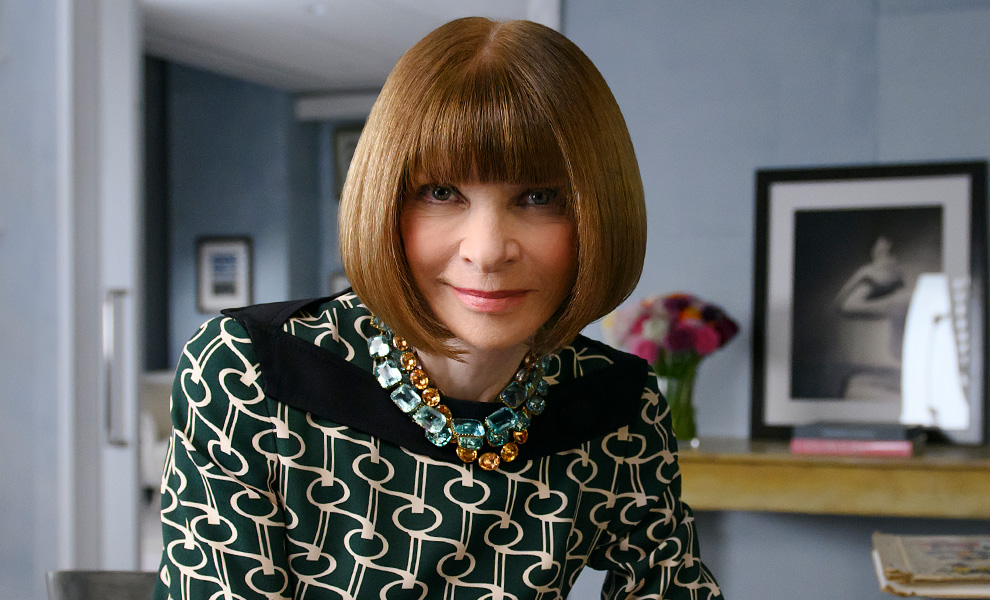 Anna Wintour gives unprecedented access to her world, teaching you how to lead with vision and creativity—and without apology.
View Class
When it comes to taking risks, Anna Wintour is a firm believer in provoking a conversation, having a strong point of view, trusting your own instincts, and learning from your mistakes. Here are five tips from Anna Wintour on making decisions and taking risks.
Expect the unexpected. Anna Wintour's first American Vogue cover was very different from those that preceded it: The photo crop was wider; the model was not looking directly at the camera; the clothing had a casual sensibility, mixing a Christian Lacroix couture top with Guess jeans. In other words, it made a statement and spoke to what Anna wanted to convey, which was that fashion can be accessible, spontaneous, and fun. Ironically, that particular photo was never intended to be a cover. But as soon as Anna saw the image, she realized its potential and pivoted accordingly. When you are in a new position, it's important to find opportunities to communicate to others what your vision is and what type of leader you are going to be.
Follow your instincts. For Anna's first September issue cover, in 1989, she featured Naomi Campbell in a sequined pantsuit because Anna felt Campbell "represented everything that was happening in fashion at that time." Some at Condé Nast questioned her decision, but Anna ignored them and followed her instincts.
Be generative and reactive. In addition to creating new ideas and concepts that will set the cultural barometer, it is equally important to take stock of what is happening around you and react to it. Take, for instance, Anna's choice in the early aughts to start featuring celebrities rather than models on Vogue's covers. At that time, actresses were starting to engage with fashion more and more, which is why Anna and her team felt they made sense as cover subjects. It then became cyclical. As celebrities saw their peers getting attention in a positive way from the fashion press, they themselves became more engaged with fashion and designers. It might be hard to imagine today, but back then it was considered somewhat radical to put Hollywood stars on the cover. Anna and the magazine received a lot of criticism and pushback, but she knew it was the right decision based on the wider influence celebrities were starting to have in popular culture.
Find good collaborators. Good collaborators can come in any form. For Anna, it is important to feature a cover subject who is eager and engaged with the process. She uses Sienna Miller and Lupita Nyong'o as examples of perfect subjects: Miller was game to traipse all over Rome in the fall collections despite a heat wave, and Nyong'o arrived to her fitting with mood boards and suggestions for featuring African designers. A fashion editor or photographer can also surprise you with their vision, as was the case when Irving Penn shot Nicole Kidman, or Tonne Goodman turned Rihanna into a modern-day mermaid.
Don't get stuck in your own ways. Challenge yourself to consider whether there is a smarter way to be doing something. When Vogue began posting its cover stories online in 2010, there was concern that the website might "scoop" the print edition (and thus rob the magazine of newsstand sales). By experimenting with different timing, though, Anna and her team learned that there was great benefit in posting the cover online early because it created hype around the forthcoming issue and appealed to a wider audience.
Want to Learn More About Business Leadership?
Whether you're starting our own business or a veteran CEO looking to brush up on the basics, understanding the ins and outs of people management, team building, and effective workplace communication can make all the difference between a successful business venture and an unsuccessful one. No one knows this better than Anna Wintour, who has served as Vogue magazine's editor-in-chief since 1988. In Anna Wintour's MasterClass on creativity and leadership, the current Artistic Director of Condé Nast provides her distinct and priceless insight into everything from hiring and managing a successful team to how to best serve the right audience.
Want to become a better business leader? The MasterClass Annual Membership provides exclusive video lessons from business luminaries, including Anna Wintour, Bob Iger, Sara Blakely, Howard Schultz, and more.