---
What Is Beurre Rouge?
Translated from French, beurre rouge literally means "red butter." It is a savory yet slightly tangy sauce made with shallots, herbs, red wine, and butter. It has a velvety texture created by slowly whisking cold butter into the red wine reduction over heat in a process known as emulsification.
How Is Beurre Rouge Used in Cooking?
Beurre blanc is a popular white wine sauce originally from the Brittany region of France. Beurre rouge emerged when red wine was used in place of the white. The sauce is gluten free and can be eaten with a variety of diets. While it is often paired with seafood like scallops or salmon fillets, the rich flavor of beurre rouge also pairs well with heavier foods like filet mignon or a rib-eye steak, and hearty veggie dishes, like roasted asparagus and potatoes. Some popular ways to use beurre rouge include:
Seafood: Sear scallops or sauté halibut and lay it on a plate drizzled with beurre rouge.
Potatoes: Coat sliced potatoes with salt and olive oil, put in a roasting pan in the oven, and cook until golden. Serve with roast chicken and beurre rouge.
Meats: Add beurre rouge to a sous vide steak or chicken breasts, mixing in some of the meat drippings to thicken the sauce.
5 Tips for Making Beurre Rouge
While beurre rouge is an easy, one-pan sauce, there are certain steps that need to be taken to properly emulsify the wine and butter to achieve that smooth texture and the desired taste. Keep these tips in mind when making beurre rouge:
Use cold butter. Beurre rouge is an emulsified sauce. That means it is a combination of two ingredients that blend together in a suspended state (think oil and vinegar.) Cold butter allows the emulsification to happen: As cubes of butter melt into the red wine reduction, the liquid is suspended more evenly. Avoid butter that is room temperature. Add the cubes one by one into the reduction.
Adjust the richness to your liking. Like many sauces, adjusting ingredient amounts can highlight different flavors. With beurre rouge, the richness and intensity of the sauce can be adjusted by modifying the amount of butter you use.
Make beurre rouge last. While the reduction for the beurre rouge can be made in advance, the sauce should be emulsified with the butter just before serving.
Use just the right amount of heat. When adding the butter, keep the stove at a medium-high heat for a smooth, velvety sauce. Low heat will not melt the butter fast enough, leaving it clumpy, and high heat will bring it to a boil.
Whisk continuously. To create the perfect emulsion that comes together while cooking, whisk continuously as each cut of cold butter is added to the pot. Continue whisking until the sauce is done and the stove is turned off.
Chef Thomas Keller's Influence on American Cuisine
Think Like a Pro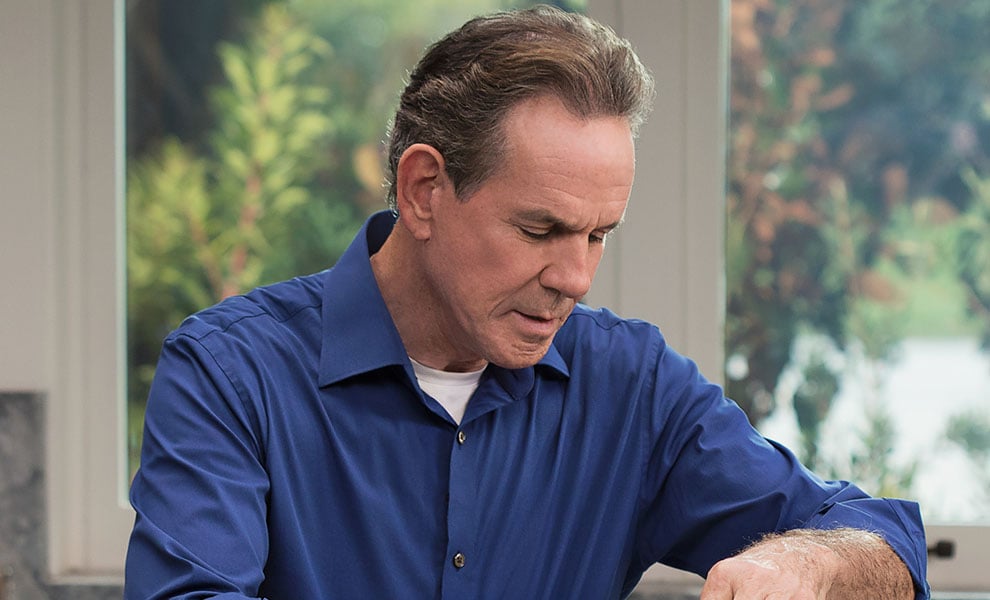 Learn techniques for cooking vegetables and eggs and making pastas from scratch from the award-winning chef and proprietor of The French Laundry.
View Class
You don't have to be a foodie to appreciate the contributions Chef Thomas Keller has made to the American culinary scene. With his world-renowned New York and Yountville restaurants, Bouchon Bistro, Bouchon Bakery, Per Se, and The French Laundry, Chef Keller has made French cuisine popular with the American palate. If you prefer classic American comfort food, try whipping up Keller's recipe for crispy fried chicken in his cookbook, Ad Hoc at Home, with meals inspired by the menu at Ad Hoc + Addendum, his other Napa Valley Restaurant.
Chef Keller has won numerous James Beard Foundation Award awards, and he is the only American chef to have had two restaurants with three Michelin stars at the same time. But his lasting influence on American cuisine has been making French recipes more accessible to the home cook. People now easily whip up sauces like beurre rouge in their own kitchen or a weeknight casserole thanks to the New York Times bestselling author of the cookbook Bouchon.
Chef Thomas Keller's Beurre Rouge Sauce Recipe
Ingredients
French cuisine can be complex, but some of the best recipes are simple, like this one for Thomas Keller's beurre rouge. Some chefs add other ingredients into their sauce, like tarragon, and a splash of heavy cream. Like many of his dishes, Thomas Keller knows just a few ingredients can yield a big taste.
400 grams red wine
125 grams Port wine
30 grams mushrooms, thinly sliced
50 grams shallots, thinly sliced
25 grams carrots, peeled, thinly sliced
3 sprigs thyme
3 Italian parsley stems
1 fresh bay leaf
8 black peppercorns
150 grams unsalted butter, cut into 1⁄2-inch cubes, cold
Kosher salt
Make an herb sachet by placing the parsley stems, thyme, pepper-corns, and bay leaf on top of a small square of cheesecloth. Fold the short sides of the square in towards the center, then roll into a sachet. Wrap kitchen twine twice around one end of the sachet, twice around the other end, and tie a slipknot in the center.
Combine the wines, mushrooms, shallots, carrots, and sachet in a medium saucepot.
Simmer over medium-high heat until the liquid has reduced by half, about 20 minutes. Strain the reduction through a sieve into a small saucepan while squeezing the vegetables against the side of the medium saucepot with a spoon to release as much of the reduction as possible. Tip the vegetables into the sieve, and finish straining.
To complete the beurre rouge, simmer the reduction in the small saucepot over medium-high heat until large bubbles form and the consistency becomes more syrupy, lightly coating the bottom of the saucepot.
Reduce to medium-low heat and begin adding cold butter one piece at a time, whisking constantly to maintain the emulsion. It is important that the sauce does not get too hot or simmer, as that would break the emulsion. Once the sauce is at the desired level of richness and intensity, turn off the heat, and season with salt.
Become a better chef with the MasterClass Annual Membership. Gain access to exclusive video lessons taught by culinary masters, including Chef Thomas Keller, Massimo Bottura, Dominique Ansel, Gordon Ramsay, Alice Waters, and more.