---
What Is Lemon Meringue Pie?
Lemon meringue pie is a classic American dessert of shortcrust pastry topped with lemon curd, all enclosed in a pile of meringue and baked until golden-brown. All three components are prepared separately, then assembled into one striking package.
2 Tips for Making Pie Crust
The crust of lemon meringue pie is typically made from shortcrust, or pâte brisée, a type of pastry made by rubbing small pieces of butter into flour and adding enough cold water to form a dough. For the best pie crust:
Make the dough the day before you plan to bake, so that it has plenty of time to rest and chill.
Use very cold butter and water and work quickly to avoid overheating the dough.
4 Tips for Making Lemon Curd
Recipes for lemon meringue pie sometimes call for lemon curd, and sometimes lemon custard. Lemon curd and lemon custard are made the same way—curds simply tend to have a stronger flavor. When making your lemon filling:
Use nonreactive cookware to avoid the curd developing metallic flavor.
Temper the egg yolks to help avoid a runny curd.
It's easier to separate cold eggs, so separate the eggs straight from the fridge. Then allow both the yolks and the whites to come to room temperature.
Don't toss your egg whites! Use them to make the meringue.
6 Tips for Making Meringue
You can top lemon meringue pie with French, Italian, or Swiss meringue, but take into consideration the pre-cooked Italian or Swiss versions are more stable and easier to work with. Whichever style you choose:
Make sure your egg whites are free of any traces of yolk and that your mixing bowl and whisk are clean and dry.
Use a large bowl at least eight times bigger than the starting amount of egg white.
Use a copper or silver-plated mixing bowl, or add a pinch of powdered copper supplements to the mixture.
The more powerfully you whisk, the quicker the egg whites will aerate. Do yourself a favor and use a large balloon-style whisk or, even better, an electric stand mixer.
Don't skimp on the sugar—it's not there just for flavor. Sugar bonds to water and slows its evaporation, so if there's not enough sugar in your mixture during baking, the water in the egg whites will evaporate before the egg proteins have time to form a stable structure around the air bubbles. You can also use cornstarch to mimic the effects of sugar. (Powdered sugar contains about 10 percent cornstarch.)
Although not strictly necessary, you can use stabilizing agents to prevent your egg whites from weeping, or leaking water. Stabilizing agents work by bonding to the egg white proteins, so that they can't form the super strong bonds with each other that tend to push water out. Once the egg whites just start to develop some structure, add an acid in the form of ⅛ teaspoon cream of tartar or ½ teaspoon lemon juice per egg white.
2 Methods for Torching the Meringue Topping
In the oven: Place the oven rack in lower-middle position and preheat oven to 400°F. Place a wire rack on a rimmed baking sheet and bake the pie on the rack until the meringue is light gold with some darker peaks.
With a kitchen torch: Since the pie crust and lemon curd are already cooked, if you use a cooked meringue as well, all you need to do is brown the outside. Use a kitchen torch positioned away from you to carefully brown the outside of the meringue.
5 Lemon Meringue Pie Variations
Think Like a Pro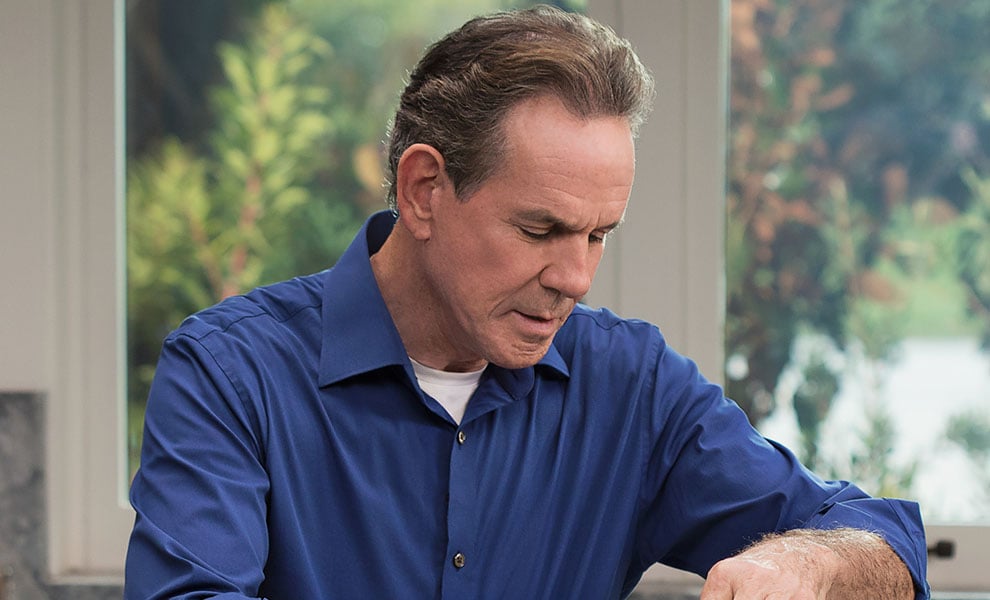 Learn techniques for cooking vegetables and eggs and making pastas from scratch from the award-winning chef and proprietor of The French Laundry.
View Class
Once you've mastered lemon meringue pie, try:
Meyer lemon meringue pie: Substitute Meyer lemons for regular lemons, if you can find them. They have a milder and somewhat floral lemon flavor.
Lemon meringue cake: Swap the pie crust for genoise cake.
Key lime pie with meringue: Substitute lemons for key limes and shortcrust pastry for a graham cracker crust, but still use the meringue of your choice.
Passionfruit meringue pie: Try tangy passionfruit curd in place of the lemon curd.
Lemon meringue pie with graham cracker crust: Make a no-bake pie with a crust made from crushed graham crackers and melted butter, lemon curd, and a pre-cooked meringue.
Classic Lemon Meringue Pie Recipe With Chef Dominique Ansel's Swiss Meringue
Ingredients
This recipe uses Chef Dominique Ansel's Swiss meringue. Learn this method of making meringue in Chef Dominique Ansel's MasterClass.
Makes one 9-inch pie
For the pie crust:
2 1/4 cup all purpose flour

1 teaspoon salt

3/4 cup unsalted butter, cut into ¼" cubes and chilled

¼ cup ice water
For the lemon curd:
8 large egg yolks
1 cup sugar
¼ teaspoon kosher salt
⅓ cup cornstarch
3 tablespoons fresh lemon zest
1 cup freshly squeezed lemon juice (from about 6 lemons)
3 tablespoons unsalted butter, room temperature
For the Swiss meringue:
4 1⁄2 cups confectioners' sugar
8 large egg whites
Make the pie crust: In the bowl of stand mixer fitted with a paddle attachment, combine the flour and salt on low speed. Slowly add the butter and continue to mix until the butter forms pea-size lumps, about 2 minutes. Drizzle in the ice cold water until the dough comes together—you may not need all the water. Continue mixing until dough is supple, about 30 seconds. Transfer dough to a lightly floured work surface. Use the heel of your hand to flatten the dough and form it into a disk. Wrap with plastic and chill in the refrigerator for at least 2 hours and up to 3 days.
Shape the pie crust: Remove pie crust from the refrigerator. Lightly oil a 9-inch pie dish with cooking spray or butter. When the dough is warm enough to manipulate, lightly flour a work surface and roll crust out into an ⅛ inch-thick circle. Fold the circle over the rolling pin and transfer to the prepared pie dish. Gently press crust into the pie plate. Crimp as desired. Transfer to freezer and chill for at least 1 hour.
Blind bake the pie crust: Heat the oven to 375°F. Remove the crust from the freezer and line the inside of the crust with parchment paper. Fill with pie weights or dried beans and bake until crust is golden, about 25–30 minutes. Remove the pie weights and parchment and bake uncovered until the bottom of the crust is golden, about 10 more minutes. Cool on a wire rack.
Make the lemon curd: In a medium bowl, beat egg yolks together. In a medium saucepan over medium heat, whisk together sugar, salt, cornstarch, lemon zest, lemon juice, and 2 cups water. Cook over medium-low heat, whisking, until hot (135°F). Increase heat to medium and cook until the custard is thick, about 3 more minutes. Reduce heat to low. Temper the egg yolks by slowly streaming a few spoonfuls of the hot curd into the yolks. Slowly add the egg yolk mixture to the saucepan. Increase heat to medium and cook until thickened. When the curd begins to bubble, whisk continuously for 2 minutes. Remove curd from heat and whisk in the butter. Strain curd through a fine mesh strainer. Use a rubber spatula to push as much of the custard through the strainer as possible.
Make the Swiss meringue: Fill a medium pot with about 3 inches of water and bring to a simmer. In a medium heat-proof bowl (or the metal bowl of a stand mixer), stir together the confectioners' sugar and egg whites. Place the bowl on top of the pot of simmering water. The bowl should sit on the rim of the pot, well above the water. Whisk the egg white mixture constantly as it warms. When it reaches 113°F and the sugar is fully dissolved, remove the bowl from the pot. Using a stand mixer fitted with a whisk attachment, or a hand mixer, beat egg whites on high speed. As they whip, the egg whites will double in volume, thicken, and cool. When stiff peaks form, the meringue is finished—it should be very fluffy with a consistency similar to shaving foam. This should take about 5 minutes, depending on your mixer.
Assemble the pie: Spread lemon curd into the prebaked pie crust in an even layer and cool until it forms a skin, about 30 minutes. Heat oven to 400°F. Top pie with meringue, using a rubber spatula to pile the meringue high. Bake until meringue peaks are light golden brown, with some darker spots, about 8 minutes.
Become a better home cook with the MasterClass Annual Membership. Gain access to exclusive video lessons taught by culinary masters, including Chefs Thomas Keller, Dominique Ansel, Gordon Ramsay, and more.