---
What Is Polenta?
Polenta is a porridge made of coarse or medium-ground cornmeal used in Northern Italian cooking. Some polenta varieties include other grains like ground buckwheat or ground rice. A coarse ground polenta yields a thicker mixture that is best for frying and baking, while a medium ground polenta yields a creamy texture that goes well with stews or slow-roasted meats, like pot roast.
What Is the Ratio of Polenta to Water?
Compared to other grains, polenta requires a lot of water to cook. Generally, the ratio of water to polenta is 4:1, or 4 parts cold water to 1 part polenta. For instance, a recipe that calls for two cups dry polenta will require eight cups water. (Compare this to the same amount of rice, which calls for four cups of liquid.) The additional water in polenta, along with constant stirring, helps soften the coarse grains of cornmeal and prevent them from clumping or sticking.
Is Polenta Healthy?
Polenta's health benefits can diminish with the addition of indulgent ingredients like excessive butter, salt, or cheese. However, plain polenta makes a great alternative side dish to potatoes, pasta, or white rice, and offers a few key health benefits.
Corn contains complex carbohydrates. Corn is made of complex carbohydrates, which take longer to break down and provide longer-lasting energy than the simple carbohydrates found in processed or refined grains.
Corn is gluten free. Corn contains no gluten, which means it's safe for those with celiac disease and gluten sensitivity.
Corn contains fiber, protein, and Vitamin A. These three dietary components help ensure that you feel satisfied without overeating.
What Is the Difference Between Polenta and Grits?
While both polenta and grits are similar dishes made of ground cornmeal, there are a few key differences.
Place of origin. Polenta originated in Northern Italy, while grits hail from the Southern United States.
Type of corn. American grits are traditionally made using hominy or dent corn, which is lighter in color and contains more starch. Polenta is made with Italian otto file or flint corn, which is deep yellow in color.
Taste and texture. Hominy grits are finely ground with steel tools or machinery, resulting in a texture akin to a cornmeal mush. By contrast, polenta uses a coarse grind that retains more of the husk and nutrients and produces a firmer texture.
6 Tips for Making Perfect Polenta
Think Like a Pro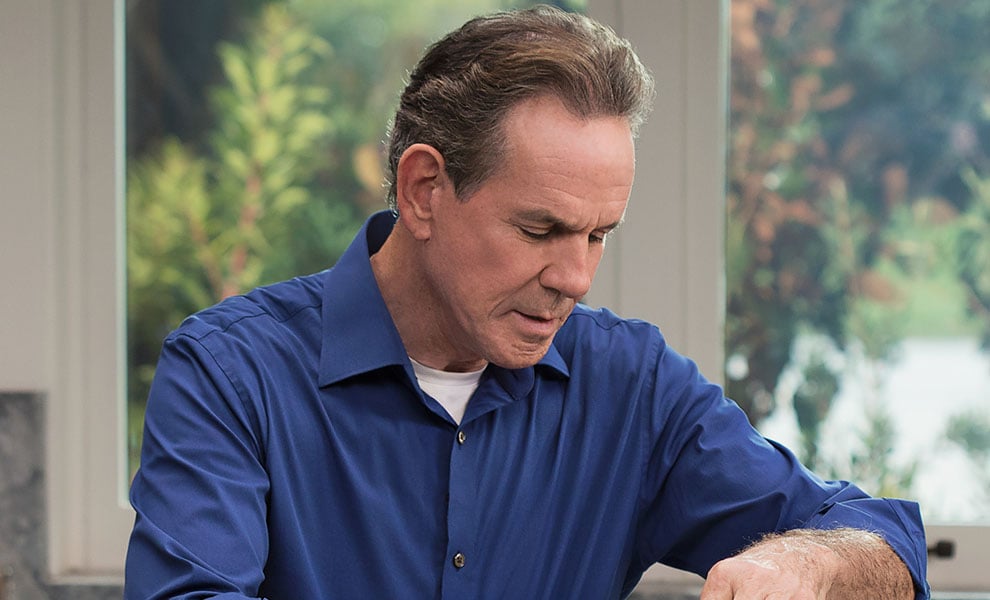 Learn techniques for cooking vegetables and eggs and making pastas from scratch from the award-winning chef and proprietor of The French Laundry.
View Class
Here are some ingredients and techniques to help you make delicious, hearty polenta at home.
Add fat. A simple way to add flavor to your polenta is to stir in about four tablespoons butter. (You can also add or substitute olive oil for a vegan alternative.) This gives the polenta a richer flavor and silkier texture.
Season liberally. Cornmeal alone has a fairly neutral taste. To give your polenta more flavor, be sure to season it during cooking with plenty of salt and fresh black pepper until it's perfectly savory. For a spicier polenta, you can sautée a couple of garlic cloves and red pepper flakes in oil before adding water to the pan.
Get cheesy. Cheese is another great addition to your polenta. Along with your butter, you can stir in parmesan cheese, pecorino romano, or even gorgonzola or taleggio for a cheesy polenta with a thick and creamy texture.
Swap chicken broth for water. A traditional method of making even tastier polenta is to replace the water in your recipe with chicken stock. Use the same ratio of chicken stock as you would water: four parts liquid to one part polenta.
Make polenta cakes. Cooking your polenta fully and allowing it to cool will thicken it to produce a cakelike mixture, which you can slice into polenta rounds that can be grilled or fried until crispy.
Make it a meal. While polenta makes a great side dish, you can also turn it into a main course by adding anything you would normally add on top of pasta, including bolognese sauce or sauteed vegetables like kale or mushrooms. Polenta is also ideal for topping with braised meats like osso buco, an Italian stewed oxtail, or pot roast.
Easy Polenta Recipe: Chef Thomas Keller's Creamy Polenta with Mushroom Conserva