---
What Is a Grilled Portobello?
Portobello mushrooms–which are the full-grown version of cremini mushrooms–are some of the most savory of the fungi–especially when cooked. Grilled portobellos are an easy meat substitute because of their earthy flavor and umami, and the basic ingredients are fairly easy to find in grocery stores and markets in the United States.
The firm texture of portobello mushroom caps help them to hold up when grilled, all while being supple enough to take on the taste of a marinade. A grilled portobello is a delicious side dish, gluten free appetizer, or crowd-pleasing weeknight entrée for everyone without exceeding the total carbohydrates over your daily values.
How to Prep a Portobello Mushroom for Grilling
With portobello mushrooms–like anything that grows in the dirt–it is important to clean them thoroughly before eating. Start by first removing the stems, then scrub any dirt off the caps by using a paper towel or clean kitchen towel. The less water you apply to the mushrooms, the better, because they will release moisture once heat is applied. You can also remove the "gills"–the lined underside of the cap–to reduce excess liquid when cooking, but they are edible.
Can You Eat Portobello Mushroom Stems?
Portobello mushroom stems should be removed before eating, though they can be helpful during the grilling process as a handle for adjusting over the heat. Simply pull off the stem using your hand or tongs and toss in the trash or compost. Along with the gills, stems can be consumed, but you should take the time to remove both before serving.
Six Marinade Ideas for Grilled Portobello Mushrooms
Grilled portobello mushrooms are versatile for healthy-recipes and absorb the marinade after 10 to 30 minutes of soaking in a small bowl or other vessel. Essential marinade ideas for grilled portobello mushrooms include ingredients that contain salt, fat, acid, and heat.
Balsamic vinegar and minced garlic cloves
Olive oil, salt, black pepper, and Italian spices
Soy sauce and sesame oil
Garlic butter with thyme or parsley
Miso with chili oil or other spice
Lemon juice and fresh rosemary
Combine these basic elements to transform portobello mushrooms by adding depth of flavor. Unlike meat, the total time of portobello mushrooms marinating should not an hour–and definitely not overnight–or else they will absorb too much liquid and/or salt, leaving you will an unpleasant, almost unsalvageable ingredient unfit for the grill.
What to Serve With Grilled Portobello Mushrooms
Grilled portobello mushrooms can be stuffed to stand alone on their own, served with a starchy side, or placed on top of a rice or grain and presented as a family-style meal. Of course, it all depends on the marinade, but grilled portobello mushrooms shine with simplicity.
Paired with mashed, baked, or fried potatoes
On a bun with burger toppings (tomato, red onion, lettuce)
With a generous spoonful of chimichurri on top
Alongside spinach, kale, and other greens
Stuffed with Parmesan cheese and fresh basil
Over quinoa, brown or basmati rice, or pasta
Tips for Grilling Portobello Mushrooms
Think Like a Pro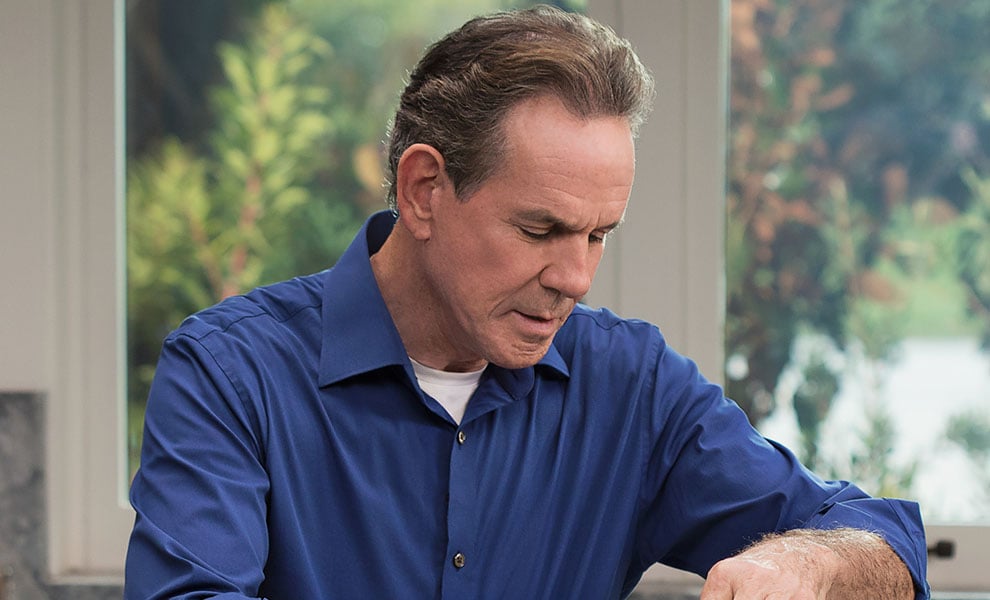 Learn techniques for cooking vegetables and eggs and making pastas from scratch from the award-winning chef and proprietor of The French Laundry.
View Class
Don't worry if it is your first time preparing new recipes with portobello mushrooms. These fungi are fun for grilling, but it is important to remember the water content stashed inside of seemingly sturdy portobello mushrooms.
Tips for grilling portobello mushrooms on a stovetop:
Use a cast iron or grill pan to allow the grilled portobello mushrooms to char a bit like you would eggplant
Plenty of olive oil or other cooking liquid will keep the portobello mushrooms from sticking to the pan
Cook over medium heat to simmer the mushrooms until soft and fragrant
Tips for grilling portobello mushrooms on a grill:
Preheat the grill so it is hot before placing the portobello mushrooms on it
Grill the portobello mushrooms for 3 to 5 minutes on each side to allow them to gain color
Brush the mushroom caps with extra marinade to replace the moisture if the grill starts to dry them out
Tools for grilling portobello mushrooms:
Grill or grill pan
Oil or fat
Tongs or metal spatula
Bowl or bag (for marinade)
Easy Grilled Portobello Mushroom Recipe
Ingredients
2 tablespoons olive oil
1 tablespoon lemon juice
1 tablespoon parsley
2 garlic cloves, minced
2 large portobello mushroom caps
Kosher salt and black pepper, to taste
Olive oil, for cooking
Whisk together the olive oil, lemon juice, parsley, and garlic in a small bowl.
Place the portobello mushrooms in a plastic bag. Pour the marinade over the mushrooms and season with salt and pepper to taste.
Shake the bag so the mushrooms are fully coated. Allow to soak for 10 minutes but no more than 30.
Heat a medium grill pan over medium high heat.
Add the marinated mushrooms to the pan and allow to cook on each side for 3 to 5 minutes.
Once mushrooms are soft and fragrant, remove from heat and serve immediately.
Become a better chef with the MasterClass Annual Membership. Gain access to exclusive video lessons taught by culinary masters, including Chef Thomas Keller, Massimo Bottura, Dominique Ansel, Gordon Ramsay, Alice Waters, and more.