---
What Is Festive Attire?
Festive attire, also known as holiday attire, is a combination of cocktail attire but often with holiday flair. This dress code is particularly popular during winter-time holidays, like Christmas and New Year's Eve.
Festive attire is unique among other dress codes in that it heavily emphasizes the use of specific colors, patterns, and textiles to tap into the holiday vibe: Sequins, velvet, cashmere, jewel tones, tartan, corduroy, tweed, reds, greens, golds, and lots of sparkles and glitter all fit the requirements of this fun dress code. Festive attire is not just for the holidays: This dress code can also signify cocktail attire with creative flair.
When to Wear Festive Attire
Festive attire features heavily in events like Christmas parties (many holiday office parties will call for festive attire), upscale New Year's Eve parties, and non-holiday parties that call for unique or creative outfits. If it's hard to gauge whether a specific party calls for a festive dress code, check your invitation—parties with a festive attire dress code will generally alert attendees on the invitation.
Festive Attire for Women
Preparing for your office holiday party and not sure what to wear? Here are some options for festive attire for women:
Dresses: Cocktail dresses (dresses that fall just above or just below the knee) are the most common choice for festive attire. A "little black dress" is standard for traditional cocktail party dress codes, but for festive attire, go for something a little more unique—a festive dress with interesting details, like a textured fabric, or jewel-tone colors. Avoid floor-length dresses, which may skew too much toward formal attire like creative black tie dress codes. Certain jumpsuits or pantsuits may work if they are in a luxe fabric and feel creative and interesting, but be careful of looking too casual.
Tops: If you prefer to wear a two-piece outfit, dressy separates are a good option. For the top, selecting a silky blouse in jewel tones or holiday colors is a safe bet.
Bottoms: For festive attire bottoms, look for skirts that fall just above or below the knee. Select a fun fabric like jacquard or tweed to embrace the dress code.
Layers: If it's cold outside, add a jeweled cardigan, blazer, or statement coat over your dress or top to stay warm. Opaque tights are another layering option to keep warm.
Shoes: The best shoes for festive attire are heels—anything from red pumps to glittery extra-high heels. Since most festive-attire events are in the winter, a pair of decorative, heeled booties are also a great option.
Accessories: Festive attire is all about the accessories. Go for bold statement pieces like fun earrings, bib necklaces, or shiny metallic bracelets. A sparkly clutch purse will make you look extra dressy and festive.
Festive Attire for Men
Think Like a Pro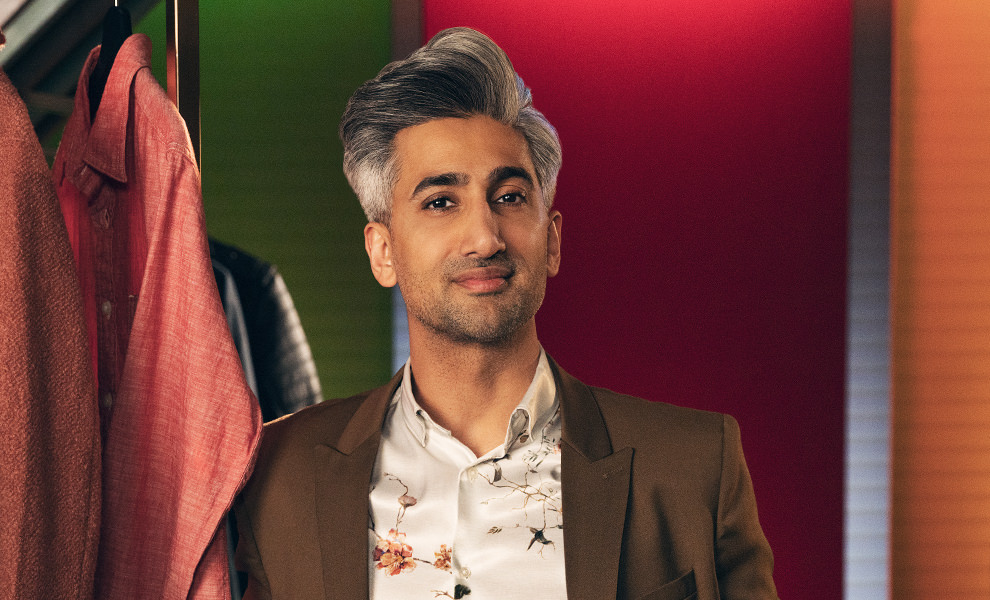 Queer Eye cohost Tan France breaks down the principles of great style, from building a capsule wardrobe to looking pulled together every day.
View Class
Are you in need of a good statement outfit for a festive attire New Year's soirée? Here are some options for a festive attire dress code for men:
Suits: Suits are the most common choice for men in festive attire, but you don't have to wear the classic dark suit synonymous with cocktail attire for men. Choose a suit in an interesting color or textile, or add decorative embellishments like a patterned tie to make a statement at the party.
Tops: If you're not in the mood to wear a suit, look for fun, festive tops like a colorful cashmere sweater, or an open-collar shirt or button-down with a velvet blazer or tweed sport coat.
Bottoms: Pair your festive top with bottoms like slim-fit corduroy, flannel, or velvet pants.
Shoes: Dress shoes are the most obvious choice for men looking for festive attire. Skip the plain black dress shoes in favor of shoes with an interesting color or unique details.
Accessories: Spice up your festive outfit with some fun accessories, like a patterned tie, bow tie, or pocket square, or a shiny watch or bracelets.
Want to Learn More About Unleashing Your Inner Fashionista?
Get a MasterClass Annual Membership and let Tan France be your very own style spirit guide. Queer Eye's fashion guru spills everything he knows about building a capsule collection, finding a signature look, understanding proportions, and more (including why it's important to wear underwear to bed)—all in a soothing British accent, no less.