---
What Is the Purpose of Foundation?
"Skin should look like skin," Bobbi says. According to her, the point of foundation is to even out your skin, not to be a mask or to change the color of your skin. It should create a natural-looking finish that doesn't look like you're wearing it at all. Think of foundation as wearing the right undergarments—you wouldn't want people to see them underneath your outfit.
5 Different Types of Foundation
Foundations come in a few formulas and textures: liquid, cream, powder, and stick (aka solid). There are different finishes (dewy, natural, satin, semi-matte, or matte) and levels of coverage (light, medium, and full coverage) which denote the concentration of pigment in the formula. Choose which one works best for your skin type—dry skin might benefit from a cream or liquid, and oily skin could benefit from powder. For mature skin, choose a hydrating, buildable foundation formula rather than a thick, heavy formula. (Matte finish foundations tend to make mature skin look dehydrated and mask-like.)
Liquid. Possibly the most popular type of foundation, liquid foundation comes in different levels of coverage and is best applied with a makeup sponge or with fingers.
Powder. Powder foundation comes in two styles: Pressed powder is a good option for full coverage foundation, and typically applied with a large, fluffy powder brush.
Loose. Loose powder foundation (aka mineral foundation) is ideal for oily skin and builds well from light to medium coverage.
Cream. Cream foundation can be nice for dry skin. Use with a stippling brush.
Tinted. Combining pigment, hydration, and SPF, tinted moisturizer does it all, while providing the least coverage.
Selecting your foundation will depend on your skin type. But skin can be fickle because your skin can behave differently depending on what season you're in, the weather, hormones, and other factors. Luckily, there are things like moisturizer and powder to help your foundation out on those iffy days.
Make sure your foundation is compatible with your skincare products (oil and water don't mix, so combining a water-based moisturizer and oil-based foundation, for example, can cause pilling). One way to know for sure is to bring your moisturizer to a makeup store, and mix it with foundations on the back of your hand.
How to Choose the Right Foundation Shade for Your Skin
Bobbi's test for finding the right shade of foundation is to apply it on the side of your face. If it disappears seamlessly into your skin, it's the right color. Many foundation lines are organized by levels of undertones, so knowing your undertone (warm, golden, tan, olive, pink, neutral, et cetera) will help you select the proper shade. (Also, your skin tone may differ quite a bit from winter to summer, so it's not a bad idea to have a "summer shade" and a "winter shade"—which can be conveniently blended together to perfect your shade.)
Whether you're exceptionally pale or have very dark skin, undertones fall into three basic categories: warm, cool, and neutral—and each of these have tones within them.
Warm: golden, peachy, or yellow
Cool: bluish, red, or pink
Neutral: a mixture of both warm and cool
How to Find Your Undertone
How does your skin naturally react in the sun? If you burn or turn red quickly, you're likely cool. If you tan easily, chances are you're warm.

Which flatters your complexion more—silver- or gold-colored jewelry? If it's the former, you're cool; if it's the latter, you're warm. If you think both work, you could be neutral.
Look at the veins in your wrist. If they have a greenish tint, you're probably warm, and if they're bluish, you're probably cool. If it's a mixture of both, you're likely neutral.
One main difference between darker and lighter skin tones is that darker skin tones will often have unevenness and hyperpigmentation, while lighter skin tones usually have more issues with redness. Ashiness is an issue for darker skin, so getting the tone right with foundation and concealer is key. If you want to get into color-correctors, green helps offset redness for fair skin, and peach will help brighten sallowness or purple tones in darker skin.
How to Apply Liquid Foundation
Think Like a Pro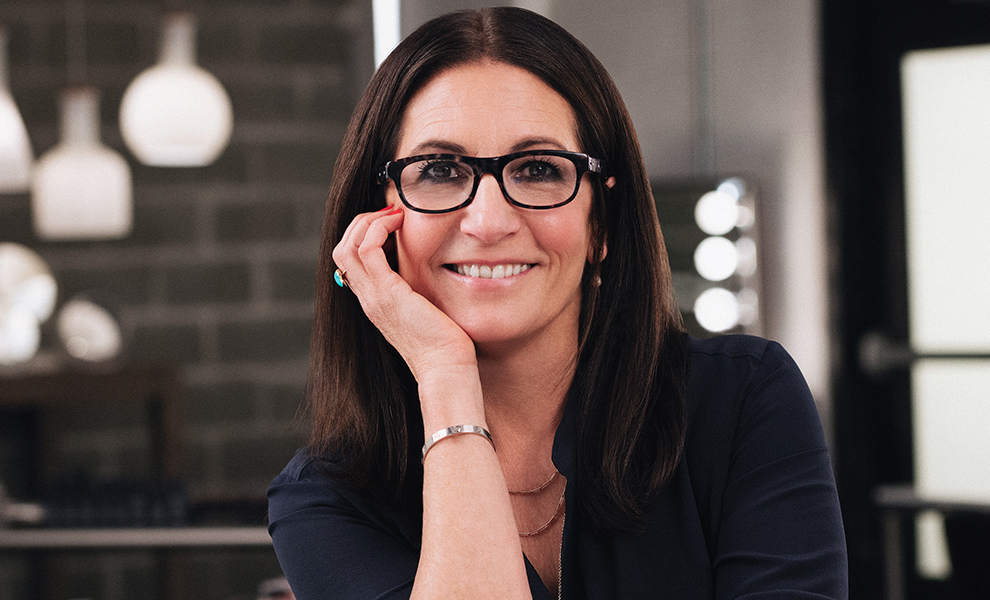 Bobbi Brown teaches you the tips, tricks, and techniques for applying simple, natural makeup that makes you feel beautiful in your own skin.
View Class
Once you've found the best foundation for your skin type, tone, and undertone, it's time to put it on your face.
Start with clean, smooth skin. Foundation always looks best on skin that's been properly cleansed, moisturized, and is free of any flakes or texture. A good moisturizer for your skin type will do the trick, and a dab of eye cream will fill in any fine lines around the eyes. For dry skin, go for a nourishing cream (you can even add a drop or two of face oil if your skin is extra parched), and if you have oily skin, opt for an oil-free moisturizer. You don't need a lot, just enough to hydrate your skin and make it look refreshed. This will give you a good starting point to know where to place foundation; oftentimes well-moisturized skin looks fresh enough that you may realize you don't need foundation all over your face, just in certain spots. If you're wearing sunscreen, wait a few minutes after applying so that the sunscreen can dry.
Apply your primer, which creates a barrier between your skin and your foundation that allows the foundation to go on super smoothly, and prevents oxidation of the makeup due to your sunscreen or moisturizer.
Start with under-eye concealer. Apply a tiny bit of eye cream before applying your under-eye concealer to plump and hydrate the area. Blending under eye concealer with the warmth from your fingers helps to melt it into your skin seamlessly, but if you want more coverage, a brush or makeup sponge would be more effective. Don't forget to set your under-eye concealer with a bit of powder if you're wearing eyeliner or mascara to prevent the rest of your eye makeup from smudging.
Apply foundation. For a flawless foundation look that's not cakey, start with a very small amount of foundation (the size of a very small lentil.) Foundation should appear to melt into your skin without settling into any fine lines, so starting with a light application and gradually building or layering it in the places where you want more coverage is the way to go. Apply foundation only where your skin needs to be evened out, and then blend until the foundation disappears. Whatever tool you prefer, make sure you're applying it in good lighting. Natural daylight is best, but if it's nighttime, bright, natural-toned light works as well.
Cover-up blemishes with foundation or concealer. Any dry, flaky skin patches around a blemish will be highlighted by concealer, so you do need to apply moisturizer before concealer to these areas to hide the appearance of flakes. A small concealer brush is best for blemish-concealing because your fingers may smudge it out of place. You're going for precision here.

Finish with setting powder or spray. Once your foundation and concealer are on, you can use a fluffy powder brush to set them with a light dusting of face powder. This will prevent your makeup from sliding around, and it'll cut excess shine. If you have oily skin, you don't want to skip this step, but for drier skin (or if you're going for a dewy look), you can target your powder placement with a smaller powder brush.
The 3 Best Tools for Applying Foundation
There are a few ways to get foundation onto your face and have it look seamless:
Your fingers: A good way to blend creamier formulas into the skin because the warmth from your fingers will melt the formula into your skin more seamlessly.
A makeup sponge: Leaves a fresh, natural finish with cream and liquid formulas. Dampen the sponge before applying for a more sheer and natural finish, and build coverage by dabbing and blending over certain areas.
A foundation brush: Great if you're going for full coverage or blending large areas. Easy for applying precisely around the nose and under the eyes.
Want to Learn More About Makeup and Beauty?
Whether you already know a blush brush from a bronzer brush or are simply looking for tips on bringing glamour into your daily routine, navigating the beauty industry takes knowledge, skill, and practical experience. No one knows their way around a makeup bag better than Bobbi Brown, the makeup artist who built a career and a multi-million dollar brand with one simple philosophy: Be who you are. In Bobbi Brown's MasterClass on Makeup and Beauty, learn how to do the perfect smoky eye, find the best makeup routine for the workplace, and hear Bobbi's advice for aspiring makeup artists.
Get the MasterClass Annual Membership for exclusive access to video lessons taught by masters, including Bobbi Brown, RuPaul, Anna Wintour, Marc Jacobs, Diane von Furstenberg, and more.