---
What Is a Capsule Wardrobe?
A capsule wardrobe is a collection of classic pieces that work together with versatility, allowing you to create look after look with just a few items. Boutique owner Susie Faux coined the term "capsule wardrobe" in the 1970s to describe mix-and-match basics, and designer Donna Karan popularized the term in the 1980s when she released a capsule collection of fashionable workwear. A capsule wardrobe consists of your most essential clothing items, which serve as the building blocks of your closet. You can create entire looks with just the capsule wardrobe, and you can also layer capsule pieces with seasonal pieces and trendy, fast-fashion items.
3 Benefits of a Capsule Wardrobe
Investing in a capsule collection that actually works for you will make you feel confident when getting ready in the morning and allow you to find your look or personal style with really simple styling. A complete capsule wardrobe comes with a few great benefits:
Versatility: The beauty of a capsule wardrobe is that it's so versatile. You can mix and match every day for the next few years and feel like you have something completely fresh. Each item in your capsule wardrobe can be worn with many other pieces within your closet, and it doesn't feel like it's been seen a thousand times over.
Simplicity: Having a versatile capsule wardrobe of reliable basics will help you get dressed in less time and avoid decision fatigue. By working with a minimalist wardrobe, you can become your own stylist, coming up with outfit ideas for a set number of pieces.
Longevity: Although your style may change over the years, a capsule wardrobe should work for any age. The items in your capsule collection are investments—timeless pieces that you can rework for years to come.
10 Essential Items to Include in Your Capsule Wardrobe
The majority of the items within this capsule wardrobe work for male, female, and non-binary dressers. Use this list as a guide when shopping for your own wardrobe essentials.
A great piece of outerwear: Whether it's a trench coat, an overcoat, a denim jacket, or something heavier-weight, make sure you have a great piece of outerwear.
A leather jacket: A leather jacket is cool, it's easy, and it shows style without making any real effort. It also doesn't have to be real leather; it can be vegan leather if you prefer.
Button-up shirts: You may not want to wear a button-up shirt every day, but, eventually, you will need a button-up shirt. And it can be used in a very casual, fun way; It doesn't have to feel super-corporate. So invest in a couple. Go for a white and a black, or other colors that make you feel like you, for example, a navy, a brown, and a beige. Stick with neutrals. It's a lot easier to play around with those.
A great-fitting suit: This does not have to be expensive. You can get something relatively inexpensive and have it tailored. But make sure it fits you to perfection. Again, choose a neutral color: It can either be a darker neutral (like black or gray) or a lighter neutral (such as beige or cream). It does not matter if you don't have a job that requires you to wear a corporate suit. Break the suit up into a blazer and black pants or a pencil skirt, and you can wear it in so many different ways beyond your work wardrobe.
Knitwear: You will eventually need knitwear at some point of the year. Stick with something relatively neutral that really flatters your body shape. If you like a crew neck, go with a crew neck. If you are slightly shorter, go with a cropped sweater. If you embrace a longer length, go with something longer. You only need two pieces: Consider one cardigan and one pullover.
T-shirts: A T-shirt is something that is so simple you can get it from pretty much any store. Go for whatever feels like your neutral color: black, white, brown, gray.
Denim: Denim is a major component of your capsule wardrobe. Decide on the shades of denim you like. Decide on the fits of denim you like by trying on multiple options. And then, once you've narrowed it down to a pair of jeans that you know that you will appreciate for many years to come, get a couple of pairs of those jeans, in different colors, such as a black that will go with almost anything, and a pair of blue, which is universal. Denim is easy to dress up and dress down.
Footwear: You'll want at least two pairs of shoes. A white sneaker will never go out of style because it goes with everything. For work or special occasions, you might want something dressier. If you are the kind of person who likes a heel, go for a heel, but in a more neutral color, such as nude. For those days when you don't feel like walking around in a heel all day, try a dressed-up flat that isn't a sneaker. Go for something neutral, again. A black is perfect: It's going to go with pretty much everything in your closet.
A belt: Every now and then, you'll want to jazz up your outfit. A statement belt does exactly that. If you need the belt to hold up your pants, consider buying pants in a different size or getting your pants tailored. The statement belt isn't about function; it's about fashion.Look for something that you know you'll wear for years.
A dress: Keep it super simple. You can go for a little black dress or a little green dress. Choose a color that makes you feel confident, something that goes well with the other pieces in your capsule. Look for a classic shape, like an A-line dress with spaghetti straps—which is a fit you can rework endlessly—in a high-quality, classic material, like satin.
How to Build a Capsule Wardrobe
Think Like a Pro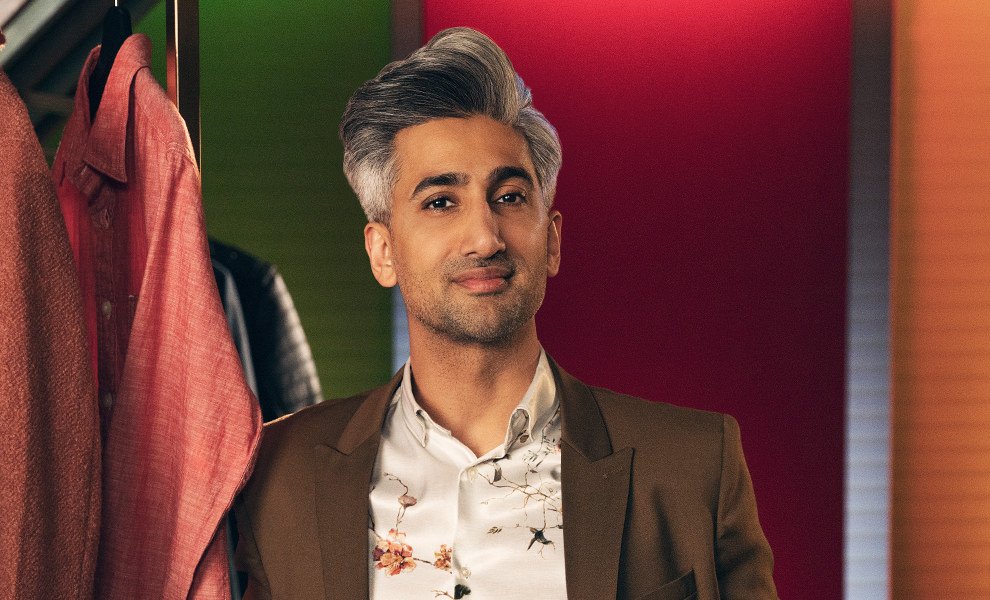 Queer Eye cohost Tan France breaks down the principles of great style, from building a capsule wardrobe to looking pulled together every day.
View Class
What makes something a capsule item? It's something that is classic and relatively neutral, that can be worn time after time and reimagined. When creating your own capsule wardrobe, whether you're buying all-new pieces or looking through what you already have in your closet, choose components that are simple. Remember, they are the foundations of your closet.
1. Try Everything On.
If you're going to wear something all the time, it should fit well and feel comfortable. Make sure that you like the cut. Is a V-neck more your story? Is a crew neck more your story? Is a soft V more your story? Find the silhouette that works best for you by trying on lots of clothes, and then buy the winner in a few different colors. Everyone's body shape is different, so finding items that truly flatter your body and feel comfortable is important.
2. Choose Muted Colors.
This is your foundation. You want to make sure that your capsule pieces are timeless. Colors are often trendy and can date your clothes. Keep your capsule collection very neutral because the colors in there should never go out of style.
3. Invest in High-Quality Pieces.
The capsule items are things that are never going out of style. Most of your capsule items are worth a splurge—high-quality shoes, suits, and outerwear can last for years. Since the capsule collection is meant to be worn over and over, the idea is that you won't have to constantly replace low-quality items. Be thrifty with the trendier pieces, the things that are there to layer onto your foundational pieces, and save your money for your wardrobe-essentials.
Want to Learn More About Unleashing Your Inner Fashionista?
Get a MasterClass Annual Membership and let Tan France be your very own style spirit guide. Queer Eye's fashion guru spills everything he knows about building a capsule collection, finding a signature look, understanding proportions, and more (including why it's important to wear underwear to bed)—all in a soothing British accent, no less.