---
What Is Butternut Squash?
Squash refers to five domesticated species within the greater Cucurbita genus that hails from the Andes and Mesoamerica. The fruits, which vary in size, shape, and color, contain a thick, fibrous flesh and edible rind. They grow on vines and most can be stored at length after harvesting.
Is Butternut Squash Healthy?
Butternut squash is high in fiber, potassium, manganese, and antioxidants. It also has an extremely high vitamin A content, as well as loads of vitamin C. Combine all that with a low calorie count, butternut squash is the perfect filling and warming vegetable to have your dinner table all winter long.
How to Prep Butternut Squash
As the sweetest variety of winter squash, pear-shaped butternuts are worth every bit of their notoriously tough-to-peel prep. To cut a butternut squash, first break it down into smaller, more manageable sections first—cut crosswise right before the neck swells into the bell shape—then use a very sharp knife or sturdy vegetable peeler to carefully peel the skin off in strips. Alternatively, cut them in half lengthwise and roast them so you don't have to bother peeling the skin—just scoop out the roasted flesh, instead.
How to Roast Butternut Squash
Roasted butternut squash is one of the easiest and most satisfying things to prepare—there's only one massive cut to make, then you scoop out the seeds, pop it in the oven, and you're done. Coat halved and seeded butternut squash in extra-virgin olive oil and season with kosher salt and black pepper, then arrange cut side down on a baking sheet. Roast at 400°F for 25 minutes, or until a paring knife passes easily through the skin and the inner flesh is soft.
3 Ways to Cook Butternut Squash
Braised. Butternut squash soup basically has its own season, and with good reason: the sweet flesh soaks up flavorful stock and spices and has a naturally smooth (not stringy) texture when blended. Braise it in stock or broth first to soften, then blend and season. Alternatively, prep the squash in a slow cooker before turning into a soup.
Microwave. A medium-sized butternut will take about 10 minutes or so in the microwave. Be sure to cut slits in the skin to allow steam to escape, or cut into 1-inch cubes first. Turn halfway through before heating for five more minutes.
Steamed. Large diced butternut squash only takes about 6 to 7 minutes to steam. Heat a few inches of water in a large pot fitted with a steamer basket. Add the squash to the basket, and cover. When a fork easily pierces the squash it's done!
5 Butternut Squash Recipes
Think Like a Pro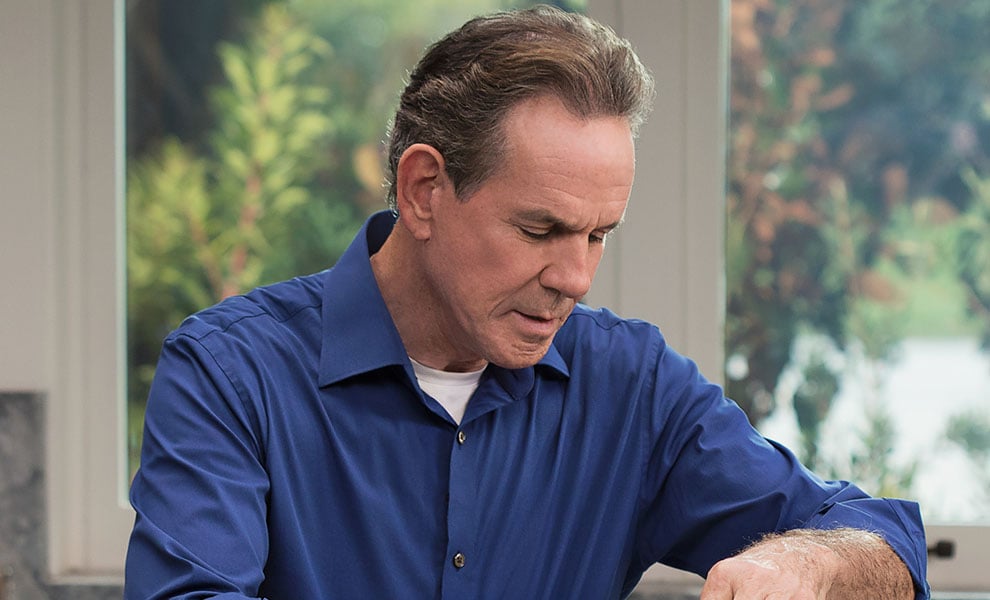 Learn techniques for cooking vegetables and eggs and making pastas from scratch from the award-winning chef and proprietor of The French Laundry.
View Class
Whether you go sweet or savory with a hint of spicy heat, a versatile winter squash like butternut suits most culinary needs, as a veggie side dish or as the whole show for you next weeknight meal.
Vegan Butternut Squash Soup Recipe: Heat a few tablespoons of olive oil in a Dutch oven over medium heat. Transfer 3 cups butternut squash, peeled and diced, 2 pears, peeled and diced, and 1 small yellow onion, peeled and diced, to a pot and season with salt and pepper, stirring to coat. Cook into onions are translucent and pears have softened, then add 3 cups vegetable stock. Bring to a boil, then lower heat to a simmer. Cook until squash is soft and falls apart, then remove from heat and use an immersion blender to blend everything together into a velvety soup. Continue to cook if you'd like a thicker texture, or season to taste with salt, pepper, and nutmeg.
Sweet and Spicy Roasted Butternut Squash Recipe With Sweet Potatoes: Preheat oven to 400°F. Carefully slice a squash and sweet potato in half lengthwise and scoop out the seeds of the squash. Coat them both in olive oil and season with salt and pepper, then roast cut side down until a paring knife passes easily through skin. Remove from oven and when cool enough to handle, slice into individual wedges. Drizzle with hot honey (3 tablespoons honey or maple syrup, 1 tablespoons red chili flakes, a teaspoon of water, if needed to make it pourable) toss together, and serve as a side dish.
Butternut Squash and Fontina Grilled Cheese Sandwich Recipe: Roast butternut squash, then slice thinly and remove skin; tuck slices into grilled cheese sandwiches with caramelized onions, a good spicy mustard, apple, and fontina cheese.

Butternut Squash and Kale Salad Recipe: Roast butternut squash cubes in a single layer on a rimmed sheet pan with olive oil, salt, and pepper in a 400ºF oven until soft and crispy. Meanwhile, massage torn dinosaur kale to soften. Toss the cooked squash cubes and massaged kale with parmesan cheese, croutons (or leave out if you're gluten free), and your favorite vinaigrette.
Butternut Squash Purée Recipe: After braising, roasting, or steaming squash, mash it as you would for mashed potatoes, folding in butter, cream, garlic, salt, pepper, and herbs of your choice.
Become a better home cook with the MasterClass Annual Membership. Gain access to exclusive video lessons taught by culinary masters, including Gordon Ramsay, Chef Thomas Keller, Wolfgang Puck, and more.