---
What Are Collard Greens?
Collard greens are a member of the cabbage family, similar in appearance to kale but with a waxier texture and slightly more bitter flavor. While collard greens are known for being a heat-resistant crop in the American South, they're actually cold-hardy and can be grown in many climates across the United States.
When to Plant Collard Greens
Collard greens can handle quite a range of soil temperatures, including light frost, and will do fine in soil between 45 to 85 degrees Fahrenheit throughout the growing season.
If you live in an area with hot summers and mild winters, plant your collard greens in the late winter or early spring for a spring crop, once the soil temperature has warmed to at least 45 degrees Fahrenheit. You can also plant a fall crop of collard greens, once soil temperatures cool to below 85 degrees—they can usually handle the cool weather and the first frost or two, and will give you a great early-winter harvest.
If you live in an area with mild summers and cold winters, consider starting your collard greens indoors four to six weeks before your soil temperatures warm to 45 degrees Fahrenheit. Starting your collards indoors will give the plants a headstart before transplanting them into the garden. You can also plant a late-summer crop of collard greens, once soil temperatures cool to below 85 degrees.
How to Plant Collard Greens
Once you're ready to plant collard plants:
Choose the site. Unlike other leafy greens, collard greens do best in full sun rather than partial shade, so choose a spot with at least six hours of direct sunlight per day.
Prepare the soil bed. Collard greens prefer well-draining soil with plenty of organic matter. Collards aren't picky about soil pH, but generally, a slightly acidic soil around 6.0 is best. Unlike cabbage and lettuce, collard greens can grow roots up to two feet in length, so aim for a garden bed that is deep enough to accommodate them.
Plant seeds. Sow seeds about one-eighth of an inch deep, in rows at least 24 inches apart to give the plants ample room to grow.
Water. After planting, water the soil to help the seeds settle in. Keep the soil evenly moist as the seeds germinate—you should see seedlings sprouting within a week.
Thin. Once your young plants are a few inches tall, thin seedlings back, leaving at least 18 inches of space between each seedling. Collard greens are edible even as baby plants, so feel free to rinse and eat the tender leaves that you thin.
How to Care for Collard Greens
Think Like a Pro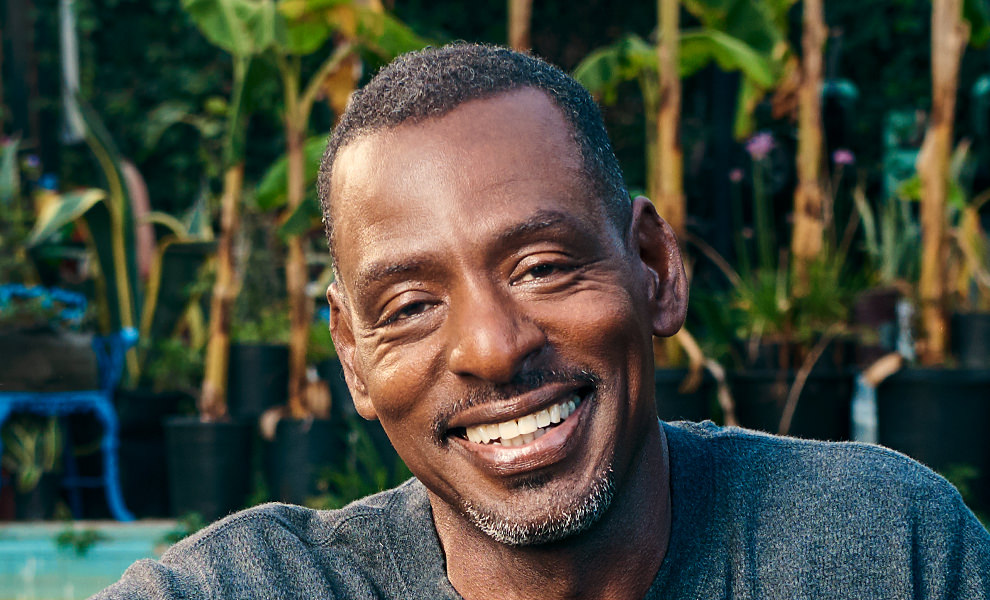 Community activist and self-taught gardener Ron Finley shows you how to garden in any space, nurture your plants, and grow your own food.
View Class
Collard greens are low-maintenance plants that only require basic care to thrive:
Water. Collard greens need moist soil—around two inches of water per week. Watering your collards evenly and consistently will ensure a healthy crop. If your soil gets dry too quickly, mulch around the plants to retain moisture.
Trim off flower stalks. If the weather gets too hot or too cold, your collard green plants may "bolt," or send up a large flower stalk to signify the end of the season. When leafy plants bolt, their leaves turn bitter, but you can slow down the bolting by trimming off flower stalks as they appear.
Take care of pests. Collard greens can be targets for pests like aphids, cabbage worms, and cabbage loopers. If you see signs of these pests, pick them off with your fingers or blast them from the leaves with a quick jet of water from the hose. If the problem persists, look into natural pesticides and companion planting.
Protect from elements. If you live in a warm-weather climate (in USDA hardiness zone 6 or higher), and want to grow collard greens as a biennial rather than an annual, you will need to protect them from the elements so they can survive the season. Cut back the plants and cover them with row covers or mulch around the plants to retain soil warmth. If your winters are too cold, or you prefer to grow your collard greens every year as annuals, simply harvest all of the leaves and pull up the entire plant at the end of the season.
How to Harvest Collard Greens
You can harvest collard leaves at any point during their growth—even as early as thinning the seedlings. To harvest leaves from your collard greens plants, choose a few dark green outer leaves of the plant—these are the most mature, so they are the ones you'll want to harvest first. Remove outer leaves as needed by tearing gently or cutting with a pair of shears. After removing the outer leaves from the plant, the inner leaves will continue to grow. Continue to care for the plant for later harvesting.
Learn More
Grow your own food with Ron Finley, the self-described "Gangster Gardener." Get the MasterClass Annual Membership and learn how to cultivate fresh herbs and vegetables, keep your house plants alive, and use compost to make your community - and the world - a better place.