---
What Is Rosemary?
Rosemary (Rosmarinus officinalis) is an herb with needle-shaped leaves that is indigenous to Asia and the Mediterranean Basin. This evergreen shrub is a member of the mint family and is classified as a perennial, meaning it continues to regrow on its own each year as long as weather conditions permit. Rosemary bushes can grow to be about four feet tall and four feet wide, with flowers that can be blue, purple, white, or pink.
3 Ways to Use Rosemary
Gardeners grow rosemary for the following purposes:
Horticulture: Rosemary is attractive and relatively easy to grow, making it a popular ornamental garden plant.
Cooking: Rosemary is an excellent seasoning for soups, stews, meat dishes, and sauces. It is a popular ingredient in tea and makes a delicious dressing for bread when chopped into olive oil.
Fragrance: Rosemary's distinctive aroma makes it a common ingredient in perfumes, shampoos, and soaps.
How to Grow Rosemary From Seed in 7 Steps
To give rosemary seeds their best chance at thriving, it's best to start growing rosemary indoors. Since rosemary seeds are slow to germinate and grow, start them three to six months prior to growing season. Rosemary seed germination rates can be as low as 30 percent, so you'll want to start more seeds than you expect to plant.
Choose a container. You can use small pots or egg cartons, but your best choice is to purchase a seed-starting tray with a plastic humidity dome.
Prepare a seed-starting mix. Ensure that the soil you use has good drainage. You can create your own mix with equal parts perlite and peat moss or purchase a sterile, soilless seed-starting mix. Lightly moisten the mix before adding it to your container.
Add the rosemary seeds. Sprinkle three to four seeds on top of the seed-starting mix. Cover the seeds with a small amount of mix, but not so much that they don't get sunlight.
Lightly water, then cover the container. Mist the seeds with water using a spray bottle, making sure the surface is moist but not sopping wet. This helps settle the seeds into the mix. Cover the container with the plastic dome or plastic wrap.
Store in a sunny, warm location until germination. Place the seed-starting tray somewhere that receives plenty of direct sunlight. A heat mat and an indoor full-spectrum light can be used if you're unable to find a warm, sunny area. If the surface of the seed-starting mix appears dry, remove the plastic cover and lightly mist with water until moist. The germination process typically takes two to four weeks.
Once seedlings appear, remove the plastic cover. When the rosemary seedlings emerge from the soil, place the seed-starting tray in a shallow water tray. Water will seep up into the soil through the container's drainage holes. Keep the seedlings in direct light.
Transplant the seedlings. Once seedlings are three to six inches tall, transplant them outdoors. Plant rosemary seedlings in compost-rich soil with good drainage. Choose a location where they receive six to eight hours of direct sunlight each day. You can transplant your rosemary seedlings into a garden bed or, if you want to bring the plants inside during cold winters, a pot.
How to Grow Rosemary From a Cutting in 6 Steps
Since rosemary seeds have a low germination rate and are slow to grow, the easiest option for growing new rosemary plants is to use stem cuttings. Rosemary stem cuttings mature in a few months, allowing you to harvest rosemary faster than you'd be able to if you started from seed.
Use sharp scissors to take cuttings. Find a mature rosemary plant and snip the stem five to six inches from the tip, making sure your cuttings come from the soft, flexible new branches. Cut extra stems as backups in case some fail to grow.
Remove the lower leaves. Delicately strip off the needles from the bottom two-thirds of the cutting.
Place cuttings in a jar of water. Move the jar to a warm area that receives indirect sunlight. Every two to three days, replace the old water with fresh water. Root growth should occur within a few weeks, but it could take longer in cooler temperatures. If any cuttings shed needles and turn brown, that means those cuttings didn't survive, and you can stop waiting for their roots to grow. When roots develop around the base of healthy cuttings, they're ready to be planted.
Plant each stem cutting in a small container. A sandy soil mix with good drainage is ideal. When planting, avoid damaging the roots by carefully placing each cutting into a three-inch hole in the potting soil. Gently fill in the hole with soil, and water enough to moisten the soil.
Care for the potted rosemary plants. Make sure each plant receives indirect light, and water them whenever the surface soil dries out. Once you notice new growth, give the cutting a gentle tug; if you feel resistance, that means it has rooted and is ready for transplanting.
Transplant rosemary outdoors. Move your rosemary plants to a larger container or your garden bed. Place them into compost-rich soil with good drainage. Choose a location where they receive six to eight hours of direct sunlight a day.
How to Care for Rosemary Plants
Think Like a Pro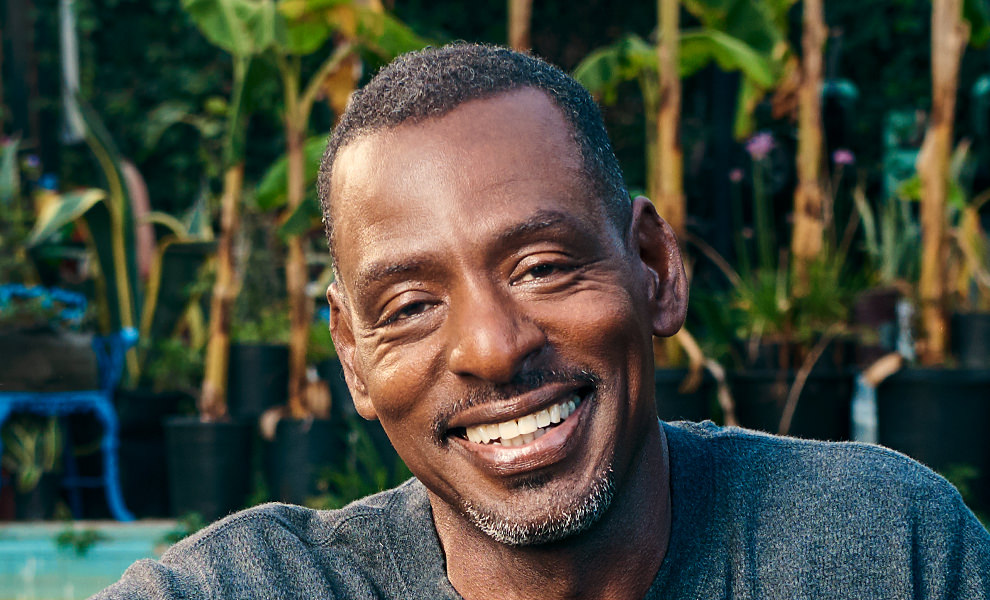 Community activist and self-taught gardener Ron Finley shows you how to garden in any space, nurture your plants, and grow your own food.
View Class
There are four common ways to keep your rosemary plants healthy and thriving.
Monitor for pests and diseases. Pests such as aphids, spittlebugs, whiteflies, and red spider mites are all attracted to rosemary and can cause its foliage to wilt. Inspect your plant frequently, and if pests are present, use insecticidal soap to deter them. Root rot is a disease that often plagues rosemary due to overwatering, so make sure your soil dries out in between waterings. Indoor rosemary is especially susceptible to mold and powdery mildew due to a lack of good air circulation. To improve air circulation indoors, run a fan near your plants.
Prune to encourage new growth. Use pruning shears to trim away any dead or damaged shoots and flowers. Prune in spring or early summer so there's plenty of sunlight to boost the production of new foliage.
Harvest just before blooming. Rosemary oils are at their flavor peak right before the plant blooms. When harvesting rosemary, cut off the desired amount of sprigs and hang them upside down to dry in a cool, dark place. Once dry, strip the sprigs of their needles by pulling them between your pinched fingertips. Make sure to store the needles whole to maintain their flavor, and only chop them once you're ready to use them in a meal.
Plant with the proper companions. Rosemary is a companion plant to many vegetables including broccoli, cauliflower, cabbage, beans, and parsnips.
Learn More
Grow your own food with Ron Finley, the self-described "Gangster Gardener." Get the MasterClass All-Access Pass and learn how to cultivate fresh herbs and vegetables, keep your house plants alive, and use compost to make your community - and the world - a better place.