---
Vine Cucumbers vs. Bush Cucumbers
There are two ways cucumber plants grow, which affects how much space they take up in your garden:
Vine cucumbers. The most common type of cucumber plant, vining cucumbers will grow sprawled out across the ground or can be trained to grow up supports like trellises or tomato cages (called "trellising") if you want to conserve space in a small garden.
Bush cucumbers. Bush cucumbers are a less common variety of cucumber that grow in smaller clumps rather than vines. These take up less space than vining varieties and are perfect for small gardens—and can even grow in containers.
When to Plant Cucumbers
Cucumbers are a warm-weather vegetable, so they require soil temperatures between 70 and 90 degrees Fahrenheit. The quickest way to stunt or kill your cucumber plants is to plant them outside too early—wait at least two weeks after the last frost date before sowing your seeds. If the climate in your vegetable garden takes a long time to warm up, start your cucumbers indoors in a warm spot and transplant once the outdoor weather is ready, or plant the seeds outdoors and lay black plastic sheeting over them to conserve warmth.
How to Plant Cucumbers
Once the weather is right, it's time to plant your cucumbers:
Choose and prepare the planting bed. Cucumbers need full sun, so pick a spot that gets at least eight hours a day. For the soil, opt for well-draining, fertile soil with plenty of organic matter—mix in aged compost or manure for more nutrients. Their ideal soil pH isn't outside the ordinary; anything around 7.0 should do. To maximize your crop, shape your bed so that it has several mounds at least twelve inches across and three inches tall, and space each mound three feet apart; as your cucumber plants (whether they're vining or bush varieties) grow, they will spread across the mounds and appreciate the extra surface area. Vining cucumbers can also be trained to grow on trellises or tomato cages; if you're planting cucumber vines, space these supports twelve inches apart.
Plant seeds. Plant clusters of cucumber seeds about one inch deep, on mounds or at the base of trellises. If you're transplanting indoor-grown seedlings, plant one seedling per mound or trellis.
Water. Keep the soil moist in order to encourage the seeds to germinate. If you're having trouble keeping the soil consistently watered, add a layer of organic mulch to your garden bed, which will help retain soil moisture.
Thin. Once the seedlings sprout and reach about four inches tall, thin the seedlings to one plant per mound or trellis.
How to Care for Cucumbers
Think Like a Pro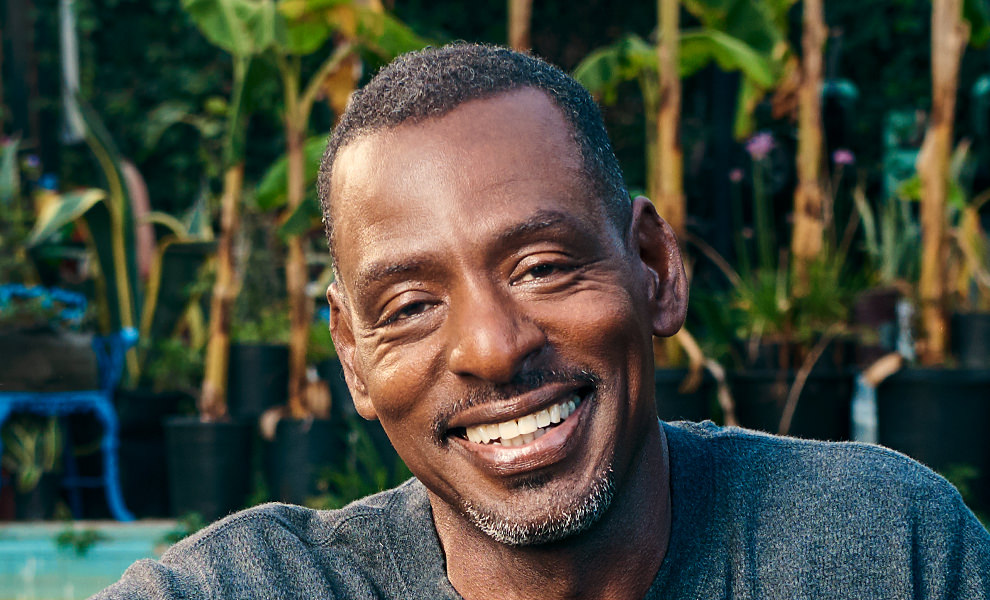 Community activist and self-taught gardener Ron Finley shows you how to garden in any space, nurture your plants, and grow your own food.
View Class
Growing and caring for cucumber plants, as they require just a few basic things:
Water. The key to happy cucumber plants is consistent water. They need at least an inch of water a week, ideally applied directly to the soil using drip irrigation rather than poured over their leaves (wet leaves are targets for diseases like powdery mildew). When in doubt, monitor your garden—if your cucumber plants look wilted in the mornings or if your soil feels dry one inch deep, it's time to water the bed.
Warmth. Cucumber plants are not frost-tolerant, so be sure to protect them from cold temperatures. If the weather turns too chilly early on, use row covers to keep your plants insulated—but make sure your plants are uncovered once they start to flower, to make sure pollinators like bees can reach your plants.
Pollination. Cucumber plants produce both male and female flowers, and these flowers need to be cross-pollinated in order for the plant to produce. Never spray insecticides when your cucumbers are flowering, and keep them uncovered to allow bees to reach them. If your plants aren't getting the pollination they need, feel free to do it yourself—using a cotton swab to transfer pollen from the male flowers (solo flowers) to the female ones (flowers with a cucumber-shaped growth beneath them).
Nutrients. For the best growth, fertilize your cucumber plants every three weeks with a low nitrogen, high phosphorus and potassium organic fertilizer, and side-dress them midseason with more aged compost.
Pest control. Cucumbers can be a target for cucumber beetles, squash bugs, and aphids. To control these pests, cover young seedlings with row covers or plant companion plants to deter harmful insects.
How to Harvest Cucumbers
Harvest when they're uniformly green. Cucumbers should be harvested punctually; if you wait too long, they'll be bitter-tasting. In general, you should harvest cucumbers when they're firm, crisp, and green—if they start to turn yellow, you might be too late. The size will depend on the cucumber varieties: for burpless cucumbers, this is usually when they're around ten inches long; for slicing cucumbers and dills, this is usually when they're six inches long; for pickling cucumbers, this is usually at two inches.
Cut the stem. Using a pair of garden scissors, cut the cucumber off of the plant just above the stem. Never pull the fruit—this will put undue stress on the vine and could damage the plant and discourage it from producing more cucumbers.
Continue harvesting cucumbers as they mature. For the best production, you need to stay on top of the harvest and pick new cucumbers as they're ready. This will encourage the plant to continue producing throughout the growing season.
Store fresh cucumbers in an airtight container to conserve their moisture; they can last up to ten days in the refrigerator. For longer storage, cucumbers are a traditional choice for pickling, and pickled cucumbers can last up to four months in the refrigerator.
Learn More
Grow your own food with Ron Finley, the self-described "Gangster Gardener." Get the MasterClass Annual Membership and learn how to cultivate fresh herbs and vegetables, keep your house plants alive, and use compost to make your community - and the world - a better place.