---
When to Plant Rhubarb
Plant rhubarb in the spring as soon as the soil is workable, or in the fall after dormancy has set in: well-protected plants will conserve their energy over winter and will be ready for harvest the following spring.
Cool-season crops, like rhubarb, may be planted as soon as frost is no longer expected in early spring; these crops often fade, and may die altogether, during the heat of summer. A second window for planting cool-season crops opens up in late summer and early fall; once mature, some species can actually survive a light frost (in mild climates, they may even continue producing into the winter months).
How to Plant Rhubarb
Rhubarb crowns, which are year-old stalks, can be found at nurseries and garden centers.
Pick the site. While rhubarb does prefer a milder heat overall—an average summer temperature of 75º Fahrenheit or below is ideal—it does like full sun. Find a spot with well-draining, fertile soil that has a pH between 6–6.8.
Prepare the soil. A few days before planting, work a good amount of organic matter like compost or manure into the soil. Avoid any other fertilizers for the first couple of years; too much direct contact with high-nitrate fertilizers can overwhelm and kill young rhubarb plants.
Plant the stalks. Dig large planting holes and plant rhubarb crowns four feet apart, a few inches deep. Rhubarb roots sprawl over many years, so they'll need space to spread out. If potting rhubarb, be sure to use a wide, well-draining container with lots of space, at least 20 inches deep.
How to Care for Rhubarb
Rhubarb will need sufficient water, mulch, and weed maintenance to thrive.
Water. Start with well-draining soil that allows you to keep the soil moist, but not soggy. Rhubarb is susceptible to crown rot, a fungal infection caused by overly damp or waterlogged soil, one that results in the withering and eventual rot of both the crown and roots of the rhubarb plant. This typically occurs once the soil is a bit warmer, usually in late spring or early summer.
Remove yellowing leaves. If you spot yellowing leaves or slackening stalks, remove the leaves and/or affected plants, and apply a crown rot-specific fungicide to the soil surface. The following year, start with plants from a reputable nursery or garden center, consider a raised garden bed with better drainage, and avoid overwatering as best as possible.
Control weeds and pests. The rhubarb curculio, also known as the rhubarb weevil, does not feed on rhubarb leaves or stalks—it bores into them to lay its eggs. (Most damaged rhubarb is still edible; simply cut around the puncture holes if feasible.) A layer of mulch can help deter curculios and keep weeds down.
Practice companion planting. Companion plants can also serve as a natural pest repellent or can help rhubarb grow. Beans, for example, add nitrogen to the soil, which feeds your rhubarb plants. Alliums, like garlic, deter leave beetles and weevils. To learn more about rhubarb companion planting, find our complete guide here.
Remove seed stalks. These tight rhubarb seed pods will blossom into flower stalks that divert nutrients from the edible stems developing below.
How to Harvest Rhubarb
Rhubarb plants shouldn't be harvested the first year after planting. This allows the plants to better establish their root system and enrich the soil for future seasons. Rhubarb plants may be ready for a light harvest in the second year, but by the third year, the patch should produce enough rhubarb for 8–10 weeks of harvest.
Rhubarb is ready to harvest when stalks reach 12–18 inches. To harvest, pull or cut the stalk away from the base of the plant with a slight twist. Leave a few stalks on each plant to extend the harvest potential into the next year. A well-tended rhubarb patch will continue to produce for decades. At the end of the harvest season, remove all above-ground plant debris, and cover the patch with about four inches of mulch or compost.
Which Part of the Rhubarb Plant Is Edible?
Think Like a Pro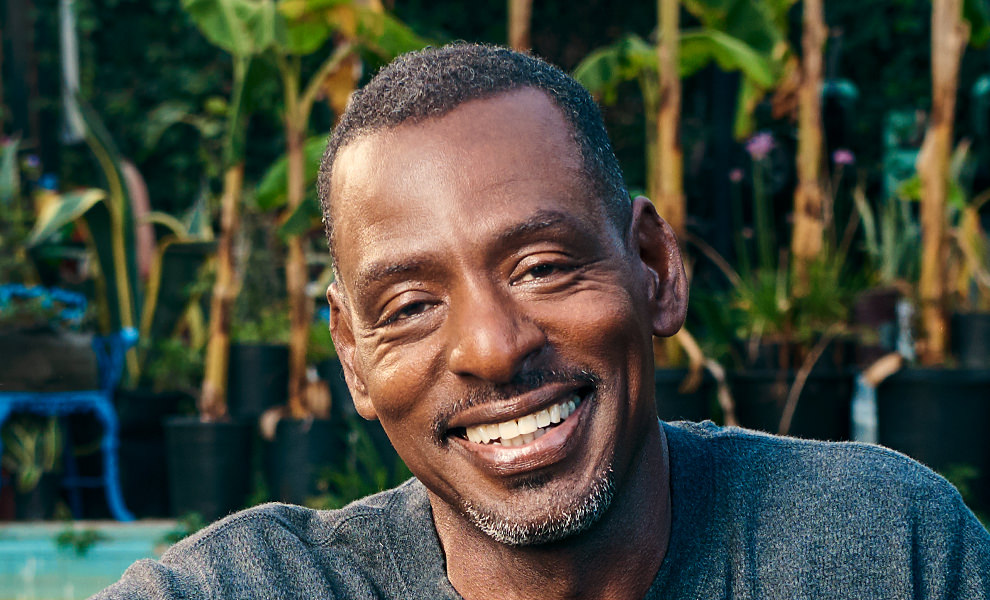 Community activist and self-taught gardener Ron Finley shows you how to garden in any space, nurture your plants, and grow your own food.
View Class
The stalk is the only edible part of the rhubarb plant. Do not eat rhubarb leaves: These large leaves contain high amounts of oxalic acid, which is poisonous to humans. Cutaway and discard any rhubarb leaves from the stalk before cooking.
Learn More
Grow your own food with Ron Finley, the self-described "Gangster Gardener." Get the MasterClass All-Access Pass and learn how to cultivate fresh herbs and vegetables, keep your house plants alive, and use compost to make your community - and the world - a better place.