---
When to Plant Sweet Potatoes
Sweet potatoes grow best in warm soil, ideally with a soil temperature between 75 degrees and 95 degrees Fahrenheit—the growing season will vary depending on your climate. If your area has cold winters and mild summers, start your sweet potatoes indoors up to eight weeks before the last spring frost date. In the northern United States, this usually means starting your sweet potatoes indoors in late winter or early spring. If your area has very hot summers and mild winters, plant sweet potatoes outdoors in mid-to-late spring, once the weather is warm.
How Long Does it Take to Grow Sweet Potatoes?
Sweet potatoes have a long life cycle in comparison to other garden fruits and vegetables—sweet potatoes typically take between 100 and 150 days to reach harvest. Since the growing period is so long, take note of the number of days of appropriate warm weather you have in your climate's growing season, and plan accordingly. If your summers aren't long enough, you may need to start your sweet potatoes indoors.
How to Start Sweet Potato Slips
While many garden vegetables are grown from seeds, sweet potatoes are grown vegetatively, meaning that new sprouts, or slips, will grow from the nodes on mature produce.
Buy seed sweet potatoes. To grow sweet potatoes, you'll need seed sweet potatoes or pieces of sweet potatoes covered in "eyes"—puckered spots on mature potatoes that readily sprout slips—which you can plant to grow your crop. Purchase seed sweet potatoes three months before you plan to plant, that way you have adequate time to start the slips before putting them in the ground. Avoid selecting grocery-store produce for your seed potatoes, if possible; they may be treated with inhibitors that prevent sprouting.
Start your sweet potato slips. Around three months (or 90 days) before planting, place your seed sweet potatoes in a warm, sunny room (around 65 degrees Fahrenheit) to encourage hardy sprouting. Keep them moist as the new slips begin to grow.
Plant your slips indoors. When your new plants are between three and five inches tall, cut them off of the sweet potato at the base and plant them in potting soil. (Keep new plants indoors, if the weather in your area isn't warm enough).
How to Plant Sweet Potatoes
Plant sweet potato slips once the soil temperature reaches 75 degrees Fahrenheit:
Choose a site. Sweet potatoes need full sun and plenty of space for their vines to grow. Once the weather is warm enough for sweet potatoes, choose a sunny spot with ample space that gets at least six hours of full sun per day.
Prepare your soil bed. Use well-draining soil rich with organic matter—slightly sandy soil is better for sweet potatoes than clay. Till the soil at least eight inches deep to get rid of any rocks that would inhibit your crop's growth, then create raised mounds six inches tall and 12–18 inches apart.

Plant your slips. Plant sweet potato slips atop the raised bed about 12 inches apart, covering the roots and around a half-inch of the stem.
Water. Water the slips thoroughly for the first few days to establish the roots.
How to Care for Sweet Potatoes
Think Like a Pro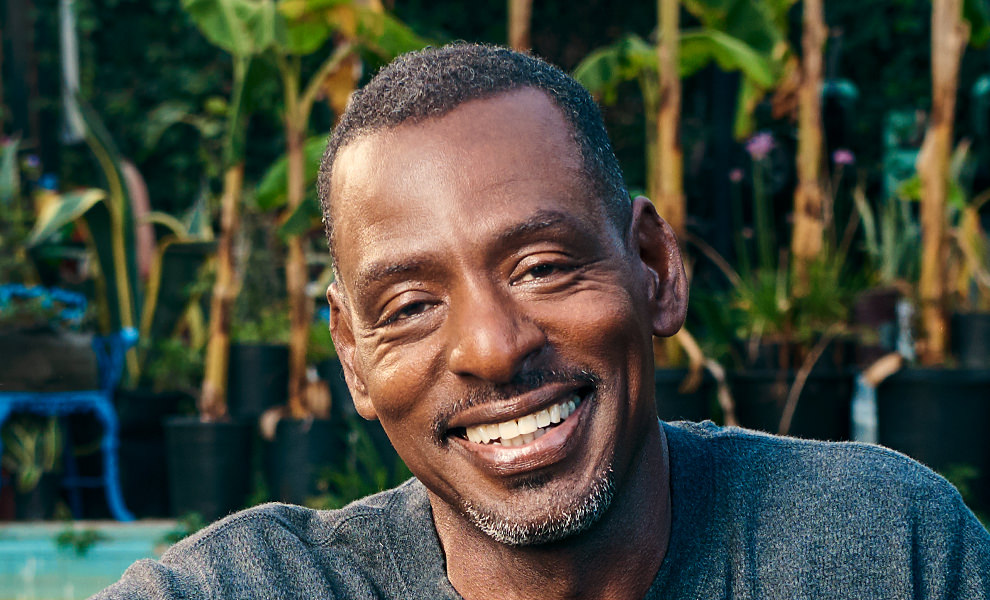 Community activist and self-taught gardener Ron Finley shows you how to garden in any space, nurture your plants, and grow your own food.
View Class
After planting your sweet potatoes, you'll need to weed, water, and control pests to help your crop thrive.
Keep soil moist. Sweet potato plants are tropical plants, meaning they need warm, moist soil to thrive. Watering the planting area consistently can stop your potatoes from cracking or turning knobby.
Keep sweet potatoes warm. Sweet potatoes need warm temperatures to thrive. If your climate is on the cooler side, mulch your beds with black plastic to retain warmth. Installing row covers is another way to help keep your sweet potato plants warm.
Weed the garden. Periodically pull weeds from the bed to avoid weeds competing for nutrients. As you weed, avoid using tools that will disturb or injure the sweet potatoes growing beneath the soil.
Control disease and rot. Sweet potatoes can fall prey to diseases like white blister, scurf, or stem rot. To prevent these diseases, nourish your plants with compost tea and make sure the soil is moist—not overly dry or wet.
How to Harvest Sweet Potatoes
Your sweet potato plants will be ready for harvest when the leaves at the end of the vines start to turn yellow. When harvesting sweet potatoes:
Loosen the soil. Using your fingers or a spading fork, loosen the soil around the base of the sweet potato vine.
Pull the plants. Lift the potatoes gently out of the dirt, being careful not to jostle them too much; sweet potatoes bruise easily. Gently shake the dirt off of the tubers.
Cure. Before eating your harvest, you'll need to cure the sweet potatoes so that they can develop their characteristic sweet taste. To cure your sweet potatoes, place them in a warm, moist place for two weeks (a shady table outside is a great choice).
Store. Store sweet potatoes in a cool, dark place—if you don't have a root cellar, the bottom shelf of your pantry will work. Sweet potatoes can last up to six months.
Learn More
Grow your own food with Ron Finley, the self-described "Gangster Gardener." Get the MasterClass Annual Membership and learn how to cultivate fresh herbs and vegetables, keep your house plants alive, and use compost to make your community - and the world - a better place.