---
How to Grow Mint Plants
From well-known varieties like peppermint and spearmint to specialties like chocolate mint, pineapple mint, or apple mint, mint plants are an easy-to-grow essential part of any herb garden.
Starter plants. The easiest and most common way to grow mint is from a well-rooted starter plant in a nursery container (occasionally these are biodegradable and can be placed directly into the ground). If the soil is very dry and the container is hard to remove, water lightly and allow it to drain. Then (if necessary) gently remove the plant from the container by wiggling it from side to side. Lightly massage roots and place into a dug hole about five inches deep. If planting a biodegradable container, leave just the rim of the container visible above the soil. If planting multiple mints, place at least two feet away from each other; given time, they will easily cover the space between them.
Seeds. Growing mint plants from seeds requires advance planning. Sprout the seedlings indoors before transferring to an outdoor space. Evenly space 2-3 seeds every few inches in well-draining dirt or starter pods. When the first few leaves emerge, transplant to a large container and place outdoors.
How to Grow Mint From a Cutting
To propagate, place a tall cutting from a healthy, vibrant mint plant (think five inches, lower leaves removed, and trimmed just below the newest leaf nodes) directly into the soil, or sprout cuttings in a glass of water until roots have formed, then transfer to soil in a well-draining pot or garden bed.
How to Grow Mint Indoors
Growing mint indoors is a good way to keep things feeling summery even when the weather outside has turned. Place potted mint plants on a windowsill with a good amount of direct sunlight throughout the day, and keep soil moist, but not soaked through (a good rule of thumb is to water deeply when the first inch of soil has dried out).
How to Care For Mint Plants
Give it sun. Fruity, sharp, aromatic mint needs very little to get going: it's happy in full sun and in relatively shady spots, too. In warmer environments, mint benefits from partial shade, and many varieties of mint with more delicate variegated leaves need a bit more protection from the sun.
Drain. Mint prefers a lightly moist soil—a standard potting mix in a pot with adequate drainage works well—and its official growing season begins in spring, just after the last frost.
Give it space. Mint is a notorious spreader, with horizontal roots that will ruthlessly conquer the root systems of nearby plants if given the chance, so it's best to either keep it isolated in its own pot, or plant it near companion plants to better contain the sprawl.
Mulch. Surrounding outdoor mint with mulch will help keep soil moist, the leaves clean of aphids and weeds at bay, and is said to be a useful deterrent for spreading. Harvesting mint early and often is the best way to keep the plants in check.
How to Harvest Mint
Harvesting mint is key to the health of the plant, and easy to do. Pick the leaves as needed, or use a pair of gardening shears or scissors to cut larger sprigs, up to one inch off the ground. Try to cut in the fork above any new leaves, leaving the young branches to flourish on either side. Pinch off any blossoms as soon as they appear in order to extend the harvest cycle; letting the plant sprout too long past this point will turn the stems and leaves woody and brittle.
Use fresh mint leaves to make a refreshing mint tea, add them to cocktails like Mint Juleps or Mojitos, or combine with sprigs of other aromatics like parsley, dill, chives, and tarragon for a homegrown herb salad that brightens any vegetable, meat, or fish course.
Learn More
Think Like a Pro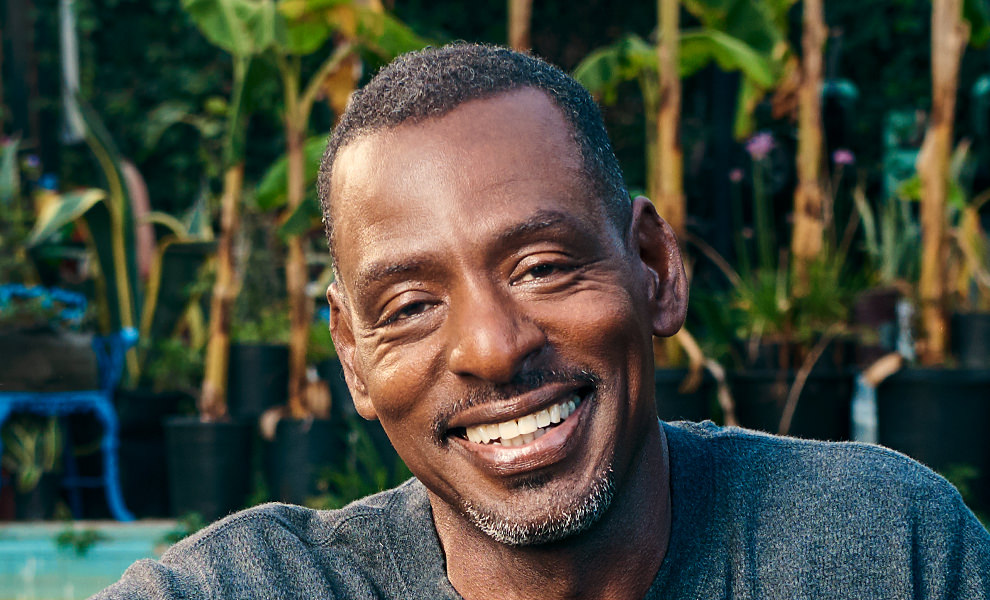 Community activist and self-taught gardener Ron Finley shows you how to garden in any space, nurture your plants, and grow your own food.
View Class
Grow your own food with Ron Finley, the self-described "Gangster Gardener." Get the MasterClass Annual Membership and learn how to cultivate fresh herbs and vegetables, keep your house plants alive, and use compost to make your community - and the world - a better place.