---
What Are Scallions?
Scallions are fresh young onions identified by their slender shape and mild flavor. The white stalk has the same sharp, sulfury taste characteristic to all alliums, albeit with less bite, while the dark green leaves have a fresher, grassy flavor. When newly harvested, scallions give off a strong smell (similar to regular onions) that's noticeably bright and earthy, with notes of garlic and apple.
How to Plant Scallions From Seeds
Scallion seeds will germinate in soil that is at least 60 degrees Fahrenheit. Once you're sure that your soil will remain warm enough for the seeds (whether it's early spring in your area or in a pot indoors), it's time to plant:
Prepare the planting site. Scallions can be planted in either a garden bed or in a pot indoors, but they do require at least six hours a day of full sun. Scallions aren't heavy feeders, so don't worry about fertilizer—the young onions can easily grow in well-draining soil with organic matter.
Sow the seeds. Scallions can be planted relatively close together since they don't require much horizontal growing room. Sow seeds one to two inches apart and only a quarter of an inch deep.
Water. Scallions require routine watering to successfully grow. Keep the soil evenly moist as your seeds germinate.
Thin. After your scallion seedlings are one to two inches tall, use shears to thin the seedlings so that there is one scallion every two inches. Thinning the seedlings gives the scallions more room to grow and prevents them from competing with nearby plants for nutrients.
How to Plant Scallions From Scraps
If you're planning on cooking with scallions soon, you can also begin a healthy crop with kitchen scraps from grocery-store scallions:
Choose healthy cuttings. While chopping scallions for cooking, reserve a cutting with at least two inches of the bottom of the stem to regrow.
Put the cutting in water. Place the root end of your scallion in a glass with an inch of water. (If you have extra potting soil and a pot, you can regrow scallion scraps in soil.)
Place near a sunny windowsill. As the scallion scraps sit in the sun, the water will begin to evaporate or become cloudy, so you'll need to change the water every two to three days. In two to three weeks, you should start to see new roots growing from the base of the stem and fresh green shoots growing upward.
Harvest as needed. To harvest scallions from scraps, simply trim off the stalks as you need them and the plant will continue growing.
How to Care for Scallions
Think Like a Pro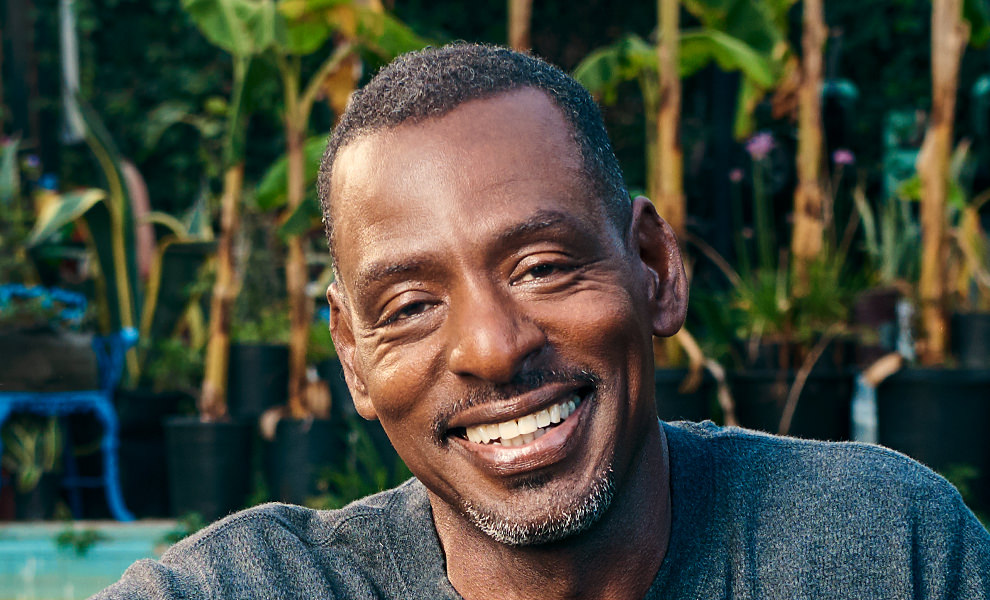 Community activist and self-taught gardener Ron Finley shows you how to garden in any space, nurture your plants, and grow your own food.
View Class
Scallions do not require a lot of maintenance to grow. With shallow root systems and one tall stalk, they can be grown in a limited indoor or outdoor space.
Water. Scallions like moist soil, but their root systems are not strong enough to search for water deep in the soil, so routine watering is necessary to keep the soil from drying out. Consider mulching around the plants to retain moisture for longer periods of time. However, overwatering the top of the buried bulb can introduce disease into the soil.
Prune. Since scallions don't have strong root systems, they can't compete well with weeds. Make sure to pull weeds as soon as you see them to avoid nutrient competition—spreading mulch around your scallions will also help prevent weed growth.
Protect. Just like all garden plants, scallions can become a target for pests like thrips, slugs, and nematodes. Watch for brown spots or tunnels bored into your scallions, and consider companion planting to help deter these pests.
How to Harvest Scallions
While you can harvest scallions simply by pulling them up from the ground, this method takes the whole plant from the ground, ending any regrowing opportunities.
To delicately harvest scallions, take a sharp knife or a pair of scissors and cut the green tops off at least two inches above the root. Use the stalks in cooking, and leave the root base in place to continue growing more stalks for future use.
How to Harvest Scallion Seeds
If you'd like to harvest your own seeds for planting next year:
Allow some scallion plants to flower. Avoid cutting the stalks from a few of your scallions, until they form round, fluffy flowers at the tips.
Chop the flowers off. After the flowers are mature, carefully snip off each flower and put them in a paper bag to dry.
Dry for two weeks. During drying, the flowers will wilt and crisp, revealing the seeds inside.
Shake the bag. Once the flowers are completely dry, all you need to do is shake the bag to get the seeds loose from the flowerheads—they'll drop to the bottom of the bag and are ready for you to store until planting.
Learn More
Grow your own food with Ron Finley, the self-described "Gangster Gardener." Get the MasterClass All-Access Pass and learn how to cultivate fresh herbs and vegetables, keep your house plants alive, and use compost to make your community - and the world - a better place.