---
What Are Floating Shelves?
Floating shelves (also known as wall shelves) are pieces of wood attached directly to your wall, so that no hardware is visible holding them up, making them appear like they are "floating" against your wall. There are several different ways to make a floating shelf, from building a hollow box that slides onto a frame to using single wood planks attached to a frame with dowels. Floating shelves are a great way to organize your things (whether you're keeping books, towels, or decorative items on them) while maintaining a sleek and minimal aesthetic.
What Materials Do You Need to Build Floating Shelves?
Building floating shelves is a pretty straightforward task, as long as you have the right tools and materials. You can use various sizes and thicknesses of wood planks. To build a floating shelf, you'll need these materials:
Two 2" x 3" wood planks. You'll need to cut one of these planks into four different pieces for the interior frame and front. The remaining plank will serve as your shelf.
1" x 6" wood plank. This plank will make up the top of your shelf.
1" x 4" wood plank. This plank will make up the bottom of your shelf.
¼-inch plywood. Attach this plywood to the front of your shelf to cover up the interior frame.
Wood screws. You'll need 1-inch or 2-inch screws to assemble the wood pieces, plus several 3-inch screws to attach your shelf frame to the wall.
Brad nails. Brad nails are ideal for installing floating shelves because their small diameter makes them easy to hide. Buy the appropriate size brads for your nail gun.
A circular saw. You'll need a saw to cut your wood to size; while a circular saw is the cheapest and most straightforward, a miter saw, or table saw also work. If you don't have a saw, you can take your wood to a home improvement store and have it cut to size.
A drill. You'll need a drill to attach your wood pieces and your shelves to the wall.
A measuring tape. The tape measure will help you line your shelves up correctly.
A nail gun. A nail gun will allow you to nail your plywood to each shelf's front and bottom.

Wood glue. While technically optional, wood glue can give your shelves extra structural support.
A sander. To give your wood a smooth and professional look, you'll need a sander. A belt sand or hand sander works great, but you can use sandpaper if you don't have a sander on hand.
A level. A level is a tool that helps ensure your shelves are horizontal to the ground so that objects won't slide off.
A stud finder. To ensure that you anchor your shelves securely, you need to drill them into your wall studs—thick boards that make up the "skeleton" of your wall and give it structural support. A stud finder is a little device that detects where your studs are in your wall. If your studs aren't near where you want to hang your shelves, you can buy wall anchors, which are small plastic cases (that look like screws) that go into your wall first before you drill a screw into them.
Stain and rag. To add a polished look to your floating shelves, you can apply stain with a rag. Staining is an optional step.
How to Measure and Cut the Wood for Your Floating Shelf
Before you can assemble your floating shelf, you need to measure and cut your wood. You can cut your wood to whatever size you desire, but the example below is for a 2" x 3" floating shelf.
Decide the length of your shelf. Examine the wall where you're putting your shelf then measure out the desired length of the shelf. Write down this number.
Cut wood for your interior frame. Cut three 4-inch pieces of wood from one of the 2"x 3" wood planks. When you begin building your shelves, you will attach these 4-inch pieces to your remaining 2" x 3" wood plank. These pieces will serve as the internal support frame and should end at your shelf's front edge.
Cut wood for the top of the shelf. Cut a 1" x 6" wood plank for the top of your shelf.
Cut wood for the bottom of the shelf. Cut a 1" x 4" wood plank for the bottom of the shelf.
Cut wood for the front of the shelf. Cut a ¼-inch piece of plywood for the front of your shelf to cover up the interior frame.
How to Assemble Your DIY Floating Shelf in 6 Steps
Think Like a Pro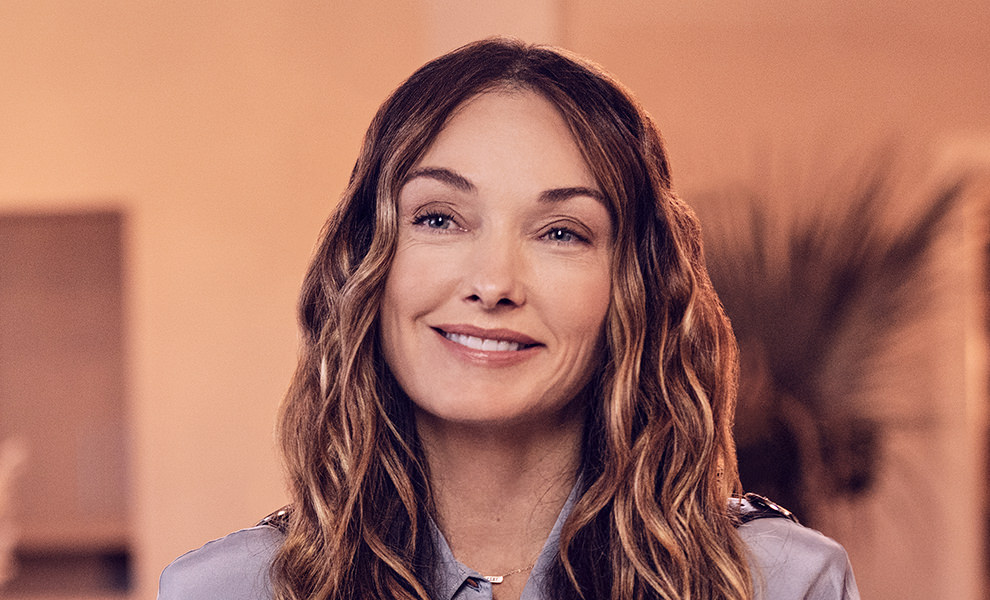 Award-winning designer Kelly Wearstler teaches you interior design techniques to make any space more beautiful, creative, and inspiring.
View Class
Once you have all of the necessary supplies, you can begin assembling your floating shelf using this step-by-step guide, which uses wood with the following measurements: a 2" x 3" wood plank, three 4-inch planks and a ¼-inch piece cut from a 2"x 3" plank, a 1" x 6" wood plank, and a 1" x 4" wood plank:
Sand your shelf. Before putting your shelving together, use a sander to smooth your wood, get rid of rough edges, and make the finished product more professional-looking, as if it's all one piece of wood. (If your shelf runs the length of the wall, don't worry about the side pieces, since they won't be visible.)
Stain your shelf. To change the color of your wood, stain it using a rag according to the stain's directions. Allow the wood to dry before you begin assembling the shelves.
Assemble the support frame. Now, you're ready to assemble your shelving. Gather your wood. You should have one long 2" x 3" plank that will run your shelf's length, plus three 4-inch pieces that will run the depth of your shelf. Set the three short pieces against the long plank in a capital E shape, with one on each end and one in the middle. Screw through the short pieces into the long plank to secure the support. You can also apply wood glue to the pieces to further strengthen the bond.
Attach the support frame to your wall. Using a stud finder, mark off with a pencil where you'll screw your shelf to the wall. Then, use a level to make sure that your shelf will not be askew. Hold the long side of the E against the wall, and drill long screws into each point. The frame should now be securely attached to the wall.
Attach the top and bottom of your shelf. Line up the 1" x 4" plank atop the shelf and screw it in. Using your brad nailer, attach the 1" x 6" plank to the bottom of the shelf.
Attach the front. Attach the ¼-inch piece plywood to the front of your shelf to cover up the interior frame. Your floating shelf is now complete.
Learn More
Learn interior design from award-winning designer Kelly Wearstler. Make any space feel larger, cultivate your own distinct style, and create spaces that tell a story with the MasterClass All-Access Pass.