---
What Is an Architectural Model?
An architectural model is a 3D representation of a proposed building design. With an architecture model, you can see the potential scale and design of a construction or interior design project. Traditionally, model makers manually created these replicas, but thanks to advancements in computer technology, 3D models are now widely used to represent a construction idea.
3 Types of Architectural Design Models
There are three different types of architectural design models:
Concept design model. During the initial stage of your design ideas, it can be helpful to see the beginning form and shape. While a 2D sketch is how most designers start the first phase of design, a basic model can offer a different perspective in the design process. Conceptual models are often made out of inexpensive materials like balsa wood or foam and quickly put together.
Working design model. Once you develop a fuller idea of what you're creating, you can turn it into a working design model. If you've encountered any flaws or issues with your initial design, building the design model can help you address them, and possibly shed light on new, innovative ideas you can implement. Model makers commonly use sturdier materials like wood, concrete, and metal to create a working design model.
Concept presentation model. A presentation model has a higher level of detail than your initial physical model that better reflects your finished product's materials and scale. Concept presentation models are for when you're ready to present your ideas to your client or the public. Model makers use high-quality materials like resin or even a 3D printer to create a presentation model.
What Is the Purpose of Architectural Models?
Architectural models serve many purposes, from conception to the finished product.
Models can sell a project. Architects use models for project visualization between the architect and client, to sell a project idea (or planning one), or to provide information to the public about proposed or existing real estate.
Models can save you time and money. An architectural model can help contractors pinpoint any possible construction challenges. The model gives inspectors a 3D visualization of the project, allowing them to pinpoint any possible issues. Addressing these issues in the design phase can save you money and time.
Models can help with fundraising. A well-built model can help you raise the money to finance the creation of your project. The model gives investors a visual representation of your idea, allowing them to see exactly where their money is going.
What Materials Do You Need to Make an Architectural Model?
You can make architectural models from a variety of materials, depending on where you're at in the process. Some of the more workable materials for model building are:
Cardboard. Cardboard (or card stock) comes in different colors and finishes, and is easy to cut and shape. Paper mache may also be a suitable material to work with.
Wood. Balsa wood is a common material used for model construction. It is easy to cut, available in a variety of weights, and relatively cheap to purchase. Basswood is another type of material used often in model making, and is great for carving and other wood crafts.
Foam. Foam sheets come in a variety of thicknesses. These sheets are easy to cut and sturdy.
Cork. Cork sheets are more flexible and easier to handle than foam boards. They can also provide an element of texture to your model.
Metal. Metal is great for building structures and demonstrating finishes on your model. Some popular metals to use for an architectural model are aluminum or copper.
How to Make an Architectural Concept Model
Think Like a Pro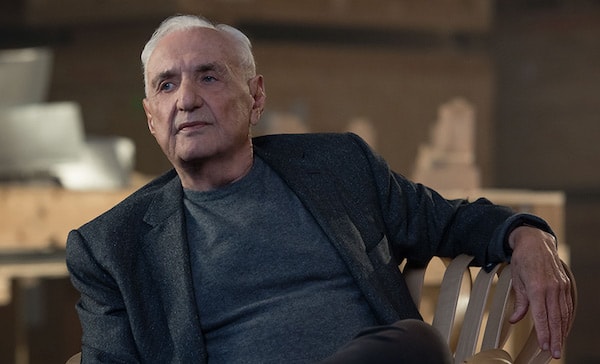 In 17 lessons, Frank teaches his unconventional philosophy on architecture, design, and art.
View Class
If you have an architectural project in the works, check out some tips on how to work with materials, such as:
Measure. Models are how you can represent a large-scale building on a smaller scale. Taking the proper measurements will ensure you get the right scale for your model.
Make prototypes. Before you start building your model, make a few sample pieces to ensure they fit together correctly and that your measurements are accurate.
Use the right tools. A sharp blade, scissor, utility knife, and L-squares are all proper tools for model builders. A laser cutter is also an option if you have the budget (laser cutting services can be expensive). You'll need to research which tool works best for each material and what you can afford.
Use the right glue. Wood glue is used for wood, but can stain if the excess is not wiped off properly. Glue sticks should only be used for paper construction, however, it doesn't hold as securely as tacky glue, which is thicker and stronger than white glue, and dries faster. A hot glue gun will work the fastest and have the strongest hold, however, glue guns can be dangerous to work with, and don't offer a lot of forgiveness if you make a mistake. For a safer alternative, you can use double-sided tape.
Add landscaping. Architectural model making isn't just about the building itself—it's helpful for a client or the public to know how your building will look in the space it's being built. Will it enhance the neighborhood? Or will it stick out like a sore thumb? Adding trees, shrubbery, cars, lighting, and other street furniture can help give viewers a better idea of how your construction will fit in.
Learn More
Get the MasterClass All-Access Pass for exclusive access to video lessons taught by masters, including Frank Gehry, Will Wright, Annie Leibovitz, Kelly Wearstler, Ron Finley, and more.