---
What Ingredients Do You Need to Make Pancakes?
Like most breakfast recipes, pancakes are flexible enough to customize for everyone at the table. Basic pancakes always feature:
Flour. While all-purpose flour is the most common, you can get creative with a whole host of other types of flour.
Eggs. Bring your eggs to room temperature before mixing into your batter for optimal results.
Milk or buttermilk. Dairy and eggs whisked together provide the lift required for fluffy homemade pancakes.
Butter. Use unsalted butter to control the taste of your pancakes.
Baking powder. Baking powder, which contains baking soda, reacts with the other ingredients to create a rise in the batter.
Salt. A pinch of salt balances the flavor profile.
Once you have a handle on the simple pancake, add fruits, candies, or nuts to the batter and get inventive with the toppings for a perfect finish.
4 Tips for Making Perfect Pancakes
Follow these tips to make perfect pancakes every time.
Don't overmix. You want little air pockets throughout the finished pancakes, and overmixing will knock all the bubbles out of your batter. Not only that, gluten begins to form as soon as the flour interacts with the wet ingredients—work it too much and you'll have a tough, too-spongy pancake.
Use cast-iron. For even heat distribution when cooking, use a heavy non-stick griddle, or a well-seasoned cast-iron skillet.
Make a test batch. Think of making pancakes in rounds. Your first round is a test batch. that will allow you to practice your flipping technique and adjust heat accordingly. No one has to see (or eat) these but you!
Avoid squishing with the spatula. After you flip, don't press down with your spatula. This one seems obvious, but let the pancake do its thing naturally—remember, you don't want to squish the lift.
Common Substitutions for All-Purpose Flour in Pancakes
Play around with the type of flour you use in pancakes for different flavor profiles and textures. Go for wholesome grains or make your pancakes gluten-free. Try:
Brown rice flour
Whole wheat flour
Corn flour
Buckwheat flour
Oat flour
Gluten-free flour (widely available in grocery stores.)
6 Creative Pancake Toppings
Think Like a Pro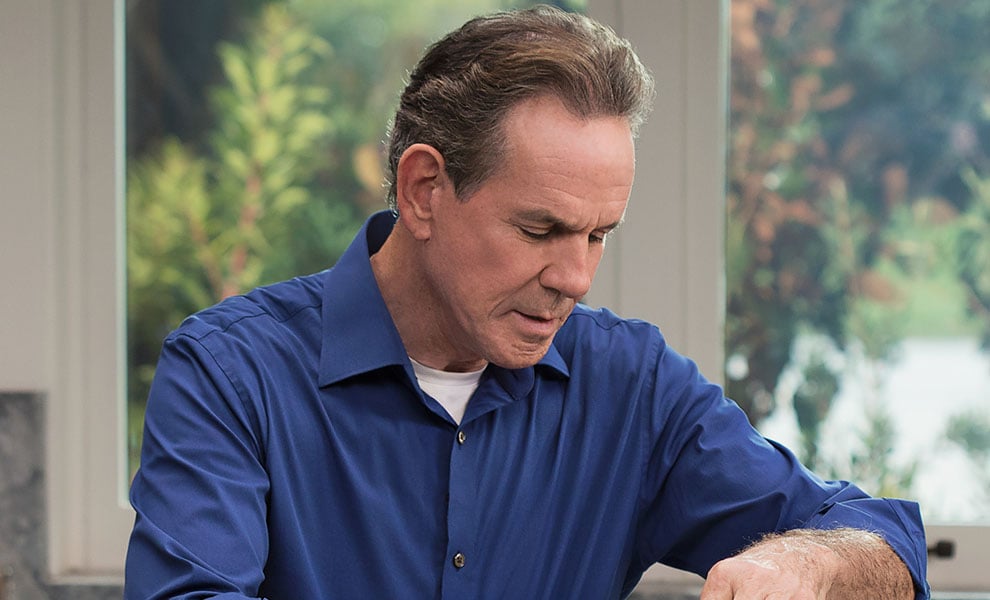 Learn techniques for cooking vegetables and eggs and making pastas from scratch from the award-winning chef and proprietor of The French Laundry.
View Class
Read on to find out how you can spice up your pancakes with a variety of mix-ins and toppings.
Blueberries. For an even distribution, you can also place blueberries directly onto pancake batter after you've ladled into the pan. Be sure to add a little bit more batter over the top if you can, so they don't burn once you flip them and they're good and sealed.
Chocolate chips. For a swirl effect, choose smaller chips (about ½ to 1 cup, depending on preference) and mix directly into the batter.
Raspberries. For lightly fuschia pancakes with a tart kick, gently mix 1 pint of raspberries into the batter.
Walnuts or pecans. Chop finely before adding to the batter.
Cinnamon apple. Peel and slice 2-3 apples into ½ inch wedges, then cook in 1 tbsp butter with ½ to 1 tsp cinnamon, 1 tsp brown sugar, and 1 tsp lemon juice. Cook until soft and caramelized.
Red chili flakes. Maple syrup and red chili flakes are a match made in heaven, especially with salty bacon on the side. Simply sprinkle one pinch over a fresh maple syrup pour.
Easy, Fluffy Pancakes Recipe
Makes
12 medium-sized pancakes
Ingredients
There's really no need to turn to boxed pancake mix: homemade pancakes are very simple and satisfying to make.
2 cups all-purpose flour
¼ cup sugar
4 teaspoons baking powder
½ teaspoon salt
2 teaspoons vanilla extract
1 ½ cups milk
1 large egg
¼ cup unsalted butter, melted
In a large bowl, whisk the flour, baking powder, baking soda, sugar, and salt.
In a separate bowl, whisk together the milk, vanilla extract, and egg.
Add the wet ingredients to the dry ingredients. Gently whisk to combine, until no floury bits remain. Add the melted butter and stir well.
Heat a drizzle of vegetable oil or clarified butter (like ghee—regular butter will burn) on a non-stick skillet over medium heat, then reduce heat to medium-low to avoid scorching your first round. Using a measuring cup, ladle pancake batter into medium-sized rounds; use the back of the measuring cup to help spread them out evenly. Cook until pancakes are firming up around the edges, and little bubbles have begun to appear on the top side of the batter.
Flip to the second side, and cook until golden brown, adjusting heat as needed. Repeat with remaining batter, greasing the pan with additional butter or oil if too dry.
Serve with a drizzle of honey or maple syrup.
Become a better chef with the MasterClass Annual Membership. Gain access to exclusive video lessons taught by culinary masters, including Dominique Ansel, Gordon Ramsay, Alice Waters, and more.