---
How Long Does It Take for Asparagus to Grow?
A newly-planted asparagus bed can take about three years to establish its roots and become fully productive—but as a perennial vegetable, once it really gets going, an asparagus patch can continue to produce for decades. That also means that events in one year can impact the next year's growth and output, from soil or watering conditions to disease or damage. Planting asparagus is an exercise in patience, but it's a long-term investment, so treat the patch accordingly!
When to Plant Asparagus
Plant asparagus in early spring, as soon as the soil is workable. The growing season for asparagus is double-sided since it can tolerate cooler temperatures. Cool season crops like asparagus may be planted as soon as frost is no longer expected in spring; they often fade, and may die altogether, during the heat of summer. A second window for planting cool season crops opens up in late summer and early fall; once mature, these species can actually survive a light frost (in mild climates, they may even continue producing into the late fall or winter months).
Varieties of Asparagus for Home Gardens
When considering what to plant, it's important to consider female plants versus male plants. Females produce what are known as "berries," self-propagating seed pods; this means a lower yield overall. Home gardeners usually prefer male hybrid plants like Jersey Giant and Jersey Knight, which have a high yield, over female plant varieties, like Mary Washington and Martha Washington, which may not be as productive.
The pigment responsible for purple asparagus breeds will turn green when cooked, so be sure to serve it in a raw presentation, like a shaved asparagus salad, if the goal is to preserve the color.
White asparagus may appear to be a specialty breed, but it's actually green asparagus grown without sunlight, which prevents chlorophyll from influencing the final hue (it's also slightly sweeter and less fibrous as a result).
How to Plant Asparagus
New crops are most commonly grown from asparagus "crowns," one year-old starter plants found at garden centers, but can also be grown from seeds started indoors over winter if preferred. Once you select an asparagus variety, here's how to plant.
Pick the site. Asparagus doesn't need much sun—partial shade will work just fine—but asparagus roots do need a fairly acidic soil, with a soil pH of 6.5. Strive for a well-draining spot that will allow good soil moisture without soaking the roots or exposing it to puddles of snow-melt. Asparagus can even thrive in a sandy soil—many varieties grow wild on beaches.
Prepare the rows. Loosen the soil at least a foot deep, clearing of obstructions. This will allow the asparagus to root freely. Churn organic matter like compost or fertilizer into the first few inches below the soil surface. Thoroughly clear the space of any weeds, then dig trenches about a foot wide and 6 inches deep. Create a 2-inch ridge along the top of the rows.
Plant asparagus crowns. Place crowns on top of these ridges, at least 12 inches apart, spreading their roots beneath them. Cover the ridges and the crowns completely with soil and compost, then top with a good 4 inches of mulch.
How to Care for Asparagus
Mulch. Mulching the rows is a good way to retain moisture and deter pests.
Water. Water frequently.
Observe bugs and disease. Be on the lookout for asparagus beetles, which feast on the tender shoots and fronds, or fungal diseases like fusarium crown rot and asparagus rust, which manifest as yellowing stalks with rust-colored spots. Beetles can be removed by hand, or deterred through smart companion planting, but because a fungus is carried by spores in the air and soil, the damaged plants will need to be removed and the site shouldn't be used the next season.
How to Harvest Asparagus
Think Like a Pro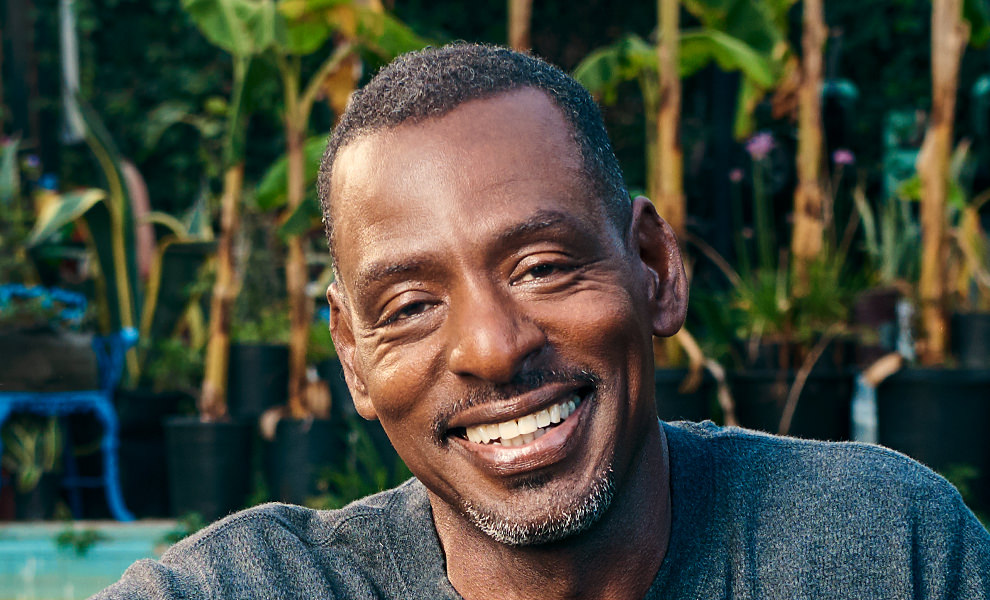 Community activist and self-taught gardener Ron Finley shows you how to garden in any space, nurture your plants, and grow your own food.
View Class
Remember how asparagus requires patience? Here's where that comes in.
First, wait. Any spears that poke up shouldn't be harvested in the first year: They're developing the healthy root system that will support next year's crop.
Trim. Trim down the dead foliage at the end of the season, and replace compost in the valleys between rows to replenish the health of soil.
Mulch. In the second year, only harvest a small portion of spears for a set window of the season—three weeks or so. Repeat side-dressing with compost on either side of the growing season, and top rows off with mulch.
Keep trimming. The third year is when continual light harvesting throughout the season (about 8 weeks worth) can start in earnest, though try not to harvest the entire crop all at once if possible. Deciding when to finally begin harvesting asparagus is a matter of personal preference: thinner stalks are more tender and flavorful, but more well-developed ones will hold up better to stir-fries or roasting. Don't wait too long: Once a spear begins to open and sprout foliage, the stalk will likely be woody.
Harvest. To harvest asparagus spears, cut cleanly at ground level using pruning shears or a sharp knife, leaving one or two behind to fully mature and replenish nutrients for next time.
Learn More
Grow your own food with Ron Finley, the self-described "Gangster Gardener." Get the MasterClass Annual Membership and learn how to cultivate fresh herbs and vegetables, keep your house plants alive, and use compost to make your community - and the world - a better place.