---
What Is Plant Propagation?
Plant propagation is simply the act of creating new plants. There are two main types of plant propagation. The first is sexual propagation—the reproduction of plants by seed during which genetic material is exchanged by two individual specimens. The second type is asexual propagation, also known as vegetative propagation—cloning plants by grafting, cutting, and layering.
How to Propagate Plants From Seed
The most basic propagation method is collecting the seeds that your plants produce and saving them to sow the following year.
Leafy vegetables: To collect seeds from leafy greens, don't harvest all of the crop. If you want lettuce seed, for example, leave a few heads in the ground (always select healthy specimens when propagating) to go to seed. At some point, after the greens become bitter and faded, a flower stalk will appear. Once the flowers dry up, you'll find tiny seeds at the base of the shriveled blossoms. Leave the seeds attached to the stalk until it too begins to shrivel and turn brown. Then carefully place a paper bag over the end of the stalk where the seeds are, cinching the bag beneath the seeds while cutting the stalk below. Shake out the seeds into the bag. You can then plant these seeds in your garden next year.
Fruiting vegetables: Saving the seed of fruiting vegetables (like eggplants) is slightly different. Allow the fruit to ripen on the plant slightly past the point when you would normally harvest it but before it becomes rotten. This ensures that the seeds inside have time to fully mature. Slice open the fruit and remove the seeds. Spread them on a plate or paper towel and leave them to dry in a warm room. Once your seeds are completely dry, store them in envelopes or glass jars. These seeds will keep until you're ready to plant them.
How to Propagate Plants by Division
Seeds are the product of sexual reproduction, botanically speaking. But plants are also capable of asexual reproduction. This amounts to little more than removing a portion of the plant and growing it elsewhere. The easiest way to do this is division, which refers to separating a small portion of the plant that has its own roots attached. The roots allow the new plant to begin absorbing water and nutrients immediately. Division only works with plants that grow in clumps. You cannot divide the trunk of a pecan tree, for example, or the single stalk of a sunflower.
Clumping plants: Clump-forming plants, which include many perennial flowers and bulbs, produce numerous stems from a broad mass of roots. Simply slice off a stem with roots attached and transplant it.
Succulents: Many succulents also grow as clumps, with small offspring called pups clustered around a central mother plant that may be removed for propagation.
Trees and shrubs: Some trees and shrubs produce suckers—stems that emerge from the root system away from the original trunk—which can also be transplanted.
How to Propagate Plants From Cuttings
Think Like a Pro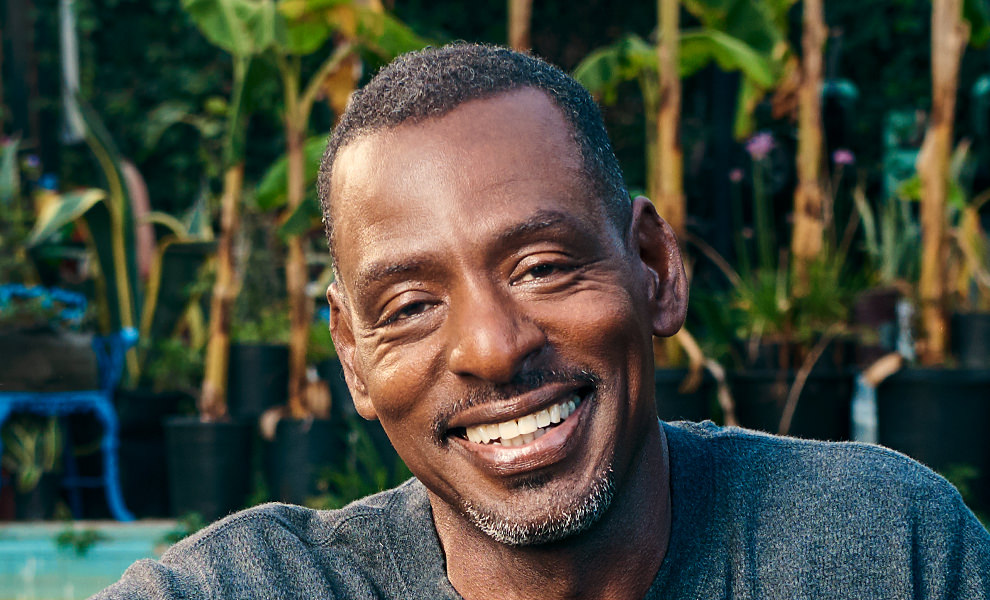 Community activist and self-taught gardener Ron Finley shows you how to garden in any space, nurture your plants, and grow your own food.
View Class
In a miracle on par with that of a germinating seed, it is possible to cut off a stem or branch of a mature plant, stick the stem cutting in the ground, and watch it grow roots and new shoots.
Adhering to a few basic procedures will increase your chances of success:
Ensure that your cutting has two nodes. Use a good, quality pair of scissors or garden pruners to make the cleanest possible cuts. You need at least two nodes—the bumps on stems and branches where leaves and side shoots emerge—on each cutting. That's because you need at least one node below the soil or water (this is where roots will form) and one node above (where new leaves and shoots will grow).
Remove the lower leaves. Take off all but two leaves from the stem, as too much greenery may drain the moisture needed to grow roots (the remaining leaves should be at the tip of the cutting).
Start your cutting in water. A cutting will root in a growing medium such as potting soil or vermiculite, but starting the rooting process in a jar of water allows you to watch the roots form.
Use a rooting compound. Lastly, you may wish to invest in a jar of rooting compound, which contains naturally occurring rooting hormones that stimulate root growth.
How to Propagate Plants by Layering
Layering is a type of plant propagation similar to propagating from cuttings, but rather than removing a stem cutting from the parent plant and letting new roots to form in water or soil, layering involves encouraging roots to grow straight out of a stem while it is still attached to the stock plant. Layering is an advanced propagation technique that works well for woody plants. There are a few different methods of layering:
Simple layering: Bend the stem of a plant down to the ground and bury the middle of the stem under the soil. Then, secure the stem in the soil with a U-shaped pin. Roots will form from the part of the stem that is buried. Use the simple layering method during a plant's dormancy in the early spring.
Tip layering: Tuck the very tip of the stem into a small hole in the ground and bury it. Eventually, the tip will grow roots. This method works especially well for berries, many of which naturally propagate this way.
Compound layering: Also known as serpentine layering, this method is a more involved version of simple layering. Bend one branch or stem down to the ground, then alternately cover and expose portions of the branch to produce multiple new rootstocks. This method works well for vine-type houseplants like pothos.
Air layering: Peel bark away from the center of a branch and cover the exposed area with sphagnum moss and a clear plastic bag or aluminum foil. For plants that do not have bark; make a cut in the plant tissue and use a wet toothpick to hold the cut open, then wrap with moss. The new roots will develop within the moss, and you can then cut the roots away from the parent plant and transplant them.
6 Tips for Propagating Plants
With a little effort, you'll soon find yourself flush with plants.
Select healthy specimens. If you're going to reproduce plants by seed-saving or any other method of propagation, choose the ones that thrive in the specific environmental conditions of your garden.
Avoid cross-pollination when seed-saving. There are a few crops, like corn and squash, that won't necessarily propagate "true to seed." Say you're cultivating a butternut squash and a delicata squash in close proximity. Cross-pollination between the two—facilitated by a bee or a breeze—can result in seeds that grow into squash Z (a butternut-delicata hybrid, which will have a mix of characteristics from both varieties). There are tricks to prevent this, but the simplest method for saving corn and squash seed that grows "true" is to grow one variety at a time.
Be wary of seeds saved from hybrids. Plant breeders often intentionally hybridize different varieties to produce a third variety with certain desirable traits. These hybrids are popular among gardeners, but if you save seeds from them, the resulting plants may not resemble their parent plants. Seed packets and seedling labels generally indicate whether the plant is a hybrid. Sometimes it's spelled out in plain language, but you'll often see "F1" printed next to the variety name, which is essentially botanical jargon for "hybrid."
Research which plants can be propagated from cuttings. While propagation from a cutting is theoretically possible with any plant, some species grow roots more readily from their stems than others. Willow trees are notoriously easy to propagate this way—stick the end of a branch into a bucket of water, and a few weeks later you'll see an extensive root system forming. Cuttings from many shrubs, perennials, and trees will form roots when placed in water, while others root more easily in soil. You may also use perlite as a rooting medium. Succulents and tubers are among the easiest plants to propagate by cuttings. Do some research to find the best approach for different species, or just try your luck.
Take cuttings of plants you find in your neighborhood. If you see a plant you like while you're out and about, don't be shy. Ask the owner if you can snip off a piece of stem. Get your cuttings home as soon as possible, ideally wrapped in wet paper towels for transport.
Keep your cuttings in a humid environment. Moisture retention is paramount—you may even want to place glass or plastic containers over your cuttings to form a mini greenhouse. This will hold humidity around the cutting while you wait for it to form roots, which can take anywhere from a week to several months.
Learn More
Grow your own food with Ron Finley, the self-described "Gangster Gardener." Get the MasterClass All-Access Pass and learn how to cultivate fresh herbs and vegetables, keep your house plants alive, and use compost to make your community - and the world - a better place.