---
How Should a Sleeve Fit?
For a perfect sleeve, the shoulder seam should rest at the edge of your shoulder, just where it begins to slope (not resting atop your shoulder or drooping down to your upper arm). Similarly, your shirt cuffs should end precisely at the break of your wrist, and a half-inch of the cuff should be visible under a suit jacket. Find our comprehensive guide to sleeves here.
Why Is Knowing Your Sleeve Length Helpful?
When you're shopping for dress shirts, you'll probably come across numerical sizing that includes two numbers separated by a slash (for example, 13/32). The first number is for the neck opening (your shirt collar size), and the second is for the sleeve length. To choose the correct size, you'll need to know the ideal sleeve length for your arms. This sizing method is especially true in menswear lines, but professional women's shirts will often include sleeve lengths in their dress shirt sizes. Knowing your sleeve length is helpful because:
You'll have an easier time at the tailor. If you have a favorite shirt with sleeves that are too long or have arms that are shorter or longer than average, you may want to have a tailor adjust the sleeve length for you. Knowing your ideal sleeve length will help the tailor get the fit just right.
You can avoid buying shirts that don't fit. Consumers often purchase ill-fitting clothes, because they don't know their correct fit or don't notice until later. Knowing your ideal sleeve length will help you avoid buying the wrong size, and make you look professional and put-together in any setting.
How to Properly Measure Your Sleeve Length
Measuring your sleeve length is about more than just knowing your arm length. Dress shirt sleeves are measured from the nape of your neck to your shoulder and from your shoulder to your wrist. This means you'll need to take two separate measurements to find your proper sleeve length. Here's how to correctly measure your sleeve length:
Find a shirt with well-fitting shoulder seams. Find a T-shirt or other shirt that has correctly fitting shoulder seams—meaning the armhole seams rest at the edge of your shoulder, just where it begins to slope (not resting atop your shoulder or drooping down to your upper arm). Don't worry if the shirt has short sleeves; you only need the shoulder seams as reference. If you don't have a shirt with a proper fit, you can take these measurements shirtless. However, using the shirtless method may make it harder to find the right point on your shoulder.
Measure from the nape of the neck to the shoulder seam. Using a fabric measuring tape, place one end directly below the nape of your neck (at the center, in line with your spine), and place the other end at the top of the shoulder seam. If you're having a hard time finding the point below your nape, you can instead measure your full shoulder width, from left seam to right seam, and divide it in half. Record this number.
Measure from shoulder seam to wrist. Now, place one end of the fabric tape measure at the top of your shoulder seam, and the other end at the break of your wrist, or the wrist bone. Let the end of the measuring tape drape just a bit, as a shirt sleeve would. Be sure to relax your arms, allowing them to bend slightly. If you keep your arms unnaturally straight while taking your sleeve measurement, your garment's sleeves will be too short once you move your arm. Record this number.
Add the two numbers together. Now, add the two measurements together (both from your neck to your shoulder, and from your shoulder to your wrist). This number, in inches in the United States, is your ideal shirt sleeve length.
4 Tips for Measuring Your Sleeve Length
Think Like a Pro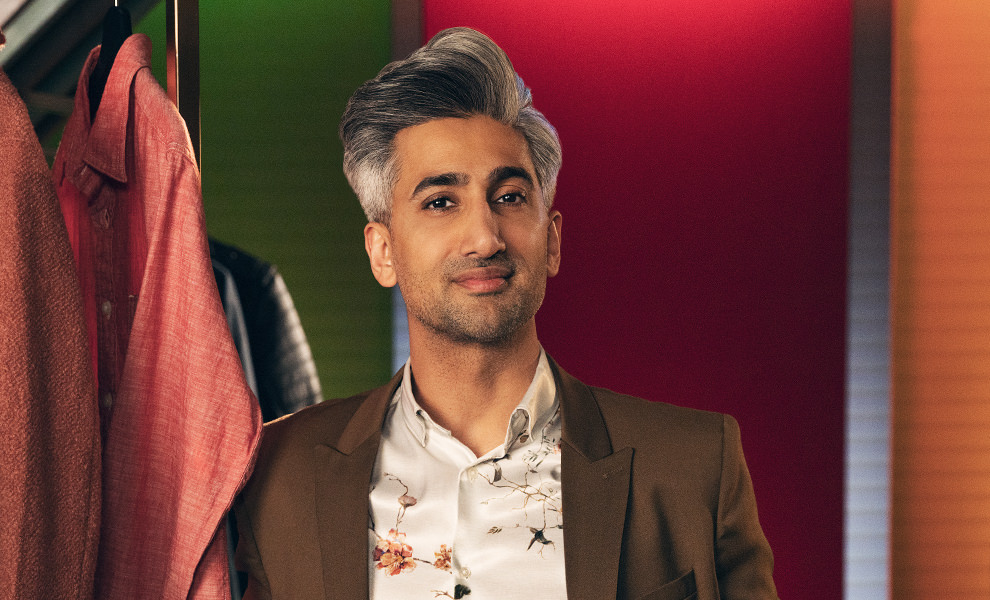 Queer Eye cohost Tan France breaks down the principles of great style, from building a capsule wardrobe to looking pulled together every day.
View Class
The following tips will help you correctly measure your sleeve length:
Round up. If your shirt sleeve length is in a quarter-inch margin, round up to the nearest half. For example, if your sleeve length is 33.25 inches, round up to 33.5 for your ideal length. Different retailers will advertise shirt sizes differently—some will come in half-inches (e.g., 13/32.5), while others will include a range (e.g., 13/33–34). Simply find the range or half size that comes closest to your measurement, but always round up to make sure you have room to move around.
Relax your body. When measuring, you must relax your neck, shoulders, and arms—if you measure while you're stiff, the sleeve will end up being too short when you buy the shirt and move in it.
Get a friend to help you. It can be hard to line up the measuring tape with the back of your neck or along your arm—get a friend to help you for the most accurate results.
Measure a shirt that fits you well. If you already have a dress shirt that fits like a dream, from the shoulder seams to the end of the cuff, put it on and measure the sleeve length to see the exact measurements you prefer.
Want to Learn More About Unleashing Your Inner Fashionista?
Get a MasterClass All-Access Pass and let Tan France be your very own style spirit guide. Queer Eye's fashion guru spills everything he knows about building a capsule collection, finding a signature look, understanding proportions, and more (including why it's important to wear underwear to bed)—all in a soothing British accent, no less.