---
What Is a Windowsill Garden?
A windowsill garden is a collection of plants that you grow in a windowsill, either indoors or in a hanging window box outside your home. Windowsill gardens are a great space-saving option for home gardeners who don't have a large outdoor gardening space, and can easily be done in smaller residences like an apartment.
What Do You Need for a Windowsill Garden?
A windowsill garden requires:
Sunlight: The windowsill you choose should get at least five hours of sunlight per day so that plants that require full-sun can adequately grow.
Containers: To grow plants for your windowsill garden, you'll need a container in which to grow the plants. Set up your garden in a container that works for the space you have—anything from individual clay pots to a DIY wooden box will do, as long as the containers have drainage holes.
Maintenance: Along with routine watering, you will need to occasionally prune or harvest your plants to ensure the small container the plants are growing in doesn't get overcrowded.
Which Plants Work Best for a Windowsill Garden?
There's a wide variety of plants that will thrive in a windowsill garden environment:
Herbs: Herbs are the most common crop to grow in a windowsill garden, because most herbs grow well in small spaces. Windowsill herb gardens provide fresh herbs year-round for cooking, and if you grow them in your kitchen window, you'll only be a few steps away from fresh aromatics. When planting several herbs in the same container, try to group them together according to their water needs. Basil, cilantro, and parsley require consistently moist soil, while chives, thyme, sage, rosemary, and oregano can handle drier conditions. Mint and tarragon grow rapidly with wild roots and can overtake other plants if left unattended, so consider planting them in separate containers.
Allium-family crops: Alliums like green onions and garlic make great indoor plants because they require minimal space and soil. Each green onion or garlic bulb you plant will provide just one bulb, so keep refreshing your crop as you harvest. Green onions can even be grown soilless in a mason jar of water.
Leafy greens: If your window doesn't get a full five hours of sunlight, consider trying to grow some leafy greens, which can get by with two to three hours of sunlight per day. Loose-leaf lettuce is one of the easiest leafy greens to grow in a window, followed by spinach. Since leafy greens don't have significant root systems, feel free to plant them in a shallow container.
Microgreens: Microgreens are small seedling forms of herbs and vegetables that many gardeners grow to eat in everything from salads to stir fry to smoothies. As their name implies, microgreens are small plants—they can grow extremely close together to maximize your crop in a small space.
Legumes: Legumes like beans and peas are a low-maintenance crop that can easily handle a windowsill setup. Bush-bean varieties are a better fit for a windowsill garden than pole beans because the plant grows in a compact bush form. Pole beans need a trellis or wire to grow around.
Small root vegetables: While small root vegetables like radishes and carrots require a little more space in your windowsill garden, they're a fun choice because they offer two edible crops: the roots, which are the standard harvest, and the tops (the carrot greens and radish greens), which can be chopped up and added to salads.
Succulents: Succulents are a classic choice for houseplants because they're incredibly low-maintenance and prefer consistent, warm temperatures. You can find a wide variety of succulents to grow in your windowsills—just be sure not to overwater them.
Flowers: If you want to grow plants for aroma and aesthetics rather than for sustenance, there are a wide variety of flowers that will thrive in a sunny windowsill. Common choices for indoor growing are hyacinths, daffodils, geraniums, cyclamens, and African violets.
Tomatoes: Tomatoes are a staple in any home garden because they're fast-growing and only require light maintenance. Growing tomatoes on a windowsill is more challenging than growing herbs or lettuce, but when done right can be one of your most rewarding crops. To grow tomatoes in an indoor garden, choose dwarf varieties and make sure to provide a cage or trellis for them to grow on. Tomatoes are a sun-loving plant that requires full-sun conditions (at least five hours a day), so avoid adding them to your garden if your window doesn't get enough sun.
How to Start a Windowsill Garden
Think Like a Pro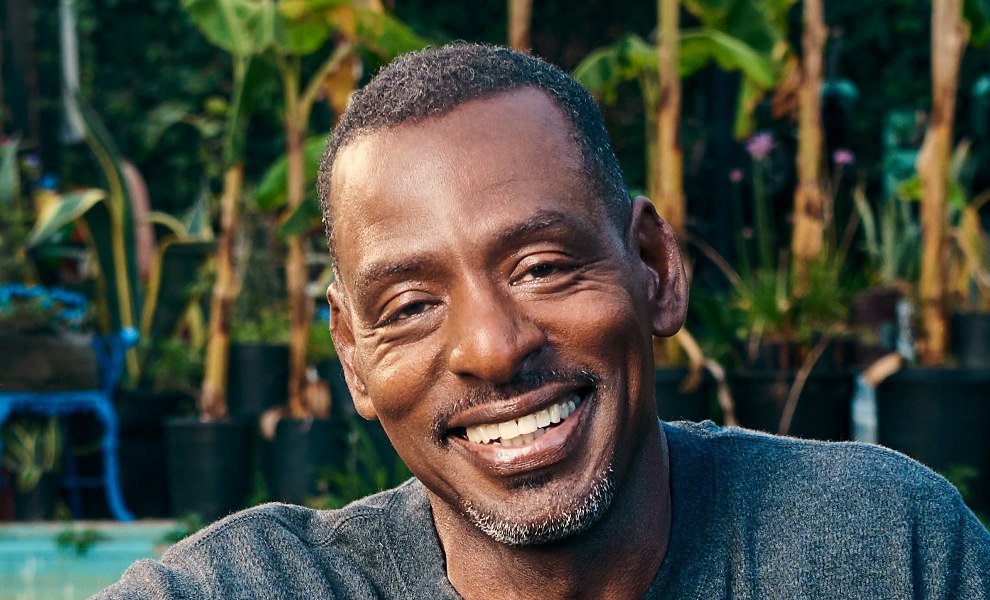 Community activist and self-taught gardener Ron Finley shows you how to garden in any space, nurture your plants, and grow your own food.
View Class
Here's a step-by-step guide to setting up your indoor garden:
Plan out your space. Since your windowsills most likely offer only a small amount of space for plants, you'll want to map out how you will use the space in your container. Decide which plants you'd like to grow—whether that's herbs, vegetables, succulents, flowers, or a mixture—and research which ones can be grown in the same container and which should be grown separately. (Ready-to-use garden kits can simplify the planning process.) Next, select the right windowsill for the job—the perfect spot should get at least five hours of sun per day. A south-facing window is often the best option to avoid harsh sunlight during sunrise or sunset.
Select your containers. There are no hard-and-fast rules for the type of containers you should use for windowsill gardening—you can use terra cotta planter pots, a long window box, or anything else you want to grow plants in. Choose containers that will allow for good drainage—most plants won't tolerate "wet feet" (or constantly soaked roots) for very long. The drainage can come in the form of drainage holes drilled into the bottom with a tray underneath for catching excess water, or a drainage layer of rocks or pumice underneath the potting soil.
Choose your soil. Soil is one of the most important elements when it comes to container gardening, so be sure to choose the right soil for your plants. Most window gardens will grow best in potting soil (also called potting mix), which is lighter and has even more drainage than garden soil. Choose a soil with lots of organic matter (or stir your own compost into the soil) to give your plants a great start with lots of nutrients.
Plant your seeds or seedlings. You'll need to decide whether you want to start your plant from seed or from seedling (young plant). Many plants—like cilantro, leafy greens, microgreens, and legumes—do best when started from seeds. Other plants—like tomatoes, alliums, succulents, and flowers—will do best if started from seedlings or even cuttings. Plant your seeds or seedlings in the container with adequate spacing so the plants have room to grow and thrive.
Water. After you plant your garden, water it evenly to help the soil settle in. Keep the soil moist according to each plant's needs.
Learn More
Grow your own food with Ron Finley, the self-described "Gangster Gardener." Get the MasterClass Annual Membership and learn how to cultivate fresh herbs and vegetables, keep your house plants alive, and use compost to make your community - and the world - a better place.