---
What Is a Candy Thermometer?
A candy thermometer is a long, narrow thermometer with a high heat range that measures the temperature of boiling sugar, oil, sauces, and syrups. Also known as deep-fry thermometers, candy thermometers measure a wide range of temperatures, making them useful for achieving the right consistency in confections like caramels, brittles, spun sugar, and sugar syrups. Precise, hot temperatures determine a candy's malleability and final form, so a thermometer can come in handy when trying to reach the desired temperature.
What Is the Difference Between a Candy Thermometer and a Meat Thermometer?
There are three general differences between a candy thermometer and a meat thermometer:
Candy thermometers are longer. Candy thermometers are longer than meat thermometers, making them a safer option when checking the temperature of boiling sugar or hot oil.
Candy thermometers have a higher temperature range. Most candy thermometers can reach temperatures as high as 400 degrees Fahrenheit, while meat thermometers typically go up to around 200 degrees Fahrenheit.
Meat thermometers have a pointier base. Meat thermometers have a pointed, probe-type end, as opposed to the candy thermometer's rounded (or sometimes flat) base. The tip of the meat thermometer's probe allows for easy insertion into large cuts of meat to check your food's internal temperature and ensure its doneness. Cooking meat to the correct temperature is crucial for eliminating bacteria and preventing certain cuts from drying out.
How to Read a Candy Thermometer
Candy thermometers typically have temperatures markings in both degrees Fahrenheit and Celsius and markers for the various stages of sugar cooking. These stages help you determine the outcome of your candy:
Thread stage: The cooked sugar in this stage forms a thin thread. This is the best stage for making simple syrups. The temperature range for the stage is 230–234 degrees Fahrenheit.
Soft-ball stage: The cooked sugar at this stage forms a sticky ball that you can flatten to make fudges and fondants. The temperature range for this stage is 234–241 degrees Fahrenheit.
Firm stage: At this stage, the cooked sugar becomes firm and flexible. This is the ideal stage for making caramels and nougats. The temperature range for this stage is 242–248 degrees Fahrenheit.
Hard-ball stage: The cooked sugar in this stage forms a hard ball that holds its shape. The hard-ball stage is for gummies, rock candy, and marshmallows. The temperature range for this stage is 250–266 degrees Fahrenheit.
Soft-crack stage: The cooked sugar in this stage forms firm, flexible threads and is used for making butterscotch and salt-water taffy. The temperature range for this stage is 270–289 degrees Fahrenheit.
Hard-crack stage: At this stage, cooked sugar forms brittle threads that can be used for spun sugar, brittles, and glazing. The temperature range for this stage is 295–309 degrees Fahrenheit.
How to Use a Candy Thermometer
Think Like a Pro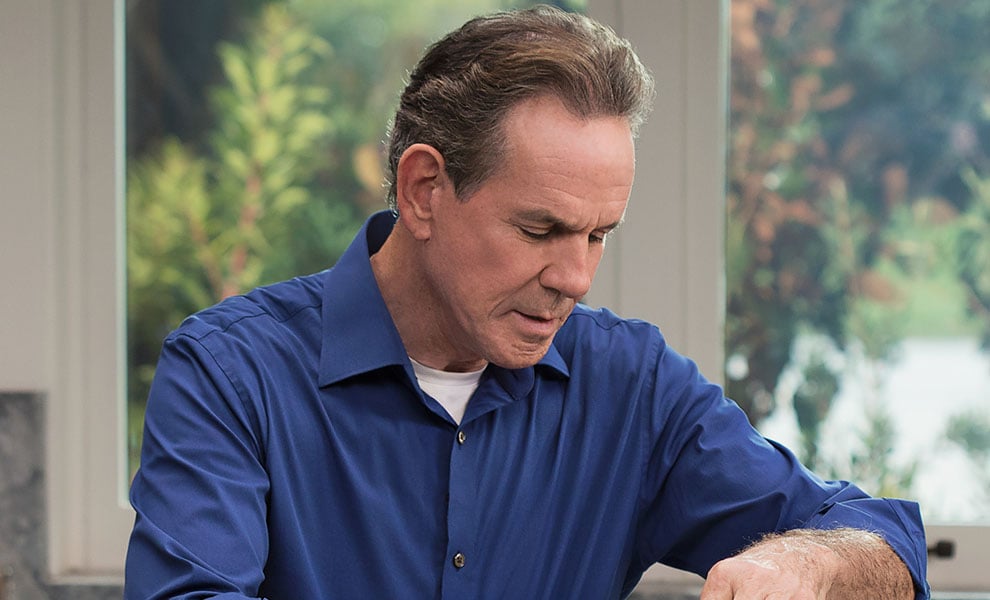 Learn techniques for cooking vegetables and eggs and making pastas from scratch from the award-winning chef and proprietor of The French Laundry.
View Class
If you're about to start DIY candy making, you'll need to know how to use a thermometer properly:
Pick a thermometer you're comfortable with. The type of candy thermometer you use depends on your personal preference. You can choose a classic, analog candy thermometer, usually a glass pipe set in a stainless steel metal frame, or a plain, tempered glass tube. You can also try digital thermometers that use metal prongs or infrared sensors to provide an instant temperature readout.
Verify its accuracy first. You can verify your thermometer's accuracy by testing it in a pan of boiling water. Clip your candy thermometer to the side of the pan, then fill it with water and turn on the burner. Once the water comes to a rolling boil, the temperature should read (if you're at sea level) 212 degrees Fahrenheit. If it does, you're ready to start cooking. If it doesn't, you'll either have to convert the difference or invest in a new candy thermometer.
Keep the bulb away from the bottom. An analog thermometer's metal frame keeps the glass bulb from directly touching the bottom of the pan or pot. If your thermometer doesn't have one or is a prong-type digital thermometer, make sure the tip does not touch the hot bottom, as it can damage the sensor and cause an inaccurate temperature readout.
Read the temperature at eye level. You'll get the most accurate readout of your temperatures if you read the line at eye level. Different forms of candy need specific temperatures to achieve the right texture and consistency, so it's important to obtain the most accurate reading possible.
Avoid extreme temperature changes. Once you remove your thermometer from a hot candy mixture, avoid running it under cold water right away, as the stark temperature change can cause your thermometer glass to crack.
Want to Learn More About Cooking?
Become a better chef with the MasterClass Annual Membership. Gain access to exclusive video lessons taught by culinary masters, including Chef Thomas Keller, Gabriela Cámara, Massimo Bottura, Dominique Ansel, Gordon Ramsay, Alice Waters, and more.