---
What Is the Julienne Cut?
The julienne cut is a traditional French knife technique that requires one to square off the vegetable, then uniformly cut it into thin planks and matchsticks. There is also the shortcut version, which is to cut vegetables thinly at a diagonal, and stack and slice them into long, thin strips. And finally for those of us who possess a food processor or mandoline, dig around your drawers for a handy julienne attachment. You'll have a stack of beautifully cut vegetables in no time.
How Are Julienned Vegetables Used in Cooking?
The julienne method ensures an even cutting size, which is essential to ensuring that vegetables marinate or cook quickly and at the same rate. Julienned vegetables are also used to add texture to a dish—think of the crunch julienned carrots give to your salads, side dishes, and rainbow veggie stir-fries.
What Is the Right Size and Dimensions of Julienned Vegetables?
The ideal size for these classy little matchstick vegetables is approximately 2 to 3-inches long and 1/16 to 1/8-inch thick. If you don't have a ruler on hand, you can eyeball an inch this way: measure the length between your thumb tip and the top knuckle of your thumb for a rough inch.
What Tools Do You Need to Julienne Vegetables?
A sharp knife: It's important to work with a sharp chef's knife to ensure precise cuts and safe slicing (without slipping). Test your knife's sharpness by slicing a piece of paper—if you glide through effortlessly and it doesn't catch or tear, then your knife is reasonably sharp and ready to work with.
A cutting board: Make sure your cutting board is secure by sliding a kitchen towel underneath. This trick keeps the board in place if your work surface becomes wet.
A food processor or mandoline with food guard: For those who want to take an easier approach, outfit your food processor or mandoline with a julienne blade for shredding vegetables. Make sure to use a food guard when using a mandoline to protect your fingertips.
How to Achieve Julienne Cuts With a Knife
Take the knife into your dominant hand and hold it comfortably, using your non-dominant hand as a guide to the knife.
Holding the vegetable with your fingertips, bend your fingers so that they are parallel to the knife (this also protects them).
Move your hand the same distance between each cut.
Start slowly and as you gain experience, you'll be able to cut in a smooth continuous motion.
How to Julienne an Onion
To julienne an onion:
Trim away the top and bottom, then remove the outer peel.
Stand the onion on one of its ends, and cut it in half vertically.
Working with one half at a time, place the onion cut side down and with one of its round edges facing your knife.
Angle your knife at 45 degrees from the cutting board and begin slicing into matchstick-size pieces.
Continue cutting in a radial manner, gradually changing the angle of the knife with each cut.
By the time you reach the middle of the onion, your knife should be at a 90-degree angle to the cutting board. When you're most of the way through, and it begins to feel a little unstable, flip over the onion and continue slicing.
Say hello to elegant red onions on top of your next salad!
How to Julienne Carrots
Think Like a Pro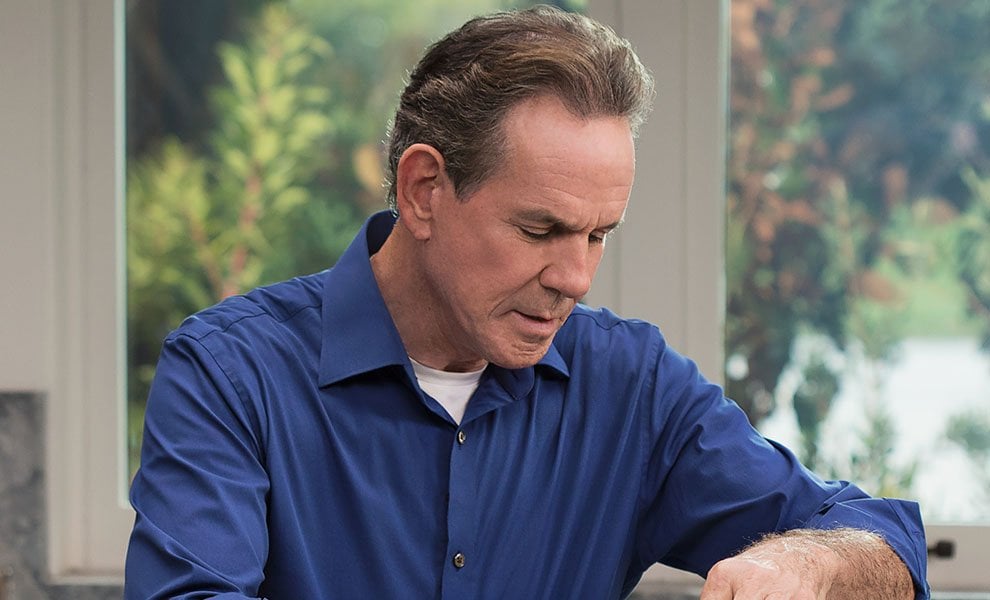 Learn techniques for cooking vegetables and eggs and making pastas from scratch from the award-winning chef and proprietor of The French Laundry.
View Class
There are two ways to julienne carrots:
The classic French method. Peel the carrot and cut it into 2 to 3-inch lengths. Cut a thin slice off one side to make a stable base. Place the flat side down, and slice into uniform planks about 1/16 to 1/8-inch across. Stack a few planks at a time and slice them into 1/16- to 1/8-inch-thick strips (the same width as the slabs).
The simpler method. Starting with the root end, slice the carrot thinly on a bias (diagonal), stack a few slices at a time, and slice them again the long way into uniform, thin matchsticks. Besides getting to ditch the ruler in this second version, you'll have less scraps going to waste, making better use of the vegetables.
You can try either technique on other round, firm vegetables such as zucchini, parsnips, and celery.
Can You Julienne Tomatoes? How to Julienne Soft Vegetables
Although done less frequently, it is in fact possible to julienne a soft vegetable like tomatoes. Begin with a quartered tomato and lay each quarter skin side down. Run your knife between the seeds and flesh of the tomato. Continue running your knife in one continuous movement, removing the flesh from seed. Lay the tomato skin side down and cut into julienne strips. Save the seedy part of the tomato for another use. This method is great for salads without tomato seeds.