---
What Is Braising?
Braising is a combination-cooking method that starts with pan searing followed by slow cooking in a liquid—usually in a Dutch oven or a slow cooker—until ingredients become tender. A successful braise transforms both the ingredient being cooked and the cooking liquid itself into something harmonious.
When Should You Braise?
Braise when your goal is deep levels of flavor and soft, melty caramelized texture. Braising works beautifully on all cuts of meat, even lighter ones like chicken, but the cooking technique especially benefits the tough cuts, like beef brisket. Braising tenderizes meat, dissolving collagen and connective tissue into gelatin (which makes for a richer sauce or gravy later on) and coaxing flavor through every meat fiber until it's fork-tender.
What's the Difference Between Slow Braising and Fast Braising?
Cook time for braising will always depend on the protein in question, but for tougher cuts of meat, two to three hours at a simmer is optimal to allow the collagen to soften completely.
But! Braising doesn't have to be an all-day affair: depending on the protein or vegetable, quick braises can be pulled off in a pressure cooker like an Instant Pot that does the work in, well, an instant. The resulting texture might not be an exact facsimile, but you can make up the difference by reducing the remaining liquid and incorporating it into the final presentation.
What's the Difference Between Braising and Braising à la Matignon?
Both braising and braising à la matignon call for slow-cooking ingredients gently in liquid to tenderize them. But there are differences in the two techniques.
Matignon refers to vegetables that are diced to a specific size, like a mirepoix. Unlike a mirepoix, though, which is strained out prior to serving, matignon vegetables are part of the finished dish.
A traditional matignon also uses ham, but you can also forgo the ham, opting simply for the vegetables, which are sweated at the start. The meat then cooks on top of them, and the resulting sauce is a combination of the meat juices and the vegetables.
Both matignon and braising are time-intensive, but their results are delicious. So whatever recipe you follow, make a large quantity. You'll want leftovers to enjoy the next day, and maybe even the day after that.
How to Braise Meat in 3 Simple Steps
Start by browning the meat you'd like to braise. In a Dutch oven set over medium-high heat, drizzle enough fat, such as butter or olive oil, to coat the bottom of the pan, then sear each side of the seasoned meat until golden brown. Remove from the pan, and set aside.
Add your aromatics (onion, shallots, garlic, and spices), and then deglaze with stock, wine, beer, or even water. (The amount of liquid you use is up to you: as long as the meat is partially submerged you can always rotate during the cooking time.) Using a wooden spoon, scrape up all those brown bits—that's called the fond and it will provide the delicious foundation for all the flavor you're about to build—and stir into the braising liquid.
Season to taste, and bring to a boil until slightly reduced. Add the meat back into the pot, slap on a tight-fitting lid, and let it simmer away in a 300°F oven (the more consistent bet) or over a low flame on the stove for up to an hour.
How to Braise Vegetables
When braising vegetables, start with your aromatics, then add a small amount of liquid. Shorten the cooking time since vegetables tend to be more delicate and you want to avoid turning them into mush. Hardier choices like artichokes, root vegetables, and squash take to braising well. Try Chef Thomas Keller's method for braising artichokes here.
3 Recipe Ideas for Braising
Think Like a Pro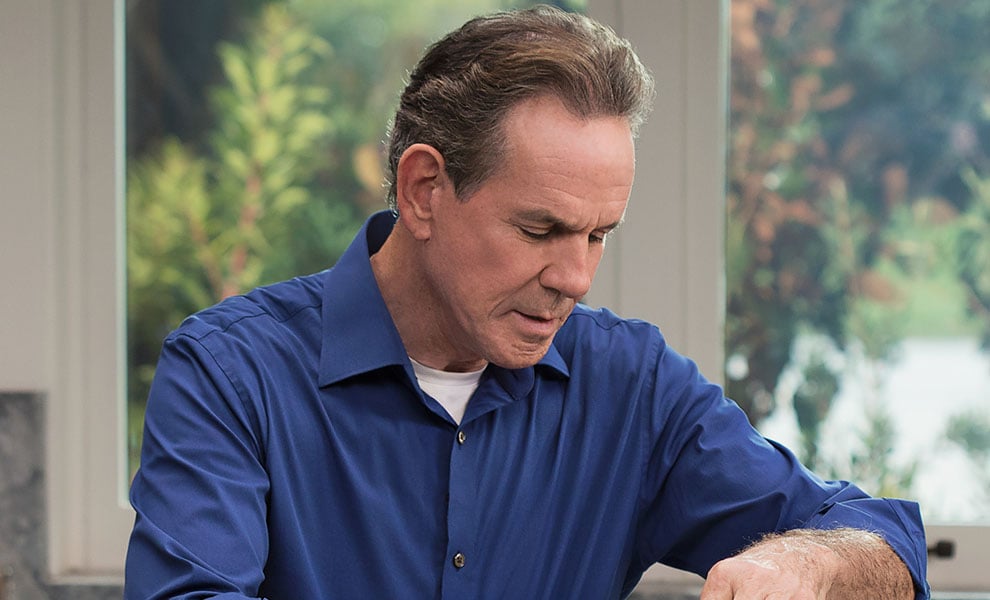 Learn techniques for cooking vegetables and eggs and making pastas from scratch from the award-winning chef and proprietor of The French Laundry.
View Class
Braising recipes are fairly easy to build as you go along, as long as you have an idea about where you want to end up and what you'd like to highlight.
Red-wine braise: Take a cue from Chef Thomas Keller and make French-style braised beef short ribs in red wine. (Tip: Lamb shanks, veal shanks, beef cheeks, and pork shoulder all make solid substitutions here. Try Chef Keller's pork shoulder à la matignon here.) Red wine meets mirepoix, aromatic herbs, and stock in an epically luxurious three-day marinating process.
Vinegar braise: To add a bright, tangy kick to your braise, after you've browned bone-in chicken thighs or breasts in a Dutch oven, deglaze with ½ cup red or white wine vinegar then add any vegetables and aromatics you'd like, such as garlic and shallots or tomato and chili paste. Cook until tender, then add stock or broth and return chicken to the pot. Cover, then lower the heat or transfer to a 300°F oven, and cook for 40-45 minutes, checking for doneness periodically.
Soy sauce: For a salty-sweet braised pork, use a 1 to 2 ratio when constructing your cooking liquid—1 part soy sauce to 2 parts water with a tablespoon or two of brown sugar to round out the high notes.
Learn more cooking techniques with Chef Thomas Keller here.