---
What Is the Right Internal Temperature for Chicken?
Chicken is done cooking when its internal temperature reaches 165ºF (75ºC). 165ºF is the safe internal temperature regardless of cooking method, cooking temperature, and cut of meat—including white meat like chicken breasts and wings, and dark meat like drumsticks and thighs.
Why Is Cooking Chicken to the Proper Internal Temperature Important?
Cooking chicken to an internal temperature of 165ºF is not merely a suggestion; it's also an issue of food safety, as undercooked chicken can cause salmonella infection. Thus, ensuring that chicken reaches the proper internal temperature is vital to avoid foodborne illness.
Cooking Times Chart for Cooking Perfect Chicken
Cooking time is the length of time it takes for a chicken to cook through. The cooking time depends on the temperature of the meat going in and the thickness of the meat. In general, the cooking time will be longer if the temperature is lower.
Keep in mind that cooking time and cooking temperature are directly related. Cooking chicken at a lower temperature will require you to cook it for longer. Whatever cooking time and cooking temperature you choose, always make sure the internal temperature of your chicken reaches 165ºF, otherwise it will be undercooks and potentially unsafe to eat.
According to the USDA, these are the approximate cooking times for different cuts of chicken:
Breast halves, bone-in
Weight: 6-8oz
Roasting Time (at 350ºF): 50-60 min
Simmering Time: 35-40 min
Grilling Time: 45-55 min/side
Breast halves, boneless
Weight: 4oz
Roasting Time (at 350ºF): 30-30 min
Simmering Time: 25-30 min
Grilling Time: 6-8 min/side
Legs or thighs
Weight: 4-8oz
Roasting Time (at 350ºF): 40-50 min
Simmering Time: 40-50 min
Grilling Time: 10-15 min/side
Drumsticks
Weight: 4oz
Roasting Time (at 350ºF): 35-45 min
Simmering Time: 40-50 min
Grilling Time: 8-12 min/side
Wings
Weight: 2-3oz
Roasting Time (at 350ºF): 30-40 min
Simmering Time: 35-45 min
Grilling Time: 8-12 min/side
While time and temperature are important, the cooking times and cooking temperatures in recipes are merely guidelines. The more experienced and skilled you become in the kitchen, the better equipped you'll be to adjust your approach to get the desired results.
5 Ways to Make Sure You Cook Chicken to the Right Temperature
Achieving the perfect internal temperature depends on more than just the cooking time and cooking temperature. There are a number of ways you can ensure you cook chicken properly, including:
Temper your meat. Bring meat to room temperature throughout before cooking. Individual cuts should sit out for about 20 minutes while a whole bird may need up to an hour. Tempering helps with even cooking because if the center of the piece of meat is at room temperature rather than fridge temperature when you're ready to cook, it will take less time for the center to reach the desired internal temperature.
Make sure your oven is fully preheated before you start. If you place the whole bird in the oven before it's fully ready, cooking time may vary and could be more difficult to track. Your chicken may also cook unevenly and will potentially be dry in some areas, while undercooked in others.
Confirm that your oven is calibrated. Put an oven thermometer in the oven, turn the oven on, and check that the reading on your thermometer is the same as the reading on your oven dial. If it's not, you might need to get your oven serviced or adjust your cooking times accordingly.
Learn the approximate cooking times for different cuts of chicken. Follow the USDA guidelines listed above for a good estimate.
Use a meat thermometer. An instant-read thermometer will tell you right away whether your chicken has reached 165ºF.
How to Use a Meat Thermometer
A meat thermometer is the easiest and most efficient way to know whether or not your chicken is fully cooked. Here's how to use it:
Insert the thermometer into the thickest part of the bird, like a thigh or under a breast. Avoid inserting it into fat, bone, or gristle. If the temperature reads 165ºF, it's fully cooked and safe to eat.
Ensure that the juices run clear. If the juices run pink, the chicken has not finished cooking.
Return the bird to the heat source if necessary and check every 5 minutes until it's fully cooked.
When finished, clean the thermometer with hot soapy water to avoid salmonella.
Remember: A chicken is only considered fully cooked when the entire bird reaches the safe temperature of 165ºF. Always check the thickest part of the bird, like a thigh or under a breast, to fully ensure doneness.
The Importance of Rest Time for Chicken
Think Like a Pro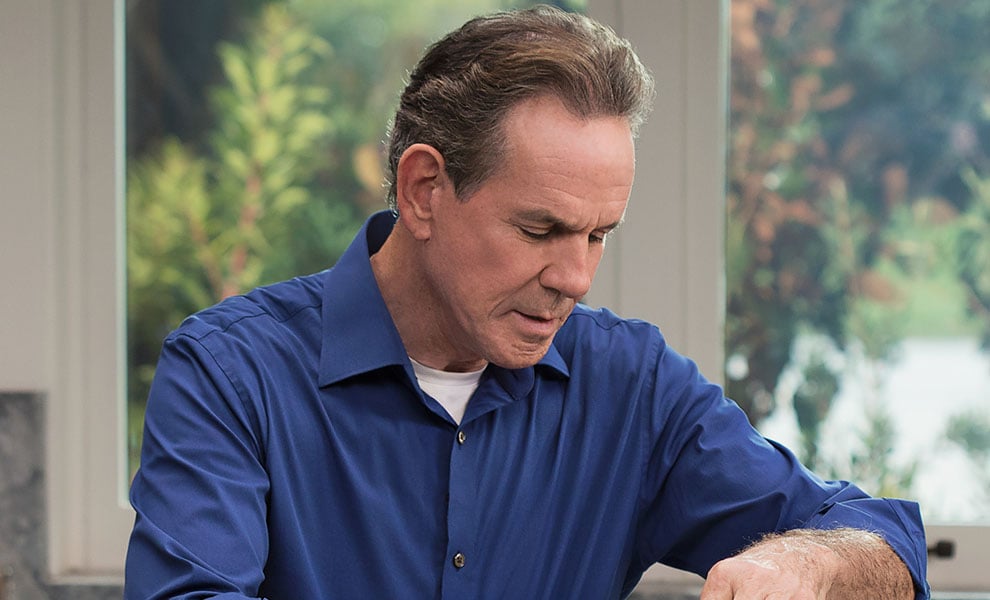 Learn techniques for cooking vegetables and eggs and making pastas from scratch from the award-winning chef and proprietor of The French Laundry.
View Class
When chicken is finished cooking in the oven or on the grill, it should get some additional time to rest before serving. Resting also allows the juice to reabsorb into the meat, helping to ensure the meat remains moist.
3 Tips for Resting Chicken
Knowing how to rest chicken is a useful cooking tip for chefs can learn to avoid drying it out and create juicier, tastier dishes.
Different cuts of meat, cooking techniques, and chicken recipes might call for a specific length of resting time, but a good general rule is to allow the chicken to rest for at least 10-20 minutes before cutting and serving.
The larger the cut of meat, the more resting time it needs. Chicken breasts only need about 5-10 minutes, while a whole chicken should rest for at least 15-20 minutes.
Rest the chicken uncovered or under tented aluminum foil to help retain heat. If you cover the chicken too tightly, it will sweat out all of its moisture rather than reabsorb it.
Experimentation is one of the great joys of cooking. The more you work with different cuts of meat, the better you'll become at making perfectly juicy, cooked chicken that tastes great and is safe to eat.