---
A Brief Introduction to Tony Hawk
Anthony Frank Hawk, most notably known as Tony Hawk (or by his nickname, "Birdman"), is an American pro skateboarder who was born in 1968 in Carlsbad, California. When he was nine years old, his older brother Steve gave him an old, blue fiberglass skateboard. He fell in love with the sport when visited his first skate park and saw people doing aerials out of swimming pools. At age 14, Tony signed with the Powell Peralta professional team, and appeared in the Bones Brigade videos. From 1983 to 1995, Tony was the National Skateboard Association (NSA) vert champion, holding the title for all 12 consecutive years.
By the time Tony was 16, Tony was dominating vert skateboarding competitions, landing endorsement deals, and winning competition prize money. At the time, he was widely considered the best competitive skateboarder in the world. By age 25, Tony had won a record 73 out of 103 pro contests, with 19 second-place finishes. For 12 consecutive years, from 1984 to 1996, he'd been crowned vert skating's world champion.
Tony retired from skating in 2003, but his empire continued to grow with a number of business ventures. In addition to starting his own skating company Birdhouse, Tony has released a juggernaut video game series Tony Hawk Pro Skater, the Tony Hawk Signature Series of sporting goods and toys known as Hawk Clothing, started a film production company, hosted a SiriusXM satellite radio show, and produced the immensely popular RIDE Channel on YouTube. Tony successfully advocated for the inclusion of skateboarding as an Olympic event, which was set to occur at the 2020 Tokyo Olympics.
Tony Hawk's Skating Style and Inventive Tricks
Tony has become known for his inventive, trick-based style of vert skateboarding, which is a style that involves skating a transition from a horizontal surface to a vertical one, such as you find in a ramp, half-pipe, bowl, or pool. He was undersized and scrawny from a young age, unable to "fly" out of pools like taller skaters would. Tony compensated for his physical size with revolutionary aerial moves, performing ollies at the tops of walls so he could pop himself up four to five feet in the air.
At 25, Tony decided to step away from the competition circuit to focus on inventing new tricks, and to date, he has invented nearly 100 highly technical and influential tricks that redefined what was possible in vert skating. Some of his famous tricks include the Madonna, the backside pop shove-it, and the McTwist.
Tony Hawk and the Birth of Birdhouse Skateboards
In 1992, Tony teamed with fellow pro skater Per Welinder to start his own skate company, Birdhouse Projects (now Birdhouse Skateboards). The popularity of skateboarding was waning at the time, but Tony had faith it would eventually bounce back. Tony and a small team of skaters traveled across the country doing exhibitions in skate shops and amusement park parking lots—three a day for a whopping $100—while promoting and selling Birdhouse products. Tony's belief in skating and Birdhouse ultimately paid off. In the mid-to-late 1990s, the sport's popularity surged once more—in large part due to his own efforts and accomplishments—and Birdhouse blossomed into one of the biggest skate companies in the world.
Tony Hawk and the Pro Skater Series
In 1999, Tony teamed up with entertainment company Activision to release Tony Hawk's Pro Skater, the first video game in what became a hugely influential, billion-dollar action sports franchise that introduced skating to countless kids worldwide and inspired many of them to try skating for the first time. Tony worked closely with Activision, going above and beyond to ensure that the game simulated the feel of skateboarding and accurately reflected skate culture.
Tony Hawk's Pro Skater 2 came out in 2000, receiving glowing reviews, racking up sales, and officially turning the series into a phenomenon. Gamers who'd never set foot on a skateboard picked it up and quickly learned how to perform tricks—the names of which popped up on screen when attempted, teaching skate vocabulary—and then string them together into point-grabbing combinations. To outsiders, it made skating seem more accessible and fun. Since then, three more installments of the Pro Skater series have been released, as well as Tony Hawk's Underground (2003), Downhill Jam (2006), and more.
The Tony Hawk Foundation
In 2002, Tony established the Tony Hawk Foundation which has helped build public skate parks all over the United States, and has made the sport accessible to kids in disadvantaged areas—an estimated six million young skaters use those parks each year. He has worked with hundreds of advocates to create free parks for the public, raising over nine million dollars to help finance 623 skate park projects (and counting), especially in low-income inner cities and rural areas across the United States. The Tony Hawk Foundation has also partnered with Skateistan—an international nonprofit organization that uses skateboarding and education to empower children—to build parks in Afghanistan, Cambodia, and South Africa.
4 of Tony Hawk's Notable Awards
Think Like a Pro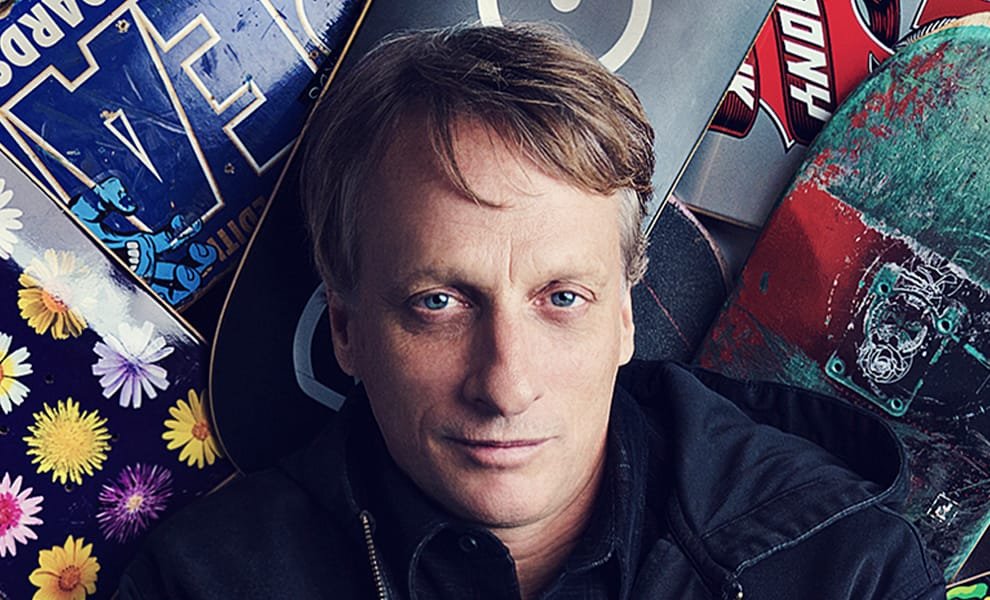 Legendary skateboarder Tony Hawk teaches you how to take your skateboarding to the next level, whether you're a beginner or a pro.
View Class
Tony has earned a number of achievements over his successful career. Some of Tony's many impressive feats include:
Thrasher Magazine Skater of the Year (1990): After being ridiculed by Thrasher magazine even as they reported his event wins, the publication named him the very first Skater of the Year in 1990.
X Games Vert Competition Winner (1995, 1997): Tony competed at ESPN's alt-sports event, the Extreme Games (since renamed the X Games), and won gold in the vert competition in both 1995 and 1997.
Kids' Choice Awards (2001–2005, 2008): Tony was the recipient of the Kids' Choice Award for Favorite Male Athlete in the years 2001, 2003, 2004, 2005, and 2008.
Skateboarding Hall of Fame: In 2009 Tony was inducted into the Skateboarding Hall of Fame during its inaugural ceremony for his many achievements in the sport.
Want to Learn More About Skateboarding?
Whether you're just learning how to ollie or ready to hit the halfpipe and tackle a benihana, the MasterClass Annual Membership can help you find confidence on your board with exclusive instructional videos from skateboarding legend Tony Hawk, street skater Riley Hawk, and Olympic hopeful Lizzie Armanto.