---
What Is Gewürztraminer?
Gewürztraminer is a white wine grape variety with pink skins. It is made into powerfully aromatic wines whose gold color is tinged with copper. The majority of gewürztraminer (sometimes shortened to "gewürz" or "vertz") comes from Alsace, a warm, dry region on France's border with Germany.
Gewürztraminer needs a relatively cool climate to bring out its aromas while keeping alcohol levels down. It is also susceptible to many vine diseases, which means that although this grape is widely known, it is not widely planted outside of Alsace.
What Is the History of Gewürztraminer?
Gewürztraminer is a mutation of savagnin, which is a parent of sauvignon blanc and one of the wine world's oldest grapes. Ampelographers (grape vine scientists) believe that savagnin itself is an offspring of a grape in the pinot family, which includes pinot noir and pinot gris/pinot grigio. Pinot is known for being prone to mutation, which is why savagnin (also called traminer) mutated over time to become the pink-skinned, highly aromatic grape we call gewürztraminer, meaning "spicy/perfumed traminer."
The oldest gewürztraminer vineyard is over 400 years old. It is in the Pfalz in Germany, where the grape is called rotor traminer. Because the grape is so difficult to grow, vine scientists in Germany have made many crosses of the gewürztraminer grapes with other grapes, but none have been as successful.
What Does Gewürztraminer Taste Like?
Gewürztraminer is famous for its aroma, which is full of tropical fruit and flowers, including:
Lychee
Apricot
Peach
Pineapple
Melon
Ginger
Rose petals
Smoke
On the palate, gewürztraminer is full bodied, with elevated alcohol and moderate to low acidity. It can sometimes be slightly spritzy or have an oily, bitter finish. Dry gewürztraminer can taste sweet because of its high alcohol and ripe fruit flavors.
Where is Gewürztraminer Grown?
Alsace, France, is gewürztraminer's home base. It is one of the region's four "noble grapes" which are allowed in Alsace grand cru vineyards.
Northern Italy. Small quantities of gewürztraminer are planted in Alto Adige, where the traminer grape may have originated. However, because gewürztraminer is not easy to grow and produces relatively little fruit, Italian winemakers in the region tend to favor the more prevalent aromatic grape muscat/moscato.
Germany, where richer dry styles are made in Baden and the Pfalz.
Austria, particularly in Styria and Burgenland, where dessert wines are made.
Spain, in the Penedès region.
Eastern Europe, including Hungary, Slovenia, Romania, and Bulgaria.
The US, in wine regions including in Oregon and Washington State, Sonoma and Monterey in California, and New York's Finger Lakes.
Chile, where the southern part of the country has climates cool enough for gewürztraminer. Argentina's aromatic grape torrontés is still more popular than gewürztraminer in South America because of its higher acidity.
Australia. A few hundred acres of gewürztraminer are grown in Australia, but the climate is too hot and the grapes must be picked early before they develop their aromas.
What Types of Wine are Made with Gewürztraminer?
Gewürztraminer wines are made in various styles, from dry to sweet. "Dry" gewürztraminer, however, is usually made with a gram or two of residual sugar.
Alsatian dessert wines made from gewürztraminer can be made from late harvest (vendange tardive) grapes or from grapes affected by botrytis cinerea, noble rot. Botrytised wines are labeled "sélection de grains nobles." These are more expensive, as winemakers need to harvest individual botrytised grape bunches by hand. Harvest for dessert wines in Alsace takes a long time, as the producers pick grapes on successive passes through the vineyard as the grapes ripen by the day.
Because it has so much character, gewürztraminer is most often made as a varietal wine rather than blended with other grapes. In Alsace, gewürztraminer is sometimes made in a field blend, meaning other grapes varieties, like riesling and pinot gris, are grown, harvested, and made into a wine together.
How to Pair Gewürztraminer
Think Like a Pro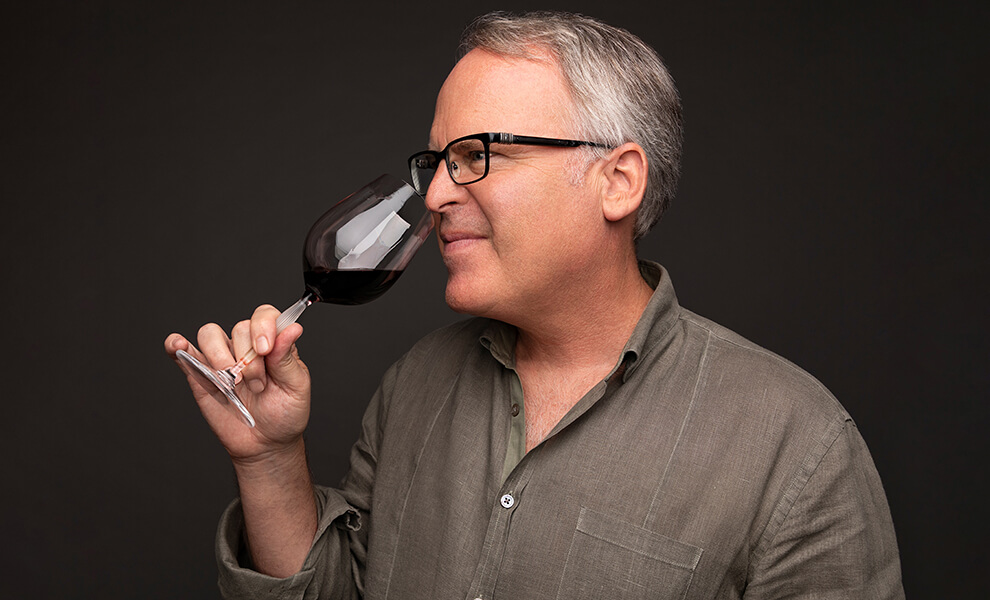 Flavor, aroma, and structure—Learn from wine master James Suckling as he teaches you to appreciate the stories in every bottle.
View Class
Food pairing with gewürztraminer offer endless possibilities. The grape's naturally low acidity and sweetness make it a perfect pairing with spicy Thai or Indian dishes that are difficult to pair with more acidic or tannic wines. Dry or off-dry gewürztraminer complements complex Asian sauces that combine sweet, spicy, and salty flavors, and the wine's high alcohol content gives it the body to stand up to bold dishes.
Gewürztraminer is an ideal brunch wine, where its fruity sweetness goes with fruit salad, waffles, or quiche.
Dessert wines made from gewürztraminer go well with any kind of soft cheese, especially pungent, salty cheeses like roquefort. In Alsace, gewürztraminer is most often enjoyed with the local munster cheese. The sweetness of gewürztraminer cuts through the fatty richness of foie gras too.
Want to Learn More About Wine?
Whether you're just starting to appreciate the difference between a pinot gris and pinot grigio or you're an expert at wine pairings, the fine art of wine appreciation requires extensive knowledge and a keen interest in how wine is made. No one knows this better than James Suckling, who has tasted more than 200,000 wines over the past 40 years. In James Suckling's MasterClass on wine appreciation, one of the world's most prominent wine critics reveals the best ways to choose, order, and pair wines with confidence.
Want to learn more about the culinary arts? The MasterClass Annual Membership provides exclusive video lessons from master chefs and wine critics, including James Suckling, Chef Thomas Keller, Gordon Ramsay, Massimo Bottura, and more.