---
What Is Cheddar Cheese?
Cheddar is a firm, natural cow's milk cheese that ranges from white to yellow or orange in color. A young cheddar has a mild flavor and becomes sharper in taste the longer it cures. During the aging process, the creamy and smooth texture changes becomes firm and filled with tiny crystals called calcium lactate. A mild cheddar is typically aged between two to four months, sharp six to nine months, and extra sharp is between one-and-a-half to two years.
What Is the History of Cheddar Cheese?
Cheddar cheese originates from the village of Cheddar in Somerset, located in south-western England. The earliest record of cheddar dates as far back as the twelfth century. Cheesemaking was a way to extend the shelf life of milk protein and provided a stable product that could be stored without refrigeration. Joseph Harding revolutionized the dairy industry in the 1800s, creating technical innovations that transformed cheddar from being made in small batch creameries to large scale factory production, which resulted in bringing English cheese to the masses.
How to Make Cheddar Cheese
Like many other kinds of cheese, cheddar-making begins by culturing milk with a starter bacteria. After the bacteria acidifies the milk, add rennet (an enzyme used to coagulate milk), which helps form thick cheese curds. Strain liquid whey from the curds. In a process called "cheddaring," cut the curds up, and gather and press them into slabs. Repeat the process until the curds becomes dense. Then press the curds into molds to drain and leave them to age into hard cheese.
What Are the Characteristics of Cheddar Cheese?
Cheddar is firm in texture, with a nutty finish. A young cheddar will have a mild flavor, and become tangy and complex the longer it is aged. The term sharp cheddar refers to cheese that is aged longer than six months. Clothbound cheddars have a drier, crumblier texture than wax or plastic-wrapped varieties. Although it lacks qualities in texture, clothbound cheddar has a deep, earthy, and balanced flavor.
White vs. Orange Cheddar Cheese: What's the Difference?
If you're wondering about the difference between white cheddar and orange cheddar, traditional cheddar is naturally a white color, but the orange hue that we recognize as cheddar actually comes from the Annatto seed that is by added by cheesemakers for coloring. In the United States, most cheddars that come from Grafton, Vermont and New York are white, while Wisconsin cheese is colored orange to distinguish itself from others.
10 Popular Ways to Serve Cheddar Cheese
Think Like a Pro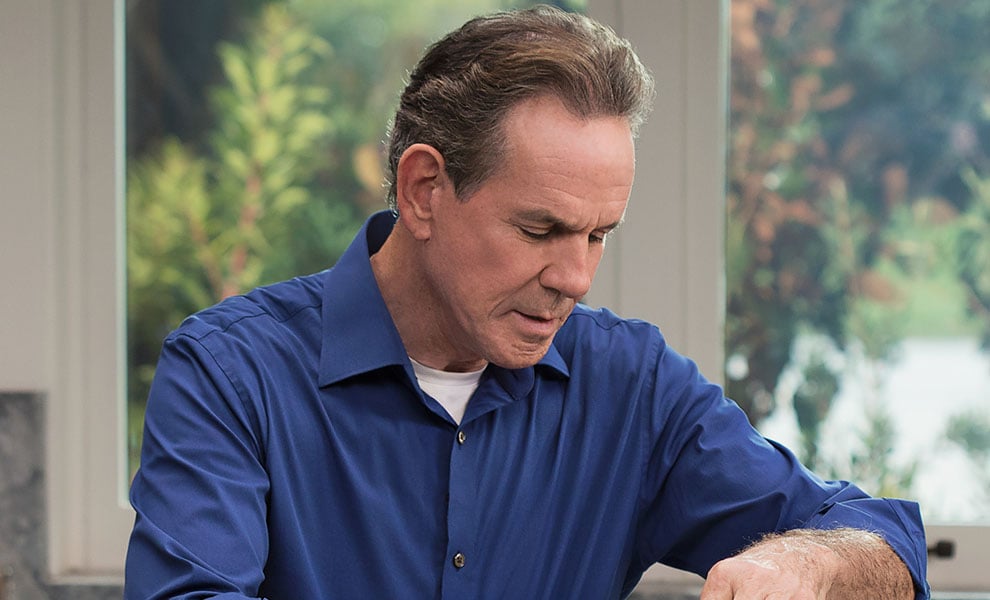 Learn techniques for cooking vegetables and eggs and making pastas from scratch from the award-winning chef and proprietor of The French Laundry.
View Class
Sliced cheddar makes a perfect snack all on its own. As you explore cheddar, try the different varieties like sharp and extra-sharp cheddars. For cooking, if you're aiming for a melty consistency, try using a mild or sharp cheddar for the best results.
Cheeseboard: To make a cheese board, try mixing different types of cheese from hard to semi-hard to soft. Try blue cheese, French Gruyère, brie, or goat cheese, along with aged cheddar. Serve your cheese alongside jams, dried fruits, nuts, and crackers or bread. Take cheeses out of the fridge to sit at room temperature for an hour before serving.
Cheddar and apple slices: For a quick sweet and savory snack, try tart apple slices with pieces of cheddar cheese on top.
Ultimate grilled cheese sandwich: A popular classic, try making a grilled cheese sandwich with sharp cheddar cheese and slices of sourdough bread. Take two buttery slices of bread and add a generous amount of grated cheese in between each slice. Melt a pat of butter in a skillet and sprinkle a small handful of cheese directly onto the hot skillet. Place your sandwich on top of it. Once the bottom is crispy, about 2 minutes, pick up the sandwich with a spatula, add another handful of cheese onto the skillet and cook the other side.
Mac & Cheese: Nothing spells comfort food like creamy macaroni and cheese. Cheddar cheese is incorporated into a Béchamel sauce, to create a Mornay sauce base that is added to the cooked pasta.
Potatoes au gratin: Potatoes au gratin is made of thinly sliced potatoes with a creamy sauce and melted cheddar cheese on top. Try Wolfgang Puck's homemade mac and cheese recipe here.
Quesadillas: A common way to use shredded cheddar cheese is in a quesadilla, which is a Mexican dish consisting of a tortilla filled with cheeses such as cheddar, mozzarella, and Monterey Jack.
Cheese and scallion biscuits: Try adding 1 cup of grated cheddar cheese and ½ a cup of scallions to your favorite biscuit recipe. The cheese will melt and form a crisp, lacy base around the bottom of each biscuit.
Potato skins: Potato skins are cooked potatoes with the pulp scooped out and filled with bacon and grated cheddar cheese. Bake until the cheese is melted and top with sour cream and green onions.
Scrambled eggs with cheese: Try finishing your breakfast scrambled eggs with a scattering of shredded cheddar cheese on top. Leave in the pan until the cheese has melted and serve immediately.
Cheddar cheese ball (cheddar pub spread): Make a cheddar cheese ball for your next get together. A cheese ball is made from a combination of shredded cheddar cheese and cream cheese, combined in a food processor until it forms a smooth paste. Roll the ball in chopped nuts to finish and serve with crackers.
Want to Learn More About Cooking?
Become a better chef with the MasterClass Annual Membership. Gain access to exclusive video lessons taught by culinary masters, including Wolfgang Puck, Chef Thomas Keller, Massimo Bottura, Dominique Ansel, Gordon Ramsay, Alice Waters, and more.