---
What Is Granola?
Granola is a breakfast and snack food made with a base mixture of rolled, old-fashioned oats and sweetener (such as honey or brown sugar), then baked. Granola can have a wide range of mix-ins added to the oats, but common ones include dried fruit, chocolate, and nuts.
Granola has a loose texture similar to breakfast cereal, and it is often eaten served over milk, yogurt, or with fresh fruit. When granola is layered with yogurt and fruit in a tall, clear glass, it is called a parfait, which is a popular dessert.
Granola can also be pressed with honey or corn syrup to form a granola bar, which is a common snack during outdoor activities like hiking, backpacking, and camping, as they don't require refrigeration and can be easily packed and carried.
Is Granola Healthy?
Granola is often viewed as a healthy snack because it is made up of oats (which are high in fiber and iron) and nuts and seeds (which are a good source of unsaturated fats and protein).
However, granola can also have a high number of calories—a serving size of ½ cup can have 250 calories or more. Sweeter granolas can also be very high in sugar (especially for granola made with brown sugar as its main sweetener). As with most foods, a small serving is best for healthy eating.
Plain granola is naturally dairy-free and gluten-free. When not sweetened with honey, granola is also vegan.
What Is the Difference Between Granola and Muesli?
Granola and muesli are very similar foods, both generally made up of a mixture of rolled oats, dried fruits, nuts, and seeds.
However, granola has a crunchier, clumpier texture than muesli because it is baked, while muesli has a soft, chewy texture because it is soaked in milk before eating.
How to Make Homemade Granola in 4 Steps
Homemade granola is simple to make (with a prep time of 5 minutes and a cook time of 20), and the recipe is very flexible—start out with a basic mixture of oats and sweetener, and experiment with any number of mix-ins. To make your own granola:
Mix together honey (other sweeteners include maple syrup or agave), oil (olive oil or melted coconut oil are best, but canola oil works as well), salt, spices, old-fashioned rolled oats, and nuts or seeds.
Spread the mixture onto a parchment-paper-lined baking sheet in an even layer. You want the granola to be spread enough that it will toast evenly, but just touching so that it clumps properly.
Bake until golden brown, stirring halfway so that it retains its loose texture. If you like extra-clumpy granola, press down on the mixture with a spoon after stirring.
Take the granola out of the oven and add any additional mix-ins (such as dried fruit or chocolate pieces). Let your granola cool completely before storing it.
7 Easy Granola Variations
Think Like a Pro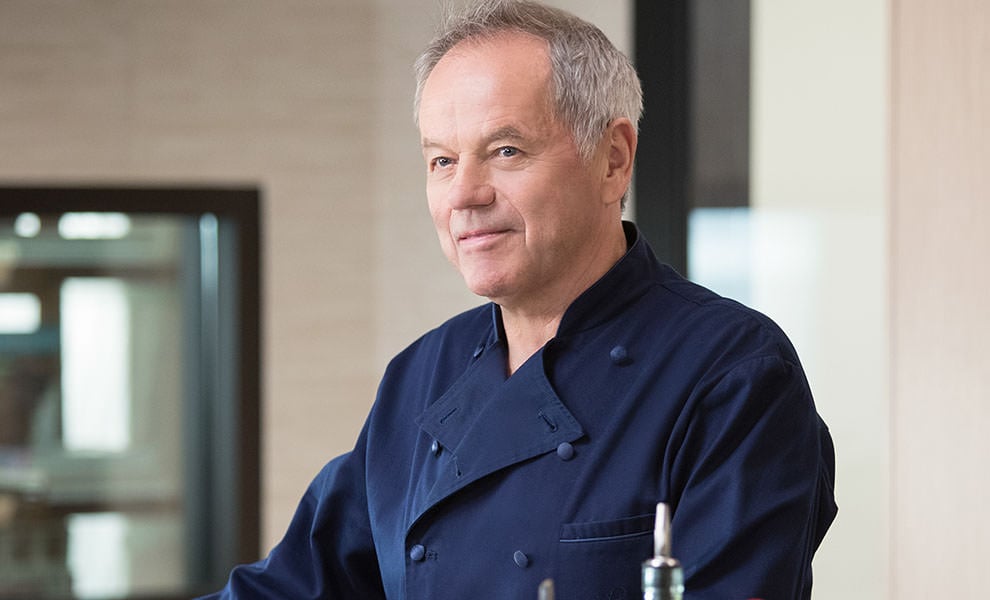 In 16 lessons, learn exclusive recipes and cooking techniques from the chef behind Spago and CUT.
View Class
Granola recipes are incredibly versatile, and they can include any number of savory or sweet mix-ins. Most home cooks experiment with the basic recipe until they come up with a homemade granola recipe that they like best. Try out a few of these mix-ins the next time you're making granola:
Nuts and seeds. Nuts and seeds (whole or chopped) are the perfect supplement to the crunchy texture of baked rolled oats, and they add a healthy amount of protein to the granola. Try out pecans, almonds, cashews, sunflower seeds, flax seeds for the most popular options, or experiment with less common nuts and seeds like macadamia nuts, chia seeds, or pumpkin seeds. For added protein without the extra crunch, try creamy peanut butter or almond butter.
Dried fruits. Dried fruits add sweetness and softness to granola, and dried cherries, cranberries, apricots, raisins, and blueberries are all great choices. If you choose a larger dried fruit like apricots, try chopping them up first to help them mix in better with the granola.
Chocolate pieces. For more dessert-style granola, chocolate chips or white chocolate pieces are a great addition.
Spices. If you're looking to add a little more flavor to your granola, try ground cinnamon, ginger, or pumpkin-pie spice.
Coconut flakes. Coconut flakes are a great way to add a chewier texture to granola, either sweetened or unsweetened coconut flakes.
Vanilla extract. Vanilla extract can help granola have a slightly sweeter, dessert-like flavor with less sugar.
Citrus zest. A little ground lemon or orange zest can perk up your granola with a brighter, fruitier flavor.
Want to Become a Better Home Chef?
Legend has it Wolfgang Puck came up with his famous smoked salmon pizza when his restaurant ran out of bagels—and ended up changing the way America cooks. In Wolfgang Puck's MasterClass on the art of cooking, the five-time James Beard Award-winning chef behind more than 100 restaurants brings you into his kitchen. You'll learn not only how to master starters, mains, sides, and cocktails, but also how to take risks to create memorable recipes of your own.
Want to learn more about the culinary arts? The MasterClass Annual Membership provides exclusive video lessons from master chefs including Wolfgang Puck, Aaron Franklin, Dominique Ansel, Massimo Bottura, Chef Thomas Keller, Gordon Ramsay, Alice Waters, and more.