---
What Is Mole?
Mole (pronounced "molay") is a Mexican chile sauce that is especially popular in Puebla and Oaxaca. The word mole comes from the Nahuatl word molli, meaning "mixture" or "sauce." The word "mole" can describe a wide variety of sauces—including avocado-based guacamole—but generally refers to the thick, rich sauces made with chiles and nuts or seeds.
How to Make Mole
Concentrated mole pastes are widely available in grocery stores, but authentic mole is made by hand.
Toast or fry the ingredients. Toasting the chiles, nuts, seeds, and spices on a dry comal (clay griddle) or frying them in lard or vegetable oil helps bring out the flavors. Most recipes use a combination of toasting and frying in lard.
Blend the ingredients. Traditionally, you would grid the toasted ingredients into a powder before simmering them with water in a cazuela (clay cooking pot), but many mole recipes now call for blending. Quickly blend the toasted and fried ingredients into a puree with water or vegetable or chicken broth.
Simmer the sauce. Once you've blended the sauce, cook it on the stovetop until the flavors come together.
Age the mole a day or two. Once the mole has simmered for about half an hour, it's ready to eat, but many cooks swear that mole tastes best the second or third day after the flavors have had time to meld.
How to Use 5 Types of Dried Chiles in Mole
When making mole, you can pick and choose the types of chiles you use. The chiles you use in your homemade mole will determine your mole's spiciness, but chiles can also add fruity, floral, and smoky notes.
7 Types of Mole
Moles can be categorized into seven types, of which there are many variations.
Mole poblano is a dark red-brown sauce from Puebla made with ancho chiles (dried poblano peppers) and chocolate. It is traditionally served with turkey.
Mole negro is the most famous mole from Oaxaca. It is darker than mole poblano and typically flavored with hoja santa.
Mole verde is a green sauce that gets its color from pumpkin seeds, tomatillos, jalapeños, and herbs such as cilantro.
Mole amarillo, or yellow mole, is a Oaxacan mole blended with masa (nixtamalized corn dough) for flavor and thickness.
Mole coloradito is a red-brown mole thickened with mashed plantain.
Mancha manteles ("tablecloth stainers") is a stew from Puebla made with chicken or pork and a mole made with seasonal fruit, plantains, and pineapple.
Pipián can refer to any mole or sauce made with pepitas (pumpkin seeds).
What Does Mole Taste Like?
Think Like a Pro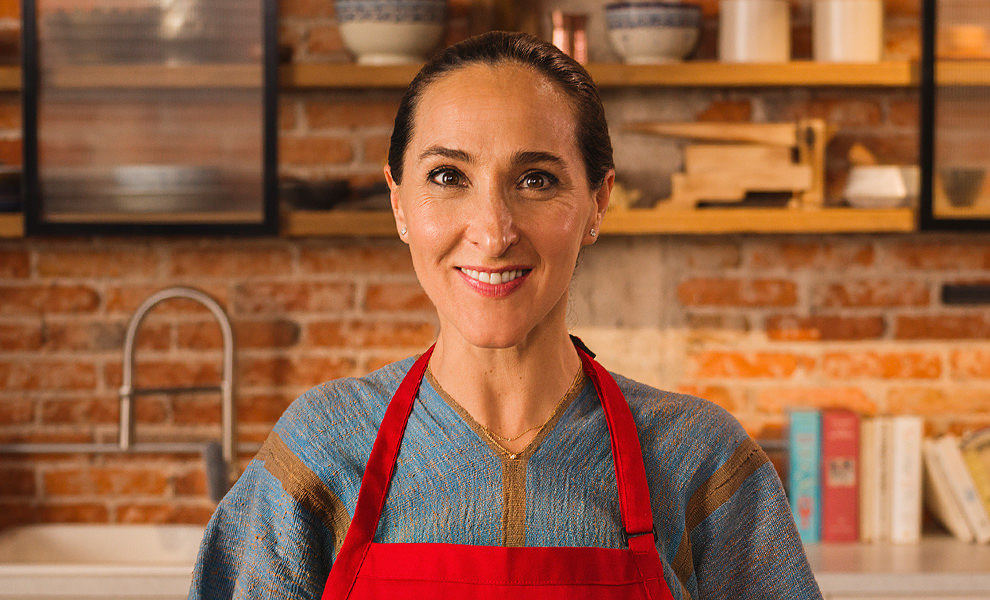 Celebrated chef Gabriela Cámara shares her approach to making Mexican food that brings people together: simple ingredients, exceptional care.
View Class
Every mole tastes different, but is typically rich, nutty, sweet, and earthy. Mole generally isn't too spicy. Texturally, mole is a very smooth purée; in traditional preparations, mole is made using a metate (stone mill), but it's usually made in a blender or food processor.
How to Serve Mole
Since mole can take a long time to prepare and typically includes many ingredients, it's often made in bulk for special occasions such as weddings, parties, and, in Puebla, Cinco de Mayo. Try mole on top of rice, with fresh corn tortillas, or in enchiladas, burritos, or tacos filled with shredded chicken, turkey, or pork. You can use mole as a braising liquid for chicken, turkey, pork, or lamb, or you can drizzle it over roasted vegetables.
Classic Mexican Mole Poblano Recipe
Ingredients
20 mulato chiles, stems and seeds removed
¼ teaspoon cumin seeds
¼ teaspoon anise seeds
4 black peppercorns
3 allspice berries
½ teaspoon coriander seeds
1 cinnamon stick
3 whole cloves
¼ cup lard or olive oil
2 tablespoons sesame seeds
3 tablespoons raw pepitas (pumpkin seeds)
½ cup raisins
1 cup nuts, such as almonds, walnuts, peanuts, pecans, or hazelnuts (or a combination)
2 slices stale white bread, cubed
2 tomatoes, diced
1 ripe plantain, peeled and sliced
1 medium onion, peeled and diced
2 cloves garlic, smashed and peeled
4 ounces Mexican chocolate or other dark chocolate
6 cups chicken stock
In a large skillet over medium heat, toast dried chiles. When the chiles have started to release their fragrance but before they start to char (about 1 minute per side), transfer the chiles to a large bowl. Add water to cover. Set chiles aside to soak.
In the still-hot skillet, toast spices until fragrant, about 1–2 minutes. Using a spice grinder or mortar and pestle, grind the toasted spices together into a fine powder. Transfer spice blend to a large bowl.
Add lard or olive oil to the skillet. Fry seeds, raisins, and nuts until fragrant, about 5 minutes, then transfer to the large bowl with the spices. Fry bread until golden, about 2 minutes, and transfer to the large bowl. Finally, fry tomatoes, plantain, onion, and garlic until soft and golden brown, about 6 minutes. Transfer to the large bowl.
In a small saucepan over low heat, melt chocolate with ¼ cup water.
Meanwhile, working in batches, blend solid ingredients with chicken stock in an approximate 1:1 ratio. When the consistency is smooth, transfer puree to a large stockpot. Continue blending until all of the toasted solid ingredients are blended.
Drain the soaking chiles and blend with remaining chicken stock. Add chile puree to the stock pot. Add melted chocolate to the stock pot and stir to combine.
Bring sauce to a simmer over medium heat and then reduce heat to low, maintaining a simmer until flavors have melded, about 20–30 minutes.
Become a better chef with the MasterClass All-Access Pass. Gain access to exclusive video lessons taught by culinary masters, including Gabriela Cámara, Chef Thomas Keller, Massimo Bottura, Dominique Ansel, Gordon Ramsay, Alice Waters, and more.