---
What Is Freekeh?
Freekeh, pronounced farik in Arabic, are young, roasted grains of durum wheat. Freekeh means "to rub" which is one of the traditional steps in preparing the grains before eating them. Young wheat stalks are fire-roasted, and the seeds are rubbed out of the bristly heads of the wheat.
Freekeh is an ancient grain derived from Levantine and North African cuisine. It is the heart of many Middle Eastern dishes and is most often coupled with meats and vegetables. Sometimes spelled "freekah" or "frikeh," this grain is still popular in its area of origin, particularly Egypt, Syria, Jordan, Lebanon, and North Africa.
What Freekeh Looks and Tastes Like
Freekeh's unique preparation sets it apart from other wheat grains.
Freekeh has a nutty, earthy taste similar to other wheat grains, like bulgur and wheat berries. Fire-roasting the green wheat seeds gives freekeh a savory, smoky flavor.
Freekeh has a chewy texture which makes it a great addition to soups, stews, and salads. It adds a flavorful dimension as a grain substitute in pilaf and risotto.
On top of its hearty qualities, a serving of freekeh has four grams of fiber and six grams of protein, as well as a good amount of B vitamins, manganese, iron, and zinc.
For wheat intolerance, freekeh should be avoided and substituted with a gluten-free grain, like quinoa.
5 Regional Culinary Uses of Freekeh
Below you'll find five traditional recipes that incorporate freekeh:
In Egypt, pigeons are stuffed with freekeh and roasted in a dish called hamām bi'l-farīk. The grain is also a side dish with roasted lamb. In the coastal cities, it is paired with fish.
Turkish cuisine has a meal called firik pilavı, a freekeh pilaf.
Roasted lamb with freekeh pilaf, farīkat laḥma, is served in Syria.
Freekeh soups, like chorba frik, are often served during Ramadan. This Tunisian and Algerian dish is a flavorful chicken soup with freekeh (frik), herbs, spices, tomatoes, chickpeas, celery, and a garnish of fresh coriander.
Mujadara is a popular Lebanese lentil and whole-grain dish topped with caramelized red onion.
3 Ways to Cook Freekeh
Like many wheat products, freekeh is cooked with boiling water. Cooking time varies depending on grain size. Whole freekeh grains can take a total time of 45 minutes to cook, while cracked freekeh, which are whole grains broken into smaller pieces, takes half the time.
Cook freekeh like pasta. For a simple way to cook freekeh, simply fill a pot with water and add the grains. Bring them to a boil, then reduce heat to simmer for 45 minutes or until freekeh is swollen and soft. Drain the excess water with a colander like you would pasta.
Cook freekeh like rice. Another way to cook freekeh is to measure out one cup of the grain to two-and-a-half cups water. Like rice, the grains will absorb the liquid. Bring two-and-a-half cups water to a boil. Add freekeh, half a teaspoon of salt, and olive oil or butter. Reduce heat to simmer and cover pot until the water is absorbed. Fluff the grains when done.
Cook freekeh in stock. When cooking a dish like soup, freekeh can be cooked directly in the broth as the rest of the soup cooks instead of separately. Simply add the freekeh to the pot along with any other ingredients, like onions and vegetables, pour the broth over and let it simmer for an hour.
How Do You Store Freekeh?
In general, whole grains are stored in the same way. Uncooked freekeh should be kept in an air-tight container in a cool, dark pantry to prevent any moisture from seeping in. This keeps freekeh good for up to several years. If you buy cracked freekeh, this same storage technique will keep these smaller grains good for just a few months. A freezer will keep cracked freekeh good for over a year. Once cooked, freekeh needs to be refrigerated, but will only last for a few days.
3 Simple Freekeh Recipes
Think Like a Pro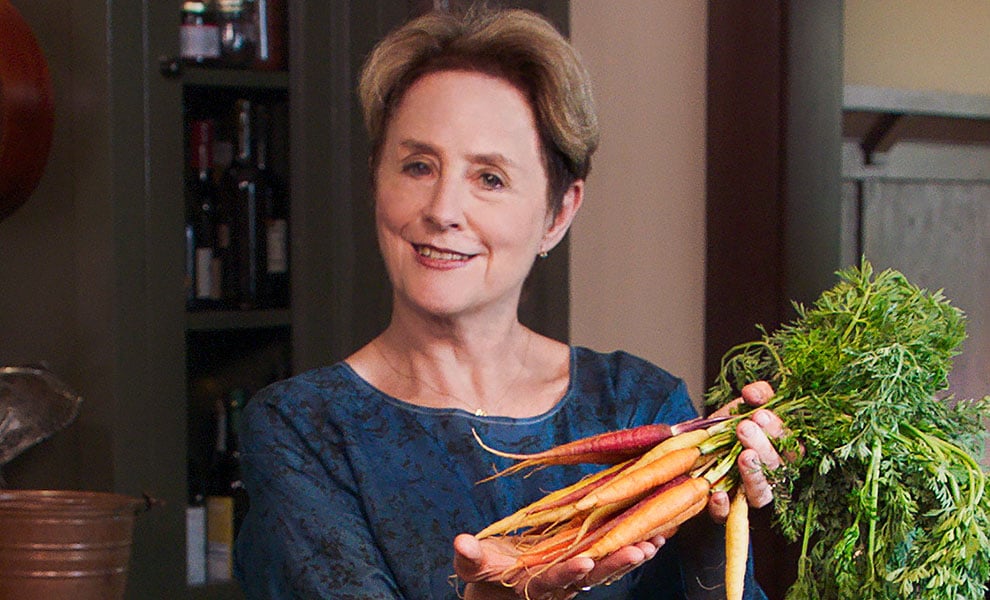 In 16+ lessons, learn to cook beautiful, seasonal meals at home from the James Beard Award-winning founder of Chez Panisse.
View Class
There is freedom in cooking with freekeh. Freekeh can be added to any dish that calls for grain. Try freekeh tabbouleh in place of bulgur wheat. It is a perfect addition to a vegan or vegetarian dish or paired with roasted meat. Freekeh can often be found at specialty grocers or natural markets that stock bulk and whole foods. Here are three easy recipes to cook with freekeh:
Freekeh pilaf. Pilaf is a traditional Middle Eastern dish that is simply a grain cooked in stock, and flavored with herbs and spices. Saute chopped onion in oil. Add a cup of freekeh and stir for one minute. Add two and a half cups of chicken or vegetable stock. Bring to a quick boil, then reduce heat and simmer until the freekeh has absorbed the broth. Serve with roast lamb or lamb kebabs.
Minty freekeh salad with chickpeas. Fresh mint and freekeh are a winning combination. Cook the freekeh as needed for whole or cracked grains. Drain the excess water. In a large bowl, mix the freekeh with chickpeas, chopped scallion, and fresh mint. In a bowl, mix olive oil and lemon juice, a pinch of salt, and cumin. Stir dressing into the freekeh and chickpeas. Serve at room temperature.
Freekeh, kale, and sweet potatoes. Freekeh's earthy tones pair well with starchy foods: freekeh pilaf stuffed squash, or this simple sweet potato and freekeh salad mixed with crunchy kale. Start by cooking the freekeh. Cut sweet potatoes into cubes, toss with olive oil, and salt. Roast in the oven until soft, about 30 minutes. Meanwhile, remove kale leaves from the stem and mix with lemon juice to soften the leaves. In a bowl, mix the kale, potatoes, and freekeh. Season with salt and black pepper and drizzle tahini thinned with lemon juice, on top.
Want to Become a Better Home Chef?
Learning to cook at home with fresh, local produce takes knowledge, delicate care, and a little experimentation. No one knows this better than Alice Waters, who started America's farm-to-table revolution. In Alice Waters's MasterClass on the art of home cooking, the James Beard Award-winning chef opens the doors of her home kitchen to teach you how to pick seasonal ingredients, create healthy and beautiful meals, and change your life by changing the food you make. You'll learn how to shop at the farmer's market and how to follow the rhythms of nature in your own cooking.
Want to learn more about the culinary arts? The MasterClass Annual Membership provides exclusive video lessons from master chefs including Alice Waters, Dominique Ansel, Massimo Bottura, Chef Thomas Keller, Gordon Ramsay, and more.