---
A Brief History of Winemaking in South Africa
South Africa's history as a wine region begins with Dutch colonization in the seventeenth century.
Dutch East India Company: Jan van Riebeeck of the Dutch East India Company first brought grapes to South Africa in the 1650s. Van Riebeeck had heard that red wine could prevent scurvy, and, noticing Cape Town's Mediterranean climate, planted a vineyard using red wine grapes imported from France. Winemaking spread in the region throughout the seventeenth century, and by the late eighteenth century, South African wines were well known in Europe.
British colonial rule: Under British occupation beginning in 1795, South African wine was commonly exported to Britain. In 1861, though, tariff laws changed, and South African wines were no longer affordable to the British. Phylloxera, in 1886, dealt another blow to the South African wine industry; growers replanted with high-yield varieties and, faced with a surplus of wine, ended up dumping some in rivers.
Cooperative Wine Growers' Association: In 1918, a group of growers formed in response to these crises. Known as the KWV (Koöperatieve Wijnbouwers Vereniging van Zuid-Afrika, or Cooperative Wine Growers' Association in Afrikaans), they set regulations for the South African wine industry for the next 80 years. Their standards prioritized bulk wine production for brandy and distillation rather than high-quality bottles from independent producers.
Wine of Origin system: In 1973, South Africa developed the Wine of Origin system, which officially designated regions and labeling procedures and helped clear up confusing labels. The 1970s also saw the introduction of barrel-aging in French oak, a practice that continues today for both red and white wines.
Increase in wine production: In 1990, under KWV's influence, less than 30 percent of the grape harvest went towards bottled wine. For the most part, grapes that weren't distilled into brandy were sold as grape juice or table grapes. Over time, though, wine production increased, and as of 2019, 86 percent of South Africa's grape harvest was for wine.
3 Major South African Wine Regions
South African wine regions are classified (in descending order of size) by geographic unit, region, district, and ward. The wards are the smallest unit other than individual vineyards, and they share elements of terroir such as climate and soil. Most of South Africa's wine regions are located in the geographic unit of the Western Cape, including:
The Breede River Valley region, which includes the district of Robertson.
The Cape South Coast region, which includes the Elgin and Walker Bay districts.
The Coastal region, which includes the historical Constantia ward (established in 1685) in the Cape Peninsula district, as well as the Franschhoek Stellenbosch, Swartland, and Paarl districts.
8 South African White Grape Varieties
For most of South Africa's winemaking history, white wine grapes were predominant. In 2019, 55.5 percent of plantings were white wine grapes, including:
Chenin blanc: Known in South Africa as Steen, Chenin Blanc is the country's most popular wine grape variety, accounting for 18.6 percent of total plantings. It's a versatile grape that can be used for sweet dessert wines, sparkling wine, and dry white wines.
Colombad: The French grape Colombard, known locally as Colombar, accounts for 11.5 percent of total plantings, making South Africa its top producer. Formerly used to make brandy, it's now made into a semi-dry wine.
Sauvignon Blanc: Sauvignon Blanc was first planted in South Africa in the eighteenth century, and it experienced a resurgence in the 1980s. It currently accounts for 10.5 percent of total plantings.
Chardonnay: This variety from Burgundy currently makes up 7.3 percent of total plantings. Chardonnay is typical in blends such as Cap Classique sparkling wine, as well as in barrel-aged varietal wines.
Muscat d'Alexandrie: Known locally as Hanepoot, this may be one of the earliest white wine grapes brought to South Africa. Muscat d'Alexandrie is also common as a table and raisin grape, and it accounts for 1.7 percent of total plantings.
Sémillon: This white wine grape, typically used for blending, was once South Africa's most popular wine grape. Now, Sémillon accounts for 1.1 percent of total plantings.
Muscat Blanc à Petits Grains: Muscat Blanc à Petits Grains is a French variety also known as Muskadel in South Africa. Possibly the oldest white wine grape in the world, it is the parent grape of Muscat d'Alexandrie and accounts for just 0.9 percent of total plantings.
Viognier: This grape from the northern Rhône, sometimes blended with red Shiraz (Syrah), accounts for 0.8 percent of total plantings.
Other white grape varieties not listed above, such as Cape Riesling and Pinot Gris, account for a combined total of 3.1 percent of plantings.
7 South African Red Grape Varieties
Think Like a Pro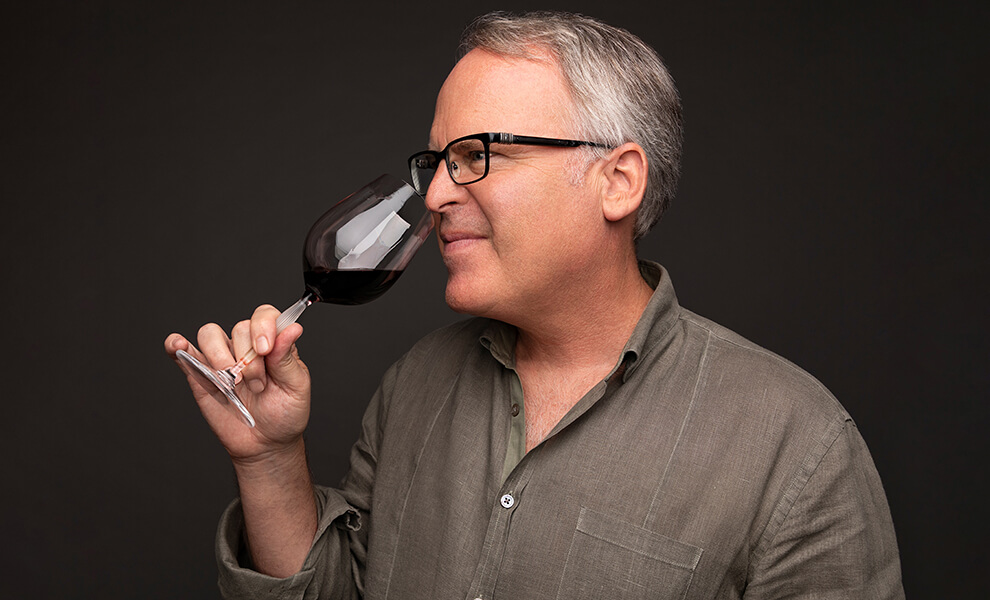 Flavor, aroma, and structure—Learn from wine master James Suckling as he teaches you to appreciate the stories in every bottle.
View Class
Although historically not as important to South African winemakers as white wine grapes, red wine grapes have increased in popularity over the years. In 2019, 44.5 percent of plantings were red wine grapes, including:
Cabernet Sauvignon: Cabernet Sauvignon, at 11 percent of total plantings, is currently South Africa's most-planted red wine grape.
Shiraz: Known as Syrah in the Rhône Valley, South African winemakers typically use the Australian term Shiraz to describe this fashionable red grape, which accounts for 10 percent of total plantings.
Pinotage: Pinotage is a cross between flavorful Pinot Noir and reliable Cinsaut first developed in South Africa in 1925. Wines known as "Cape Blends" must contain 30–70 percent Pinotage. This South African cross accounts for 7.2 percent of plantings.
Merlot: This red wine grape from Burgundy is both blended into Cap Classique sparkling wines and produced as a varietal wine. Merlot currently accounts for 5.8 percent of total plantings.
Cinsaut: Cinsaut is a high-yield variety that was widely planted in South Africa after phylloxera destroyed older vines in 1886. It remained the most popular red wine variety in the country until the mid-twentieth century. Now used mostly for blending and rosé, Cinsaut accounts for just 1.8 percent of plantings.
Pinot Noir: Known for its light reds and rosés, Pinot Noir accounts for 1.3 percent of plantings in South Africa.
Cabernet Franc: Lower in alcohol and sugar than its relative, Cabernet Sauvignon, South African Cabernet Franc is typically used in Bordeaux-style blends or varietal wines. It accounts for 0.9 percent of plantings.
Other red varieties not listed above, including Malbec, Grenache, Tinta Barroca, and Mourvèdre, account for a combined total of 4.4 percent of plantings.
Learn More
Want to learn more about the culinary arts? The MasterClass All-Access Pass provides exclusive video lessons from master chefs and wine critics, including James Suckling, Lynnette Marrero, Ryan Chetiyawardana, Gabriela Cámara, Gordon Ramsay, Massimo Bottura, and more.