---
How to Cook With Yellow Onions
Caramelized. Caramelized onions are produced when the naturally astringent vegetable is slowly cooked in fat over low heat, triggering the caramelization process and resulting in a delectably soft and sweet end product with a vastly different texture and flavor from its raw form. Caramelized onions work well in egg dishes like frittatas, omelets, and as toppings on sandwiches and burgers.
Roasted. Onions are halved, tossed in olive oil, salt, pepper, and roasted at a high temperature until golden brown on the edges. Try placing onions underneath chicken while roasting to soak up all the flavors.
Sautéed. For quick browned onions that have a stronger onion flavor, try sautéeing them in a few tablespoons of butter for about 10 minutes. These are great on sandwiches like the patty melt or served over steaks. Learn more about cooking steaks in our guide here.
French onion soup. Classic French onion soup is made by simmering caramelized onions in beef stock, bay leaves, and thyme. The finished soup is topped with toasted bread covered in gooey Gruyere cheese.
French onion dip. French onion dip is made with a base of sour cream and flavored with minced onion, onion powder, garlic powder, and usually served with potato chips. To elevate your dip, trying caramelizing the onions before adding to the mixture.
French onion tart. Onion tart, similar to quiche has a filling made from caramelized onions, eggs, cream, and gruyere cheese. The filling is placed in a tart shell and baked until puffed and brown. Learn more about tarts in our guide to pastry fundamentals here.
How to Cook With Red Onions
On sandwiches and burgers. Slice raw red onions into thin rings and use them for a satisfying crunch on your sandwiches and burgers.
Salads. Raw onions can add a nice bite to salads, although they can have a pungent flavor. To reduce the smell and strong taste, try placing your cut up onions in a colander and rinse them under cool running water before using. For more salad ideas, find our guide to salads here.
Grilled. Slice red onions into ½-inch thick slices, brush with olive oil and grill over medium heat for 4 to 6 minutes. Enjoy as a side dish or use them to top burgers and steaks.
Balsamic roasted onions. Red onions oven-roasted with balsamic vinegar and olive oil. These sweet tender onions make a simple side dish, or make a tasty addition to sandwiches and salads.
Pickled. Place sliced red onions into a canning jar. Use a ratio of 2:1:1—2 parts water, 1 part sugar, and 1 part vinegar. Adjust the amount of pickling liquid to match the size of the batch of pickled onions you want to make. If you are unfamiliar with ratios, 2 cups water, 1 cup sugar, and 1 cup of vinegar in a 16-ounce canning jar is a good place to start. How many onions you use will depend on their size. Combine the water, sugar, and vinegar into a saucepot and bring to a simmer. Once all of the sugar has dissolved into the liquid, pour the hot pickling liquid over the red onions to submerge them and seal the jar. Make perfect pickled red onions with Chef Thomas Keller's pickles recipe here.
How to Cook With White Onions
Think Like a Pro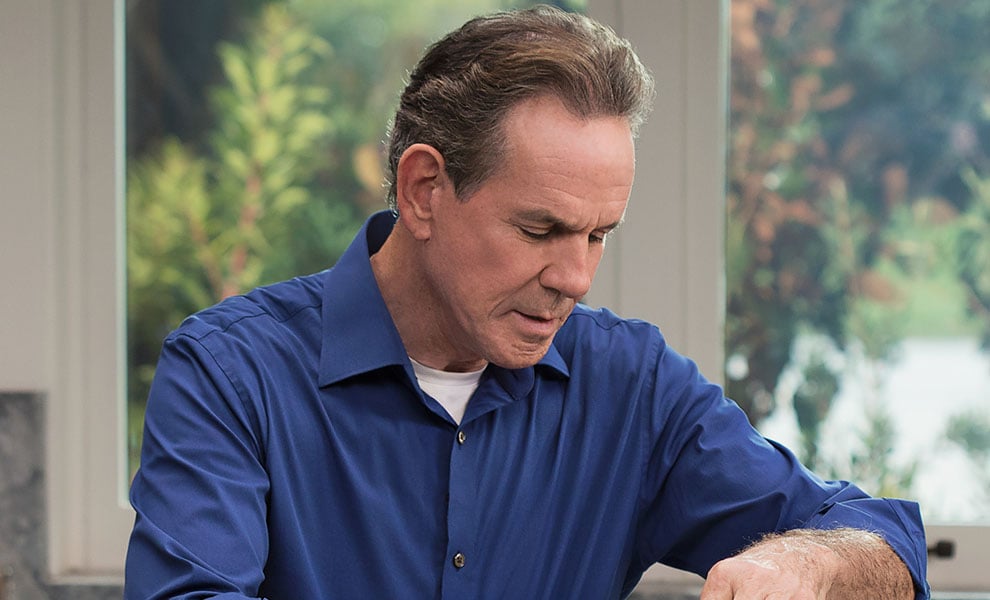 Learn techniques for cooking vegetables and eggs and making pastas from scratch from the award-winning chef and proprietor of The French Laundry.
View Class
Salsa. This popular condiment, also known as salsa Mexicana, is common in most Mexican restaurants. This tomato-based salsa is made with lime juice, chiles, cilantro and finely chopped white onion. Learn how to chop an onion here.
Guacamole. Traditionally, guacamole is made with white onion, mashed avocados, fresh lime juice, jalapeno, tomatoes, and cilantro. The white onions give it a clean flavor and crisp texture.
Mexican food. White onions are commonly used in other Mexican cuisine, served finely diced over tacos, burritos, nachos, and meat dishes.
Sandwiches and burgers. Try thinly sliced white onions on sandwiches and burgers for a crunchy texture and an oniony bite.
Pizza. For an easy addition to pizza, try thinly sliced white onions scattered on top before baking.
Substitute onions. When you're in a pinch, you can use white onions in place of yellow onions in cooking.
How to Cook With Sweet Onions
Tomato Salad. Slice sweet onions thinly on a mandoline and combine them with tomatoes, basil, and vinaigrette for a simple salad. Find Chef Thomas Keller's classic vinaigrette recipe here.
Relish. A sweet and tangy onion relish pairs well with steaks or served as an appetizer on toasted baguette slices. Learn how to make baguettes at home with our recipe here.
Onion jam. Sweet onion jam is made from caramelized sweet onions with vinegar. It goes well with roasted meats, poultry, and grilled fish.
Onion rings. A popular appetizer made from thick cut slices of sweet onion battered in a flour mixture and fried until crispy. Onion rings can be served with a side of ketchup for dipping.
5. Shallot
A shallot is a member of the allium family, closely related to onions, garlic, and chives. Whether diced, minced, or slivered, shallots are used for seasoning dishes, either with a soft onion undercurrent or a pop of sharp acidity similar to a hint of garlic. They can also be used to brighten vinaigrettes. Their flavor is milder and more delicate than that of a regular onion (though they can usually be used in place of white onions, and vice versa).
How to Cook With Shallots
Vinaigrette. Shallot vinaigrette is a simple dressing made from minced shallots, garlic, oil, and vinegar.
Salad. Raw shallots make a great addition to salad dressings, and if you find them fresh, their green tops can be used as an aromatic seasoning or garnish, similar to spring onions.
Roasted. Shallots are delicious roasted whole and essential to sauce Béarnaise.
Pickled. Shallots can be thinly sliced and quick pickled in a mixture of apple cider vinegar, sugar, and kosher salt. Let sit at room temperature for an hour and then use on your favorite burgers, tacos, and sandwiches. Use leftover flavored vinegar mixture in salad dressings.
Caramelized. To caramelize the shallots, melt unsalted butter in a skillet over medium heat. Add shallots, sliced crosswise into rings (or halved and sliced into half moons), and season with kosher salt and black pepper. Cook, stirring occasionally, until shallots begin to brown; turn heat to low and cook until they soften but do not burn. Top with fresh chopped parsley and enjoy as a condiment on a cheese plate or on toast. Shallots can also be caramelized whole: remove their papery outer skins, and toss in a skillet over medium-high heat with butter and 1 tbsp sugar until beginning to brown. Transfer to a baking dish, add a splash of Balsamic vinegar, salt and pepper, and stir to combine. Cook in a 400°F oven until tender and outside is deeply caramelized and golden brown.
6. Scallions
Scallions, or green onions, are fresh young onions identified by their slender shape and mild flavor. The white stalk has the same sharp, sulfur-y taste characteristic to all alliums, albeit with less bite, while the dark green leaves have a fresher, grassy flavor. When just harvested, scallions give off a strong onion smell that's noticeably bright and earthy, with notes of garlic and apple.
How to Cook With Scallions
Garnish for soups. Scallions give a delicate flavor and texture to miso soup and Asian noodle soups.
Baked goods. Try adding scallions to cheddar muffins, biscuits and cornbread to serve alongside comfort foods like chili and stew.
Grilled. Whole scallions are delicious grilled—the leaves become charred, the whites tender and sweet, and the toasted roots have a nice crunch, like an onion chip.
Chinese Stir-fry. Many stir-fry recipes call for separating the whites and the greens. This method mellows out the sharp flavor of the bulb, while allowing the raw greens to stay fresh as a garnish.
Asian cuisine. Chef Gordon Ramsay uses scallions frequently in his Asian flavored dishes, such as Szechuan Chicken Breast with Udon and Hoisin Chicken with Pickled Daikon.
Become a better chef with the MasterClass Annual Membership. Gain access to exclusive video lessons taught by culinary masters, including Gordon Ramsay, Alice Waters, Massimo Bottura, Chef Thomas Keller, and more.