---
What Do You Need to Apply Eye Shadow?
Eye shadows come in both powder and cream formulations, and, like other products, it's best to stick to one texture when layering multiple products. The tools you'll need to apply your shadows depend on whether you're using powder eye shadow or cream eye shadow.
The best tools for a powder eye shadow include;
Eye shadow brush: A fluffy, wide eye shadow brush deposits and blends the shadow on your lid.
Eyeliner brush: An angled liner brush helps create definition along your lash lines.
Flat brush: A medium, flat brush is great for the crease.
Rounded brush: A small, fluffy rounded brush helps blend shadows into your crease.
The best tools for a cream eye shadow are:
Fingers: Your fingers are the best tool for tapping and blending the shadow on your lid.
Eye shadow brush: A flat, rounded eye shadow brush helps deposit and blend thicker cream formulas.
Check out makeup artist Bobbi Brown's list of essential makeup tools here.
How to Choose a Shade of Eye Shadow
Eye shadows come in all colors of the rainbow and in tons of finishes as well. Bobbi's basic eye involves three shadows: light, medium, and dark neutral shades (in a matte or flat finish), all of which are geared toward your skin tone.
Light: a pale bone or ivory, taupe, and a chestnut brown eye shadow
Medium to tan: a taupe, chestnut brown, and an espresso brown eye shadow
Dark: dark brown, a deep brown/black shadow, and black eye shadow
A fourth dark shade can be added to create depth when needed for a smoky eye, and you can play around with texture since eye shadows come in matte, or flat, and shimmer finishes.
How to Apply Eye Shadow: Step-by-Step Guide
Once you have your eye shadow palette and the right makeup brushes, you're ready to do your eye makeup. Here's a step-by-step guide to applying eye shadow for a natural look:
Prep: Prep the eye area with eye cream, concealer, and eyeshadow primer. Your lightest shadow will act as an eye primer of sorts, but if you want to make sure your makeup stays all day, or if you're worried about shadow sticking to fine lines or dry skin, a dedicated eye shadow primer is the way to go.
Shade 1: Use your lightest shade to cover the entire lid and up to the brow bone. Your lightest eye shadow color will provide an even base for your eye shadow makeup, helping the other colors stick to your eyelid
Shade 2: Apply your medium-dark color below your crease and three-quarters of the way up your eyelid.
Shade 3: Apply your darker shade along the upper lash line and/or lower lash line. Use this darkest color to add definition, or smudge your darker shadow for a smoky eye makeup look.
Add-ons: Now that you're done with your eye shadow application, you might want to add some finishing touches. A dot of shimmery highlighter at the inner corner of the eyes, carefully applied winged eyeliner or cat eye (use liquid eyeliner or gel eyeliner) to the outer corner, or a coat of mascara can really make the eyes pop.
If you find a makeup tutorial difficult to follow, you can use the below as a general guideline:
Lightest shadow: used all over the lid as a base to nix excess oil and even out the tone of your eyelid. Also used under the brow bone.
Midtone shadow: used on the visible lid below the crease for depth and blended three-fourths of the way up the lid.
Darkest shadow: used for extra definition along the lash line or when you're creating a smoky eye.
Bobbi Brown's 5 Tips for Applying Eye Shadow
Think Like a Pro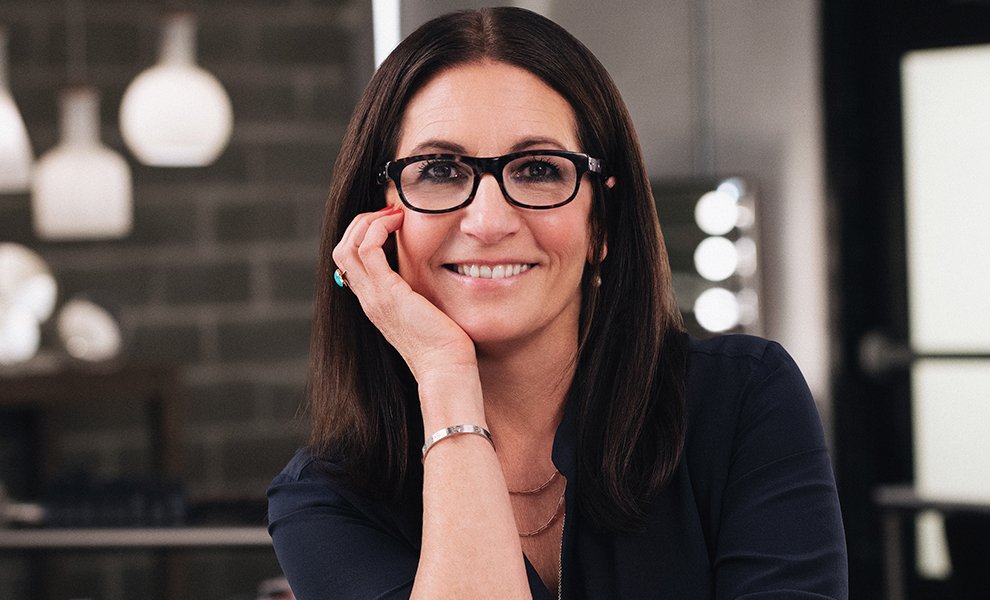 Bobbi Brown teaches you the tips, tricks, and techniques for applying simple, natural makeup that makes you feel beautiful in your own skin.
View Class
Keep Bobbi Brown's eye makeup tips in mind whether you're going for her favorite natural eye look, or something more dramatic.
Always make sure to tap off excess powder from your eye shadow brush before applying to your eyelid to prevent shadow fallout.
Take a step back from the mirror in between each step of your eye makeup to make sure your shadow and liner placement is where you want it and both eyes are balanced. If something looks a little off, adjust accordingly.
Keep cotton swabs around to fix tiny errors or pick up fallen shadow that might land on your cheeks.
For those with mature skin or fine lines around their eyes, make sure that your powder shadows aren't too dry or flakey.
Heavily textured eye shadow that's either extremely matte or very shiny looks much more dramatic on mature skin as well. Opt for shadow with a subtle shimmer or satin finish for a natural-looking effect.
Want to Learn More About Makeup and Beauty?
Whether you already know a blush brush from a bronzer brush or are simply looking for tips on bringing glamour into your daily routine, navigating the beauty industry takes knowledge, skill, and practical experience. No one knows their way around a makeup bag better than Bobbi Brown, the makeup artist who built a career and a multi-million dollar brand with one simple philosophy: Be who you are. In Bobbi Brown's MasterClass on Makeup and Beauty, learn how to do the perfect smoky eye, find the best makeup routine for the workplace, and hear Bobbi's advice for aspiring makeup artists.
Get the MasterClass Annual Membership for exclusive access to video lessons taught by masters, including Bobbi Brown, RuPaul, Anna Wintour, Marc Jacobs, Diane von Furstenberg, and more.