---
What Is a Stone Fruit?
Stone fruits are a type of drupe, thin-skinned, fleshy fruits containing a single large seed encased within a tough outer shell. They can be clingstone or freestone, fuzzy or smooth, sour or sweet. The drupes we call stone fruit come from about 15 species of the genus Prunus, a member of the rose family, and include peaches, nectarines, plums, apricots, and cherries.
When Are Stone Fruits in Season?
Stone fruits are highly seasonal because most varieties won't ripen after they're harvested, meaning they're picked at their peak, often a very small window of time. Luckily, different varieties ripen at different times: You'll start to see stone fruits in late spring, beginning with cherries and apricots. In midsummer, peaches, nectarines, plums will begin to show up, continuing through the end of summer, when prune plums mark the end of the season and the arrival of fall.
Where to Buy Stone Fruits?
Large grocery stores rely on refrigeration, which can make stone fruits mealy. You'll find some stone fruits at the grocery store, but they've mostly been bred for hardiness, not flavor. For the most delicate and delicious stone fruit, head to the farmers' market. When choosing stone fruits, pick fruits that are fragrant and somewhat soft, and don't be afraid of a brown spot or two—a slightly damaged, ripe stone fruit will be more tasty than a rock-hard, picture-perfect one.
How Should You Store Stone Fruits?
Most stone fruits won't actually ripen after harvest, although they may continue to soften and become a bit more aromatic over time. Stone fruits should be stored at room temperature, not in the fridge, as cold temperatures can damage the texture. Try rotating your stone fruits once a day, or when you think of it, to avoid the brown spots that can occur when gravity pulls sugar to the bottom of the fruit.
Types of Stone Fruits
Peaches and nectarines are actually part of the same species: Prunis persica. The difference? Nectarines have smooth skin and tend to be smaller and firmer than peaches, which have fuzzy skin. The first peaches and nectarines came from China and were of the freestone, white-fleshed variety. Yellow-fleshed varieties, now preferred in North America, were first developed in the mid-19th century and are especially high in vitamin A due to the carotenoids (such as beta-carotene) that also give them their color. Although white and yellow peaches and nectarines are the most common types, there are thousands of varieties of Prunis persica, including the rarer red-fleshed varieties. Peaches and nectarines ripen along the stem and along their distinctive groove, called a suture. Some popular varieties include:
Last Chance, a yellow-fleshed, freestone peach from California; available late summer through early fall
Flavor Crest, a yellow-red-fleshed, freestone peach from California that ships well; available late June through early July
Elberta, a yellow-red-fleshed with red blush freestone peach developed in Georgia in the 19th century; available September
Donut, a white-fleshed freestone peach with low acidity and a squat shape; available late spring through summer
Le Grand is a yellow-skinned, yellow-fleshed nectarine; available August
Plums have smooth skin and are generally smaller and tarter than peaches and nectarines. They come from several species, the most popular of which are the European (Prunus domestica) and Japanese (Prunus salicina) plums. European plums, which originated in the Caucasus region about 2,000 years ago, tend to be meaty and semi-freestone. They include:
Italian prune, a freestone variety with dark blue-purple skin and bright yellow flesh; available late summer through early fall
Greengage, a very sweet, bright-yellow-green cultivar that includes the Reine Claude variety; available summer
Mirabelle, a small variety with dusty bright-yellow skin and matching flesh cultivated in France since the 16th century; available midsummer
Japanese plums, which actually originated in China (along with most other stone fruit), tend to be larger and rounder than European plums. They're usually clingstone, and have a longer shelf life than European plums, which means they're more commercially available. Some favorite Japanese plums are:
Santa Rosa, a California plum with bright-red speckled skin and orange-red flesh; available in summer
Elephant heart, the largest variety of Japanese plum, has mottled green-purple skin and with bright red flesh; available mid- to late summer
Other species of plums include:
Damson (Prunus insititia), which was was cultivated around Damascus and became popular in England. Damson plums can have blue or yellow bloomy skin and are small—about the size of a cherry. They're most popular preserved because they're tart and fibrous raw, and don't contain much flesh. Available late summer and fall.
Sloe (Prunus spinosa), a small blue-black, sour plum used to make sloe gin.
Pluots, plumcots, and apriums are all plum-apricot hybrids. Pluot and aprium are actually registered trademarks of California breeder Floyd Zaiger, who produced some of the most famous plum-apricot hybrids. Zaiger pluots lean toward the plum side, whereas apriums lean toward the apricot side. Other plum-apricot hybrids are usually known by the generic name plumcot. Whatever you call them, plum-apricot hybrids are sweeter than plums, with more complex flavor. Some popular varieties include:
Flavor King, a burgundy-skinned, pink-fleshed freestone pluot; available mid-August through early September
Flavorosa, a dark-purple-skinned, red-fleshed pluot; available late may through early June
Flavor Grenade, a pluot with dappled red-yellow skin and bright yellow flesh; available late August through early October
Flavor Queen, a green-skinned, yellow-fleshed pluot; available late july through late august
Flavor Delight, an orange-pink aprium; available in June
Apricots are largely of the species Prunus armeniaca, of which there are thousands of varieties, including white- and red-fleshed versions. The most familiar apricots have orange skin and flesh due to a high amount of carotenoids, precursors to vitamin A. Apricots, which ripen from the inside out, are very fragile and don't ship well. Since they're naturally high in pectin, apricots are an excellent choice for drying. Dried apricots are typically treated with sulfur dioxide to preserve their color and nutrients, such as vitamin C. Apricot pits are poisonous when raw, but roasted they have a sweet, almond flavor known as noyaux. Varieties include:
Blenheim apricots (Prunus armeniaca) from Santa Clara, California, have golden-orange skin and flesh; available midsummer.
Apricots of the species Prunus mume are pickled to make umeboshi, Japanese salted "plums."
Cherries are small heart-shape stone fruits often sold on the stem. They come in two main varieties: Sweet cherries, of the species Prunus avium, are consumed fresh and are sweet and low in acid. Sour cherries, of the species Prunus cerasus, are usually frozen, canned, or otherwise preserved due to their high acid content and very tart flavor. A third variety, called dukes, are a cross between the two types of cherry. Some popular varieties include:
Bing, a large, smooth, deep-red sweet cherry; available mid-spring through midsummer
Black Republican, a medium-size sweet cherry with dark purple-black skin and burgundy flesh cultivated in Oregon since the mid-19th century
Rainier, a very sweet yellow-red cherry developed in Washington in the 1950s and named after Mount Rainier; available late spring and summer
Montmorency, red-yellow sour cherry; available late may through mid-June
Richmond, a bright-red sour cherry; available mid-May through mid-June
English Morello, a dark-red sour cherry; available in June
11 Stone Fruit Recipes
Think Like a Pro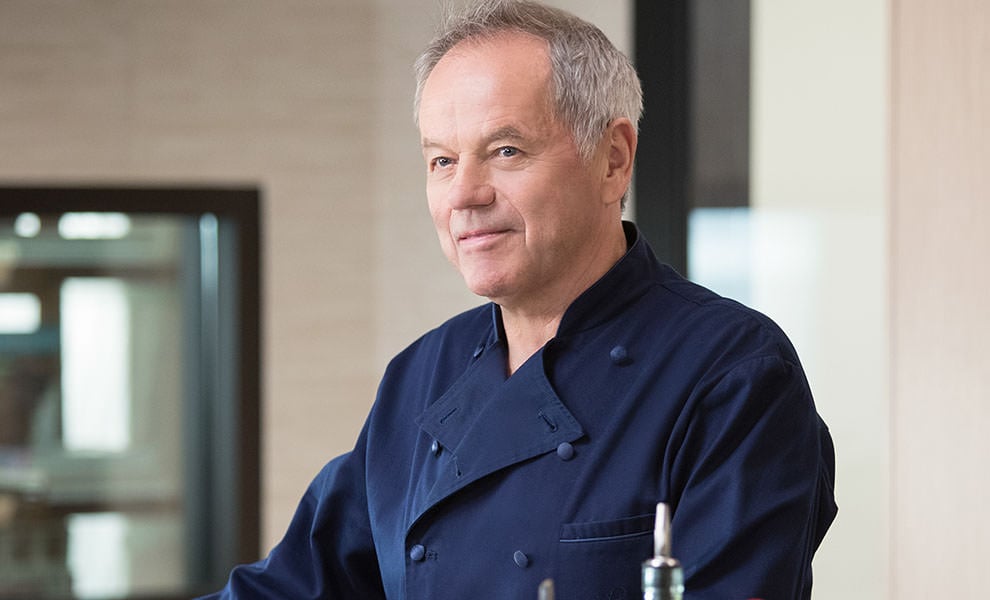 In 16 lessons, learn exclusive recipes and cooking techniques from the chef behind Spago and CUT.
View Class
Blackberry Peach Crumble: Ripe summer berries and stone fruit come together in an easy crumble
Apricot Galette: Spread frangipane on the bottom of your galette to soak up the juices from very moist stone fruits
Plum financiers: These French almond cakes look great topped with a few slices of bright red elephant heart plum.
Stone Fruit Cornmeal Upside Down Cake: Showcase beautiful slices of the most colorful stone fruit
Nectarine Salad with Mint and Olive Oil: For a more interesting take on a fruit salad, try serving ripe stone fruit with good olive oil and herbs
Clafoutis: Traditionally made with cherries, this airy French pudding actually works with a variety of stone fruits
Grilled Peaches with Burrata and Prosciutto: An elevated appetizer for a backyard barbecue
Apricot Jam: Preserve summer flavors with homemade jam. This is great for delicate varieties like Blenheim.
Peach compote: If you want jammy flavor for topping cakes and ice cream, but don't feel like canning. Goes great with toast spread with homemade ricotta.
Homemade umeboshi: If you can get your hands on unripe ume "plums," try pickling them yourself.
Wolfgang Puck's Peach Bellini Cocktail Recipe: Use fresh peach puree to take your Bellini to the next level.
Learn more cooking techniques in Wolfgang Puck's MasterClass.