---
6 Types of Pizza Dough
Neapolitan: The simplest form of pizza there is—the dough only has flour, water, salt, and yeast. Neapolitan pizza has a very thin crust at the base, with dough that puffs up around the sides, making for a very airy crust.
Sicilian: A hearty slice of pizza, Sicilian-style pizza is composed of thick focaccia-like dough that is baked in a tray loaded with olive oil. As it bakes, the bottom of the pizza gets brown and crispy. In Sicily, the pizza is thinner and chewier, and commonly topped with salty anchovies and pecorino cheese, while in New York, "Sicilian-style" can be much thicker—up to 1 ½ inches—with simpler toppings of garlicky tomato sauce and melted mozzarella.
New York: An offshoot of Neapolitan-style dough, New York-style pizza has oil and sugar added to the dough and is stretched into a thicker and sturdier crust. The oil lowers the amount of gluten formed and creates a tender, chewy pizza crust.
Chicago Deep Dish: Chicago is home to one of the most decadent and thickest pizzas around, with crusts reaching 2 to 3 inches thick. Deep dish style crust inverts the order of toppings by layering tomato-y pizza sauce over a thick amount of gooey cheese. It's definitely a fork-and-knife dining situation, especially if more toppings, like pepperoni or sausage are added.
Detroit: This rectangular pizza has an extra thick crust and crisp bottom. It is baked in an industrial size square pan with lots of oil. The result is a crust with a chewy texture and crunchy bottom and edges not unlike Sicilian style.
St. Louis: A regional specialty in the Midwest, St. Louis-style pizza has a thin, cracker-like crust that is made without yeast. Instead of pie-like wedges, this pizza is cut into squares or rectangles.
6 Tips for Making Perfect Pizza Dough
Use a scale: Weighing flour instead of using a measuring cup provides more accuracy when making pizza and bread recipes.
Choose the right flour: All-purpose flour works fine, but if you want a chewier texture you should use bread flour or double "00" flour.
Hand stretch dough like a pro: For those who want to go the authentic route, stretch your pizza by hand. Start by pressing the dough with your hands into a small disc. Gently pick up the dough and hold it with both hands on one edge of the dough, letting the rest of the dough hang down. Gravity is going to do some of the stretching as you gently rotate the dough in one direction. Slowly pull the dough from hand to hand as the dough hangs down. Stretch the pizza until it's about 12 inches in diameter.
Skip the pizza stone: If it's your first time making pizza at home and transferring it onto a pizza stone in a blazing hot oven sounds intimidating, use a baking sheet instead. To make it even easier (and safer), you can skip preheating the pizza pan and build your pizza directly onto the baking sheet and bake. As long as your oven is at a high temperature (500ºF), you'll still get those crispy edges you're after.
Cook toppings ahead of time: Remember that pizza bakes in the oven for a short amount of time, so any toppings that take longer to cook such as raw chicken, ground meat, sausage, fish, shellfish, and pork should be par-cooked or fully cooked ahead of time.
Go light on the toppings: While extra cheese, hot peppers, bacon, sausage, and pineapple all sound delicious, try limiting your toppings when you're making pizza to keep the crust from getting soggy. When there are a lot of toppings, it masks the flavor of the dough and doesn't allow the dough to cook properly in the oven.
12 Pizza Recipe Ideas
Think Like a Pro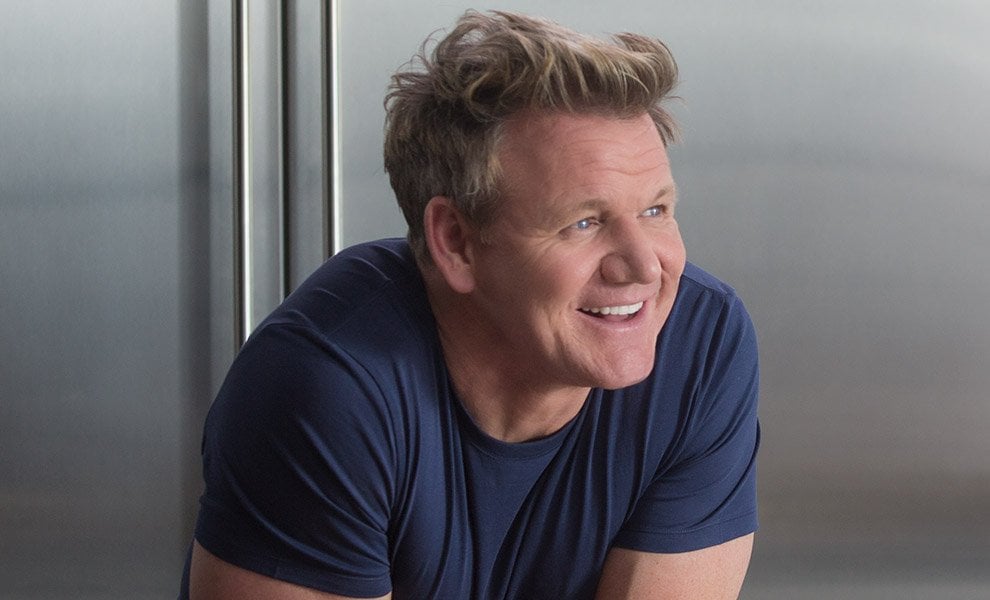 Take your cooking to the next level in Gordon's first MasterClass on essential methods, ingredients, and recipes.
View Class
Classic Margherita: Top dough with ½ cup crushed San Marzano tomatoes, dried oregano, kosher salt, black pepper, and extra-virgin olive oil; bake until golden. Sprinkle with diced mozzarella, torn basil, and flaked salt. Bake until the cheese melts, then drizzle with olive oil.
Puttanesca: Spread pizza sauce over the dough and then top with minced garlic cloves, 6 anchovies, 1 tablespoon capers, ¼ cup olives, and parsley.
Smoked Salmon: If you're feeling extra fancy, try Chef Wolfgang Puck's famous smoked salmon pizza with dill cream and caviar from his restaurant Spago.
Pepperoni-Mushroom: Top layers of pizza sauce and mozzarella cheese with ½ cup sautéed mushrooms and sliced pepperoni before baking.
Kale, Bacon, Egg: Top dough with ½ cup sautéed kale and cooked bacon bits. Make pockets of space in the mixture for 3 eggs. Gently crack each egg into a pocket, top with Parmesan cheese, bake until the egg whites are cooked though and the crust is golden.
Hawaiian: Top dough with ½ cup tomato sauce, shredded mozzarella, diced pineapple, 2 ounces sliced ham, and red pepper flakes. Bake until golden.
Potato-Rosemary: Top dough with olive oil, 1 tablespoon fresh rosemary leaves, flakey sea salt, and 1 thinly sliced potato. Sprinkle with grated pecorino and bake until crisp.
Salad Pizza: Make this healthy twist on pizza by baking your dough with nothing but olive oil on top. Once it's out of the oven, pile arugula and cherry tomatoes on top and drizzle with olive oil, aged balsamic vinegar, and salt and pepper.
White Pizza: Spread half a head of roasted garlic over the dough, and then top with ¼ cup mozzarella, 2 tablespoons ricotta, 2 tablespoons grated Parmigiano, chopped basil, and red pepper flakes. After the pizza is baked, top with 2 ounces of fresh burrata cheese for the ultimate creamy white pizza.
Fig and Caramelized Onions: Top dough with olive oil, ½ cup caramelized onions, and 4 figs (quartered). After pizza is baked, top with 2 ounces torn prosciutto and drizzle with reduced balsamic vinegar.
Spanish-Style: Top dough with 2 ounces of thinly sliced Spanish chorizo, ½ cup sliced roasted red peppers, and bake. Finish with ¼ cup crumbled feta, 1 teaspoon oregano, 1 teaspoon chopped parsley.
Sausage and Broccoli Rabe: Top dough with ½ cup sautéed broccoli rabe, ½ cup crumbled cooked Italian sausage and bake. Finish pizza with red pepper flakes and grated Parmesan.
Become a better home cook with the MasterClass Annual Membership. Gain access to exclusive video lessons taught by culinary masters, including Dominique Ansel, Gordon Ramsay, Chef Thomas Keller, and more.
Best Pizza Dough Recipe
Ingredients
1 cup, plus 1 tablespoon (153 grams) 00 flour (bread flour is a suitable substitute)
1 cup, plus 1 tablespoon (153 grams) all-purpose flour, plus additional flour for dusting
1 teaspoon kosher salt (8 grams)
3/4 teaspoon (2 grams) active dry yeast
1 teaspoon (4 grams) extra-virgin olive oil, plus more for brushing
Combine flours and salt in a large bowl.
In a small bowl, stir together 200 grams (1 scant cup) of warm water (about 110ºF), with the yeast and olive oil. Pour the yeast mixture into the flour and knead together with your hands until dough forms. Alternatively, combine ingredients in the bowl of a stand mixer fitted with a dough hook attachment and mix on low speed to make the dough. Set the dough aside to rest for 15 minutes.
Knead rested dough for 2 minutes. Divide into two pieces and shape each into a ball. Place on a floured surface, cover with a damp kitchen towel, and let the dough rise for 3 to 4 hours at room temperature. If you want to make ahead: the dough will keep covered in plastic wrap in the refrigerator for up to 2 weeks, or in the freezer for 3 weeks. Thaw overnight in the refrigerator and let come to room temperature before using.
To bake the pizza, place a pizza stone in the oven (or use a baking sheet) and preheat the oven to 500ºF.
Using a rolling pin, or your hands, roll one of the doughs into a 12-inch circle, about 1/8-inch thick. Dust a pizza paddle with flour and slide it under the dough. Brush the crust with a thin layer of olive oil, and top with your favorite toppings. Transfer the pizza onto the hot stone in the oven and bake for 12 to 15 minutes, until golden and crisp on the edges. Repeat with the remaining dough.